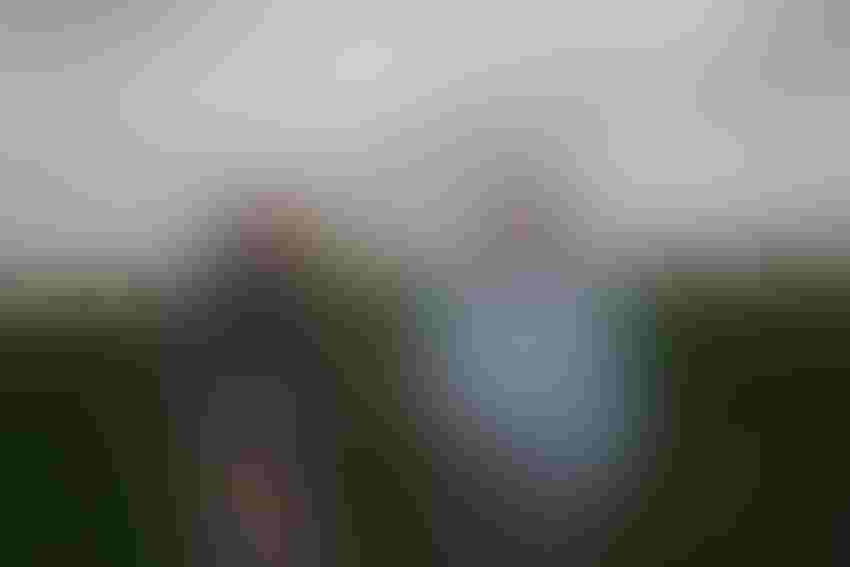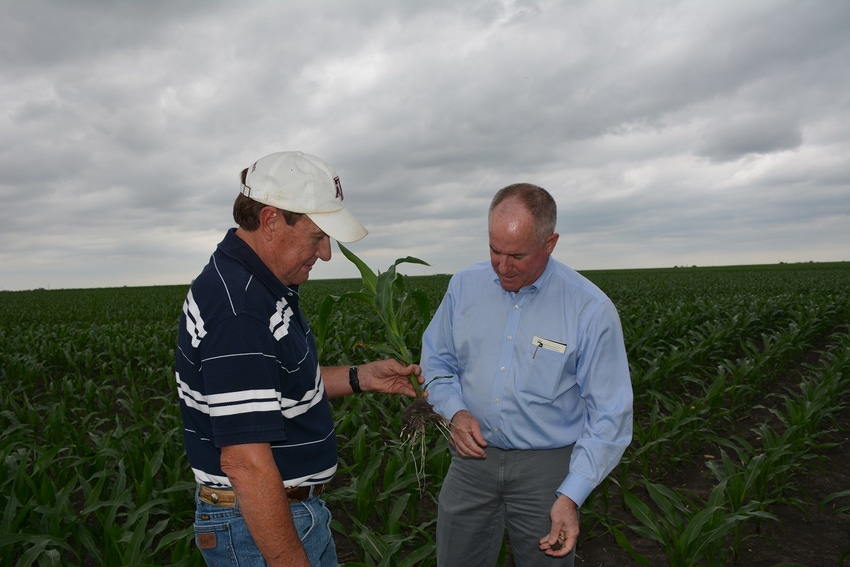 Farm Service Agency Administrator Val Dolcini chats with Williamson County, Texas, farmer Billy Carlson during one of his many farm bill assessment visits to gauge how producers were reacting to a new farm program.
After 30 months as USDA Farm Service Agency administrator, Val Dolcini is convinced that he's leaving the agency in better shape than he found it.
During that 30-month tenure, Dolcini, who came into the job from a state FSA administrator's post in California, oversaw the rollout of a complex, new farm program that was significantly different from anything farmers and ranchers had ever seen—and had been a long time coming from a Congress deeply divided over what type of program to enact, and stingy on how much to spend. At one point, a group of House members attempted, unsuccessfully, to separate nutrition (food stamps) from traditional farm programs—such was the contentious nature of the farm bill debate.
Consequently, when the Agriculture Act of 2014 was finally signed into law by President Obama, FSA was under immense pressure to master the intricacies of the new programs, train employees across the country on how to administer them, and then conduct public meetings to educate producers on how this new safety net would work into their risk management systems—and do it quickly, in time for the 2015 spring crop season.
Dolcini says FSA conducted countless employee training sessions, and then state administrators returned home to train their county employees to educate producers. "We conducted a lot of face-to-face training. We made sure people understood the programs," he says.
THOUSANDS OF EDUCATIONAL MEETINGS
"We held thousands of public meetings to explain the new programs," Dolcini said in an exclusive Farm Press interview. "We worked with Land Grant Universities to develop decision tools to help growers analyze the new programs—Agricultural Risk Coverage (ARC) and Price Loss Coverage (PLC)."
Those meetings, the decision tools, and training sessions were necessary, Dolcini says, to make sure producers understood how they could fit ARC, PLC, the Livestock Indemnity Program (LIP), the Livestock Forage Disaster Program (LFP), and the Dairy Margin Protection Program into their operations.
"We had a lot of heavy lifting to do with the new farm bill and the new technology necessary to roll it out. But that's what we do." He says the agency had to make a lot of technology upgrades—hardware and software—to make the transition.
 "More than 1.7 million farms signed up for the new programs, more than had signed up for the Direct and Counter-cyclical Program (DCP). ARC and PLC were different, true safety net programs to offer payments when prices go low."
He says after some early shortfalls, "most producers are now relatively comfortable with ARC and PLC." He says some payment discrepancies showed up the first year, situations where a farmer in one county would receive payment and one in an adjoining county—with similar circumstances—would not. "That's the way with county-based programs," Dolcini explains. "But we identified the problems and last fall a lot of those got ironed out."
PAYOUTS
He says payout that first year for ARC and PLC topped $5 billion. Outlay this year currently exceeds $7.5 billion and numbers are still coming in. ARC and PLC farm signup is 1.7 million. Per the following news release (http://bit.ly/2iDdTl), many of the 1.7 million farms that enrolled in ARC or PLC will receive safety-net payments.
Livestock Indemnity Program 2011-2016 payments for losses was $148.7 million per the USDA publication FSA Impacts (http://bit.ly/2jG8L17). "More than 18,500 [entities] received more than $148.7 million through the LIP for 2011 through 2016 losses, with nearly $7 million in 2016. More than 20 percent of the 2016 LIP payments were to cattle producers in Texas and New Mexico, largely in response to the late December/early January Goliath Blizzard. This blizzard caused 70 mile-per-hour winds and snowdrifts of up to 10 feet in eastern New Mexico and western Texas. LIP provides financial assistance to producers who incur livestock deaths caused by blizzards, adverse weather events, and attacks by animals and avian predators reintroduced into the wild or protected by Federal law."
FSA Impacts also notes that "more than 734,000 producers received approximately $6 billion through the Livestock Forage Disaster Program (LFP) due to 2011-2016 losses. This included more than $47.5 million in 2016—a year in which livestock grazing conditions were better overall, but where some producers, particularly in California and South Dakota, faced adverse conditions. As of early fall 2016, over 40 percent of California was rated in severe-to-exceptional drought status with California receiving over 60 percent of 2016 LFP payments. LFP assists farmers and ranchers suffering from long-term drought and fire on federally managed lands."
Dairy farmers received $11.2 million in payment from the Dairy Margin Protection Program from May through June, 2016.
LIMITED AID FOR COTTON
Dolcini says FSA was restricted in assistance to cotton farmers because of limitations in the farm program, but he adds that the agency did what it could to assist cotton producers who were left out of the farm program when Congress weighed possible retaliation from Brazil over their successful WTO complaint, claiming market-disorienting practices in the previous cotton program. "With cotton no longer a covered commodity, producers were in a bind," he says. "We were able to help last year with the cotton ginning program, and we were able to get that done quickly."
He says getting cottonseed covered as an "other oilseed" was too much of a stretch, "according to our lawyers. We did what we thought we could do legally." He thinks Congress will work to tweak the next farm bill to get cottonseed considered in the program or find another avenue to provide a better safety net than the Stacked Income Protection Plan (STAX) offers.
AGENCY IN GOOD SHAPE
Dolcini says he and FSA employees are "working hard up to the final hours of the Obama Administration. We have had an extraordinarily productive eight years, rolling out the farm bill and upgrading technology." He says his final goals include a smooth transition. "When we turn the keys over, the new team will find the agency in good shape."
Dolcini hopes to continue in public service after he leaves USDA. "As administrator, I visited all 50 states—that was a goal when I started. I did not get to all 2,200 county offices, but I got a good sense of what county-level employees do."
Dolcini worked in FSA for all of President Obama's eight years in office, first as state administrator in California. That experience, he says, made him a better administrator. "I find public service gratifying, and I want to continue to work to make government function more efficiently. We will stay in Washington, DC, for the time being, and I hope to have another opportunity to serve."
About the Author(s) Senior Content Director, Farm Press/Farm Progress
Ron Smith has spent more than 40 years covering Sunbelt agriculture. Ron began his career in agricultural journalism as an Experiment Station and Extension editor at Clemson University, where he earned a Masters Degree in English in 1975. He served as associate editor for Southeast Farm Press from 1978 through 1989. In 1990, Smith helped launch Southern Turf Management Magazine and served as editor. He also helped launch two other regional Turf and Landscape publications and launched and edited Florida Grove and Vegetable Management for the Farm Press Group. Within two years of launch, the turf magazines were well-respected, award-winning publications. Ron has received numerous awards for writing and photography in both agriculture and landscape journalism. He is past president of The Turf and Ornamental Communicators Association and was chosen as the first media representative to the University of Georgia College of Agriculture Advisory Board. He was named Communicator of the Year for the Metropolitan Atlanta Agricultural Communicators Association. More recently, he was awarded the Norman Borlaug Lifetime Achievement Award by the Texas Plant Protection Association. Smith also worked in public relations, specializing in media relations for agricultural companies. Ron lives with his wife Pat in Johnson City, Tenn. They have two grown children, Stacey and Nick, and three grandsons, Aaron, Hunter and Walker.
Subscribe to receive top agriculture news
Be informed daily with these free e-newsletters
You May Also Like
---