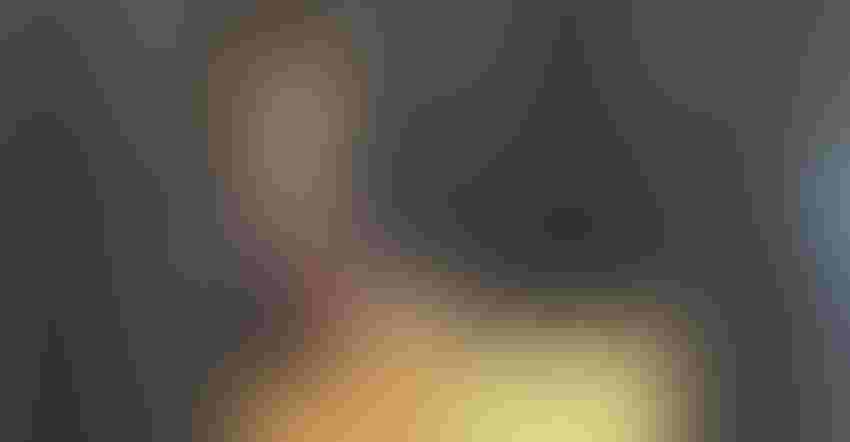 REBUILDING: "As we move into move into the recovery stages, we need to be looking at this flooding problem from a long-term perspective," says Iowa Gov. Kim Reynolds.
Taking time from her busy schedule, Iowa Gov. Kim Reynolds delivered the keynote address to our Iowa Master Farmer Awards Day gathering March 28 at the FFA Enrichment Center in Ankeny.
Over 200 people attended, including past Master Farmers and spouses along with representatives of Iowa State University, ag agencies, farm organizations and commodity groups.
The governor gave us an update on the impact of the devastating flooding this spring in western Iowa. She said her focus is to make sure any and all solutions to the Missouri River flooding keep a long-term regional perspective in mind. "What can we do to try to stop this type of flooding from occurring again in the future?"
Reynolds is working closely with the governors of Nebraska, Missouri and Kansas to meet periodically with the U.S. Army Corps of Engineers, imploring the Corps to find new solutions to Missouri River flooding that has devastated farmland, farmsteads and communities this spring. "We need to be practical in what we are doing," she said. "We can't continue to experience the extensive flooding we've gone through."
Governors work together
On April 4 Reynolds joined Nebraska Gov. Pete Ricketts and Missouri Gov. Mike Parson in meeting with officials from the Corps of Engineers officials and the Federal Emergency Management Agency in Council Bluffs. The governors pledged to work together as a region to ensure their states have a more active role in managing the river.
The governors asked the Corps for short-term help fixing levees that are still breached, allowing water from the swollen river to continue to seep into floodplains. Much of Pacific Junction in Mills County along with several other towns remain underwater. The governors also asked the Corps to come to the next meeting with innovative solutions to controlling the river in the future. Another meeting of the governors and the Corps has been scheduled for late April.
Initial ideas include adding more reservoir space upstream, expediting the permit process for repairs and finding new ways to rebuild levees. "Something needs to change," Reynolds said. "We can't do the same old thing we've been doing, and we can't just meet about it. We must focus on taking more effective steps."
Federal law may need change
Federal law dictates how the Army Corps of Engineers manages the Missouri River. But the governors want to play a more active role, which may mean lobbying Congress to rewrite the law. "All three states were swamped with floodwater in March when the Missouri River reached historic high levels, forcing evacuations of towns and farms and rural homes with little notice to residents," Reynolds noted.
The Corps as of April 8 hasn't yet officially commented on the governors' proposal. Corps officials have said much of the flooding came from record rains and melting snow that flowed over frozen ground and directly into the river downstream of its dams, all while massive amounts of water filled Missouri River reservoirs and had to be released.
"We can't keep doing the same thing and expect different results," Reynolds said. "The Corps patched up the levees in 1993 and then did it again after the flooding in 2011. This short-term approach has got to stop."
Let's get it right this time
"We need to assess the risk and the system's needs," Reynolds said. "We need to develop a coordinated, cost-effective strategy to maintain the Missouri River flood control system moving forward. We will come back and meet again as four governors with the Corps and continue to meet with them.
"If we don't get the answers we are looking for, we will take it to the next step. We'll figure out who we need to talk to and go that route if necessary. You have four governors who are engaged in finding a solution to this flooding. We are committed to making that happen."
Meanwhile, communities hit hard by the flooding are sorting through what's left. Damage estimates have climbed to over $2 billion in Iowa alone. The weather forecast is for a wetter-than-normal April and May in the Upper Midwest, and remaining snowmelt from the Dakotas and Minnesota will head downriver in the next few weeks.
More water coming
In total, about 416,000 acres of Iowa cropland were flooded, according to the latest estimate. Several federal programs will be able to assist farmers with cattle losses, prevented planting and removal of debris. Debris removal itself is expected to come with a price tag of nearly $34 million.
The larger issue is that USDA doesn't have a way to compensate farmers for their losses of stored grain due to flooding. Ag tech company Indigo Ag identified 832 flooded bins in the Midwest, holding 5 million to 10 million bushels of damaged grain. Unfortunately, it doesn't look like Iowa may be out of the woods yet, with either major or moderate risk of flooding again through May.
Subscribe to receive top agriculture news
Be informed daily with these free e-newsletters
You May Also Like
---