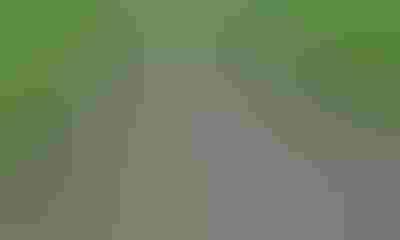 Mark Kingma may farm primarily sandy soils near DeMotte, but some of them are dark sands with a high water table. He can still have issues with drainage in those types of soils.
A longtime no-tiller, Kingma began trying cover crops in 2010. He now plants several hundred acres of cover crops each fall. While there are several reasons to do this, he's found one advantage that might not be on everybody's list of benefits. He believes that after cover crops become part of the system and soil structure improves, water moves through the soil differently. The big plus is that water gets into the soil faster.

"I saw a real good example of it a year ago," Kingma relates. "I split a farm, and part of it was seeded to a cover crop and part of it wasn't.
"In June the next year we got a 5-inch rain. Twelve hours after the big rain, water was standing on the part of the field where there hadn't been a cover crop. Where there was a cover crop, there was definitely less water standing. It was obvious that more water was ponding on top and slower to move in on the ground where I hadn't used a cover crop."
Farther south, near Rensselaer, Gerrett Dobson reports similar findings. He hasn't used cover crops as long as Kingma, but is beginning to experiment with them more now than in the past.
"I've noticed that as well after big rains," he says. "And it seems to happen every time. I will find much less water standing a few hours after a big rain on fields where I used cover crops compared to where I didn't use them. It's obvious that the water gets into the soil faster in the areas where there were cover crops."
Dan Perkins calls it better infiltration. It's a function of improving soil structure, notes Perkins, with the Jasper County Soil and Water Conservation District. He's also a local watershed director and Indiana Certified Crop Adviser. Better water infiltration typically means less runoff of water after a big rain, he concludes.
About the Author(s) Editor, Indiana Prairie Farm
Tom Bechman is an important cog in the Farm Progress machinery. In addition to serving as editor of Indiana Prairie Farmer, Tom is nationally known for his coverage of Midwest agronomy, conservation, no-till farming, farm management, farm safety, high-tech farming and personal property tax relief. His byline appears monthly in many of the 18 state and regional farm magazines published by Farm Progress.

"I consider it my responsibility and opportunity as a farm magazine editor to supply useful information that will help today's farm families survive and thrive," the veteran editor says.

Tom graduated from Whiteland (Ind.) High School, earned his B.S. in animal science and agricultural education from Purdue University in 1975 and an M.S. in dairy nutrition two years later. He first joined the magazine as a field editor in 1981 after four years as a vocational agriculture teacher.

Tom enjoys interacting with farm families, university specialists and industry leaders, gathering and sifting through loads of information available in agriculture today. "Whenever I find a new idea or a new thought that could either improve someone's life or their income, I consider it a personal challenge to discover how to present it in the most useful form, " he says.
Subscribe to receive top agriculture news
Be informed daily with these free e-newsletters
You May Also Like
---