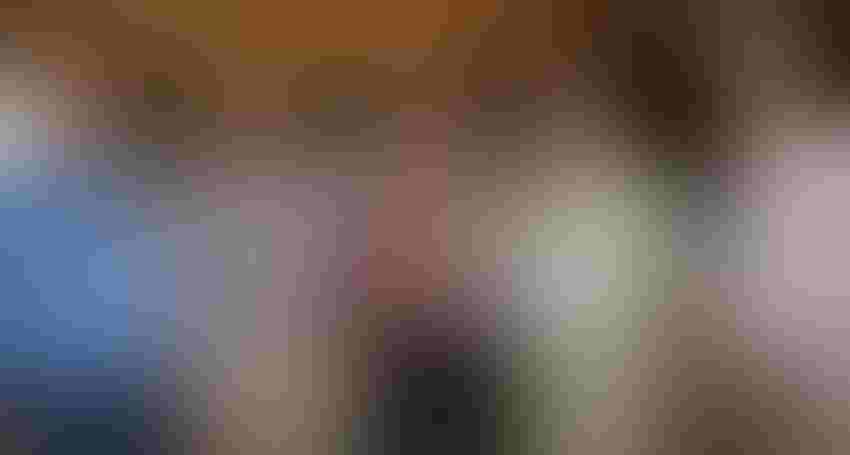 At Agribusiness & Water Council of Arizona annual meeting - from left - David Sharp, Lyredale Farms; Eric Wilkey, Arizona Grain; Dave DeWalt, National Ag Statistics Service; consultant Allan Simons; and Kai Umeda, University of Arizona.
Three items for consideration here - water supplies, immigration reform, and the next farm bill.
This triad of topics headlined the recent annual meeting of the Agribusiness & Water Council of Arizona (ABWC) held in May in Tempe under the banner of "Trumping Arizona Agriculture." 
ABWC President Tom Davis called 2016 a good year for Arizona agriculture.
"With lower commodity prices this made it tough but it's surprising how well we've done.  Going forward, things are looking good and I'm optimistic," the Arizona irrigation leader said.
The positive theme was consistent with keynote speaker Kris Polly, senior advisor to the National Water Resources Association and a 5th generation farmer, speaking on What Arizona Agriculture Can Expect from the Trump Administration. Good things, in his opinion.
"The most immediate impact involves the seating of new Justice Neil Gorsuch, the most important new figure in Washington, who brings balance to the Supreme Court where many issues of importance to farmers end up."
Water power
And with U.S. Senator Jeff Flake of Arizona now chairman of the Senate Water and Power Subcommittee, "That puts you folks in 17 western states in the catbird seat on all things involving water policy," said Polly.
"Especially with WOTUS (Waters of the United States) essentially redefined under federal jurisdiction as 'anything that is wet, was wet, or could be wet' - for farmers and ranchers that's a big deal," he noted.
Arizona Department of Water Resources (ADWR) Director Tom Buschatzke has witnessed a lot during his 30-plus years of experience in water management, enough to be cautiously optimistic about the state's immediate water future. 
"Snow pack and runoff figures look good and although things can turn around quite quickly in hydrology, we're doing well this year," Buschatzke said. "We've reduced the probability of going into a water shortage, although we still need to do more to control our own destiny."
Job One - immigration reform
Two other conference agenda items addressed the need for comprehensive immigration reform and opinions on what should be included in the next federal farm bill.
Three speakers – Tony Tew of Foothills Packing at Yuma; Jim Manos of Hickman's Family Farms at Buckeye, and Glendale dairyman Paul Rovey – discussed What We Need In Comprehensive Immigration Reform.
Their consensus?  Finding enough workers to clean up dairy droppings or hen poop is getting harder and harder.
"It's not necessarily that the people aren't available it's that they don't want to work, or at least work for us," said Manos, Hickman's chief financial officer. The company processes three-quarters-of-a-million eggs per hour. 
"If you think a Millennial in this country is going to work long shifts in a stinky chicken farm in triple digit temperatures it's not going to happen.  We need to change our thinking on how we can guarantee a labor pool."
H-2A a partial labor solution
Tew, general manager at the Foothills Packing contract labor harvesting company, discovered nearly a decade ago that what worked before didn't any longer.
"We had a shortage of contract labor because with 900 INS agents now in Yuma we couldn't get enough people from Mexico onto our busses. So we became a part of the H-2A Migrant Worker visa program."
When Tew initiated H-2A hires, he recruited 120 visa workers in Year One.
"This past year, we brought in 1,100 workers out of the 6,000 H-2A visa workers in Yuma.  I'm not sure where we would be today without this program."
The H-2A program allows agricultural employers who anticipate a shortage of domestic workers to bring non-immigrant foreign workers to the U.S. to perform agricultural labor of a temporary or seasonal nature.
"Except in extraordinary circumstances, employment is of a temporary nature (lasting no longer) than one year," according to the U.S. Department of Labor. 
Wanted: 24-7-365 H-2A
Dairyman Rovey, representing United Dairymen of Arizona, says H-2A needs to go even further than it does now, beyond a short-term seasonal status. 
"In our industry, we've already moved from a workforce to the level of a catastrophe. Our industry today can't find enough American workers to fill our job needs and unfortunately the current national agricultural visa program that focuses on temporary or seasonal workers precludes dairy farms - 24/7/365 operations - from participating."
So immigration reform, finding a way for those who want to work to have an opportunity to do so, may be a key for the agriculture industry.
Says Manos, "Look at the recent political change in Washington as an opportunity to do some good. Then let's do what farmers have always done - roll up our sleeves and get to work to make things better."
While Tew thinks the H-2A program can be an answer to the farm labor crisis, "There is no quick fix to the immigration reform dilemma, but with the Trump administration's concern about illegal migrant workers and a need for accountability, this program has control factors that accomplish that."
For Rovey, the worker shortage crisis represents a domino effect.
"There is no replacement workforce currently available to dairy farms and the loss of the majority of our current workforce would not only decimate our entire industry. If dairy falls, the ripple effect through the rest of agriculture would be incredible."
Farm bill wish list
Another panel of speakers - Pinal County cotton producer Dan Thelander, Arizona Food Marketing Alliance President Tim McCabe, and Keisha Tatem of the Natural Resources Conservation Service - outlined a wish list for the next farm bill. 
"I'm a federal employee, so I don't have an opinion," Tatem told the crowd before extolling the virtues of current efforts, especially EQIP (Environmental Quality Incentives Program) that promotes agricultural production and environmental quality as compatible goals where farmers and ranchers receive technical help and financial assistance to implement conservation practices.
McCabe's farm bill concerns centered around the 6.7 million people in Arizona who use SNAP, the supplemental food program formerly known as food stamps which represents a large financial chunk of farm bill spending. 
"SNAP provides a $2.6 billion economic impact in this state," he said.  "We believe there shouldn't be any fundamental changes to the program as it is now written."
Cotton – the other oil seed
Cotton grower Thelander confined his remarks to Title 1 Commodity Programs, covered commodities "that affect those of us on the ground level the most."
"What we need for Arizona farmers is an effective cottonseed program, having cotton designated as an 'other oil seed' that would allow growers to participate more fully in existing payment programs. I don't feel bad if our government can help our farmers compete against foreign competition," Thelander says.
Subscribe to receive top agriculture news
Be informed daily with these free e-newsletters
You May Also Like
---