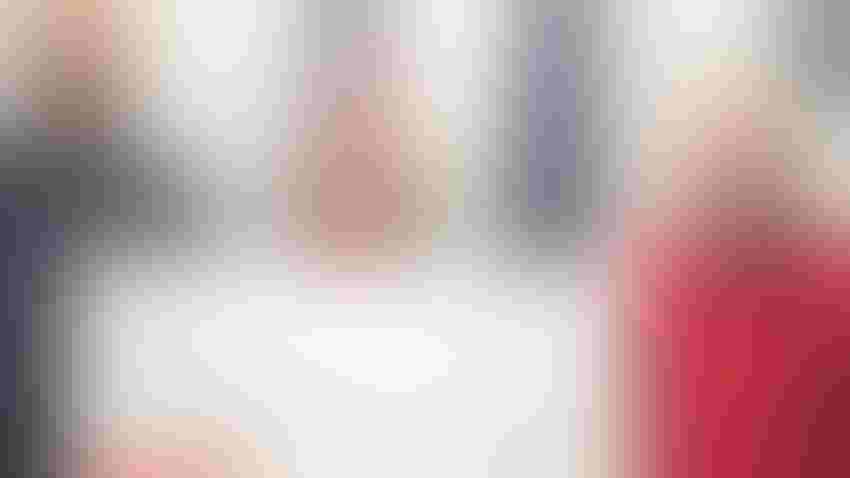 GIVING: District 11 Young Farmer state committee member Jeremy Karsten (left) presented a $1,000 donation to St. Thomas Food Bank co-chair and Cheboygan County Farm Bureau board member Lowell Beethem.
Courtesy of Michigan Farm Bureau
Michigan Farm Bureau members from Antrim, Charlevoix, Cheboygan, Emmet, Otsego and Presque Isle counties logged 656 volunteer hours, which is more than half of the total volunteer hours donated by county Farm Bureaus across the state.
In doing so, District 11 took the top spot for the second year in a row in MFB's Harvest for All program.
District 11 also brought in 15,700 pounds of commodities and food, contributing to the program's mission of sharing agriculture's bounty and helping neighbors in need by donating surplus agricultural commodities, nonperishable food products, money or volunteer hours to local food banks.
Combined with other county Farm Bureau members in Michigan, the program yielded a massive donation to Harvest for All in 2022, including:
more than 41,722 pounds of food

$42,221 in financial donations, an increase of more than $21,000 from 2021

966 hours of volunteer time
Christian Tollini accepted a $1,000 check as a prize on behalf of District 11 at MFB's Young Farmer Leadership Conference. The funds will be donated to the St. Thomas Food Pantry, a ministry of St. Thomas Lutheran Church that serves hundreds of people in need of food in Cheboygan County every week.
Coordinated by MFB's Young Farmer committee, the state's Harvest for All contest has been encouraging Farm Bureau members to feed Michigan for 18 consecutive years.
CWD confirmed in Newaygo County
The Michigan Department of Agriculture and Rural Development has confirmed chronic wasting disease in one white-tailed deer from a farmed cervid facility in Newaygo County. The infected 4½-year-old deer was discovered through routine testing as part of the state's CWD surveillance program for farmed deer.
"Limiting the spread and impact of CWD on Michigan's farmed cervid herds hinges on the ability to detect the disease early and respond promptly," state veterinarian Nora Wineland says. "While regular CWD surveillance testing is central to accomplishing this goal, MDARD's continued partnership with herd owners, hunters, and other state and federal partners is also crucial to effectively managing this disease. Ensuring the health of Michigan's farmed cervid population is a team effort."
CWD is a fatal neurological disease that affects different cervid species, including white-tailed deer, mule deer, elk and moose. CWD can be transmitted directly from one animal to another and indirectly through the environment. While an infected animal may appear healthy for months or years, it will eventually display abnormal behavior, progressive weight loss and physical debilitation in the later stages of the disease.
The presence of CWD in farmed cervid facilities and free-ranging deer is not new to Michigan. Since 2008, including this new case, CWD has been detected at 11 Michigan cervid farms in the following counties: Kent (2), Mecosta (4), Montcalm (3) and Newaygo (2).
With free-ranging deer, CWD was first discovered in May 2015. Cases have been found across 11 counties in Michigan's Upper and Lower peninsulas. To date, no free-ranging white-tailed deer have tested positive for CWD in Newaygo County.  
As part of MDARD's disease response, investigations are ongoing to rule out any possible exposure to other farmed cervids.
More information about CWD can be found at michigan.gov/cwd or michigan.gov/mdard-cervid.
MSU fraternity donates to help impaired farmers
A $15,000 check will help farmers and other agricultural workers with disabling conditions.
That's the mission for Alpha Gamma Rho (AGR), a Michigan State University fraternity that recently gave the check to AgrAbility, an organization that provides direct services to farmers with disabling conditions — such as arthritis, chronic back pain, joint injuries, amputations, spinal cord injuries and hearing loss.
Michigan AgrAbility partners with Easter Seals of Michigan to make this happen.
"We want to give back to farmers," says Matthew Ostrander, 2024 head chairman of the AGR Beef Preview Show. "We are an agriculture fraternity, and a lot of us are ag guys. Putting on an event like this and donating back to a charity that takes care of disabled farmers is appreciated by the community."
The AGR Beef Preview Show started in 2012. Donations from the event come from sponsorship dollars, entry fees and any other show profits. The February 2023 event featured 560 head of cattle and 450 exhibitors.
Subscribe to receive top agriculture news
Be informed daily with these free e-newsletters
You May Also Like
---