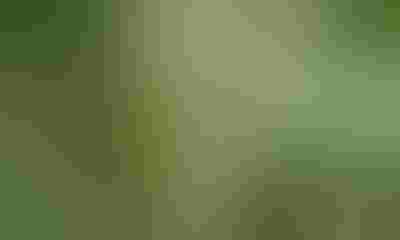 One area within the Crop Watch '16 field wound up super-thick. Populations were in the high 40,000-plants-per-acre range. By mid-August it was obvious that the ears would be small. An ear here and there was already succumbing to ear rot. It looked like an "ugly duckling" field.
That was before Dave Nanda helped do a yield estimate on two rows. While Nanda, a plant breeder and crops consultant for Seed Consultants Inc., sponsor of Crop Watch '16, doesn't always put a lot of stock in yield estimates, he notes they can help you compare one area of a field with another if you use the same sampling technique and same formula throughout the field. 
Crunch the numbers

SMALL EARS ADD UP: These ears are smaller than you would like to see, but yield estimation formulas show small ears can still add up to big yields if there are enough of them.
The two rows in the thick location averaged 48 ears in 1/1,000 acre. That corresponds to 48,000 ears per acre. The ears only averaged 14.3 rows of kernels per ear. Number of kernel rows per ear is largely controlled by genetics, but can also be affected by environment, Nanda says. That decision is made by corn plants early in the season. If plants detect lots of neighbors, they're likely to reduce the number of rows per ear compared to if they sense more favorable conditions.
These ears were also short, averaging only 28 kernels per row. Half of the ears had less than 30 kernels per row.
These don't sound like the kind of numbers big yields are made of. So you may be surprised when you see how the yield estimate turned out.
The yield estimation formula is number of ears times number of kernel rows per ear times kernels per row, divided by a factor representing the number of kernels in a bushel. The deeper and larger the kernels, the lower the number you select. The lower the number, the larger the yield estimate will be. In this case, the kernel size factor used in the formula was 85, which is fairly conservative for modern hybrids. The formula resulted in an estimate of 226 bushels per acre at 15.5% moisture.
How could so much corn come from such small ears? "It's all about the number of ears per acre," Nanda says. "That adds lots of kernels and changes the result quickly."
The future?
Nanda has predicted for a long time that farmers will grow very high populations in the future. High yields will come from a large number of smaller yet respectable ears per acre.
What about the stress and disease noted here? "These plants were crowded together," he notes. "To reduce stress, plants could be planted in an equidistant spacing.
"We're also not there yet in terms of genetics and plant type to maximize yields at high populations," he says.
Still, it would appear that the handwriting is on the wall for the future. It's hard to argue with 226 bushels per acre today, stress or no stress. 
Subscribe to receive top agriculture news
Be informed daily with these free e-newsletters
You May Also Like
---