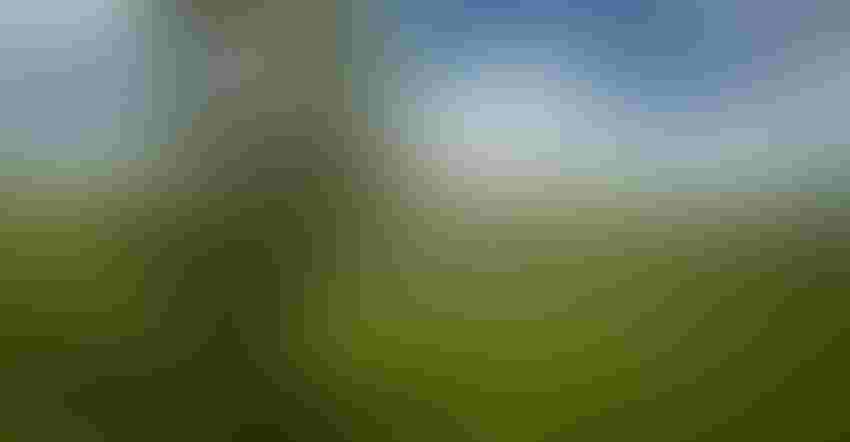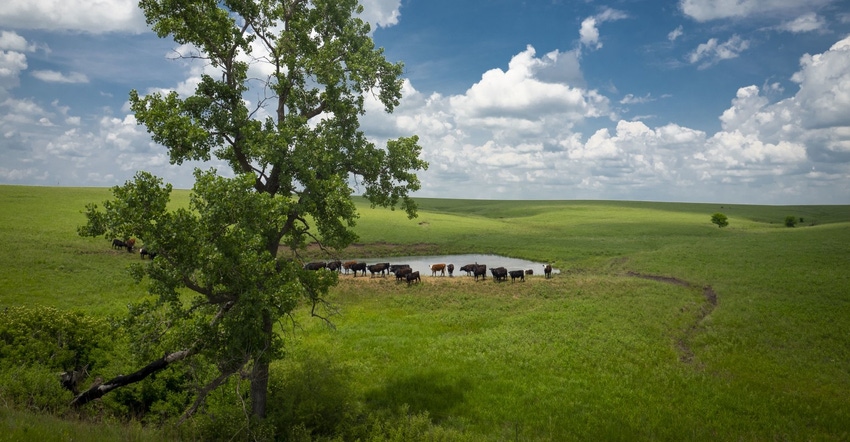 PONDS UNDER EPA JURISDICTION: Agricultural stakeholders seek clarifications in EPA's waters of the U.S. rule to exempt farm ponds and other normal agricultural practices.
USDA Photo by Preston Keres
The U.S. Environmental Protection Agency and the Department of the Army proposed a new "waters of the U.S." rule – now called the Navigable Waters Protection Rule – in an ongoing attempt to offer clarity for farmers and landowners to better understand what water features fall under federal jurisdiction while following congressional intent and adhering to court cases.
The main focus of the new rule clarifies four distinct categories of waters that are regulated under the federal Clean Water Act: territorial seas and traditional navigable waters, like the Atlantic Ocean and the Mississippi River; perennial and intermittent tributaries, such as College Creek, which flows to the James River near Williamsburg, Va.; certain lakes, ponds and impoundments, such as Children's Lake in Boiling Springs, Pa., and wetlands that are adjacent to jurisdictional waters.
The rule also offers 12 exclusions, detailing which waters are not subject to federal control, including features that only contain water in direct response to rainfall; groundwater; many ditches, including most farm and roadside ditches; prior converted cropland; farm and stock watering ponds, and waste treatment systems.
"After decades of landowners relying on expensive attorneys to determine what water on their land may or may not fall under federal regulations, our new Navigable Waters Protection Rule strikes the proper balance between Washington and the states in managing land and water resources while protecting our nation's navigable waters, and it does so within the authority Congress provided," EPA Administrator Andrew Wheeler said during a media call Thursday afternoon.
"Having farmed American land myself for decades, I have personally experienced the confusion regarding implementation of the scope of the Clean Water Act," added R.D. James, assistant secretary of the Army for Civil Works. "Our rule takes a commonsense approach to implementation to eliminate that confusion. This rule also eliminates federal overreach and strikes the proper balance between federal protection of our nation's waters and state autonomy over their aquatic resources. This will ensure that land use decisions are not improperly constrained, which will enable our farmers to continue feeding our nation and the world and our businesses to continue thriving."
In a separate statement, Agriculture Secretary Sonny Perdue said, "The days are gone when the federal government can claim a small farm pond on private land as navigable waters."
In offering technical background on the rule, an EPA official said tributaries – those that experience perennial and intermittent flow – created the most confusion, and this rule looks to address those issues. The official stated that the new rule draws a regulatory line at ephemeral flows – or those that do not have a permanent flow – but does include flows that go into traditional navigable waters.
The final rule defines "lakes and ponds and impoundments of jurisdictional waters" as standing bodies of open water that contribute surface water flow in a typical year to a territorial sea or traditional navigable water either directly or through a tributary, another jurisdictional lake, pond or impoundment or an adjacent wetland.
This final action is informed by robust public outreach and engagement on the Navigable Waters Protection Rule, including pre-proposal engagement that generated more than 6,000 recommendations and approximately 620,000 comments on the proposal. The final definition balances the input the agencies received from a wide range of stakeholders. The final definition achieves the proper relationship between the federal government and states in managing land and water resources. The agencies' Navigable Waters Protection Rule respects the primary role of states and tribes in managing their own land and water resources. All states have their own protections for waters within their borders, and many already regulate more broadly than the federal government. This action gives states and tribes more flexibility in determining how best to manage their land and water resources while protecting the nation's navigable waters as Congress intended when it enacted the Clean Water Act.
The significant nexus test – elaborated extensively in the 2015 rule – relied on ample evidence to demonstrate "many wetlands and open waters located outside of riparian areas and floodplains, even when lacking surface water connections, provide physical, chemical and biological functions that could affect the integrity of downstream waters." The official said although "science has informed" this latest version, it does not follow the premise of a previous connectivity report that contended that all waters are connected; instead, it looks at the significance of each connection. This becomes important when wetlands or features are closer to major tributary waters but less when drawing the line between ephemeral and intermittent waters.
Subscribe to receive top agriculture news
Be informed daily with these free e-newsletters
You May Also Like
---