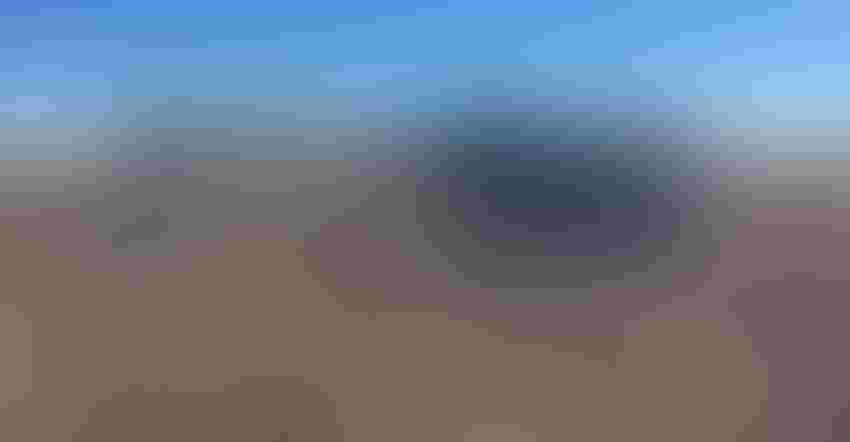 LEARNING ABOUT DROUGHT: Earlier this year a workshop focusing on drought was held in Eastern Colorado. Attendees learned about how lack of rain impacts the biology of range plants, which impacts available feed value.
Photo: Don Schoderbek, CSU
Drought is part of the big picture for Colorado these days. Earlier this year, 500,000 acres in central Lincoln County were listed in severe drought. In midwinter, an area of Eastern Plains counties covering 23.5 million acres was in moderate drought. That's more than 35% of the land area of the state. Add in a 2017 weather outlook that holds little rain, and ranchers and land managers have a reason to be worried.
Earlier this year, the USDA Natural Resources Conservation Service, Colorado State University Extension and the Yuma County Conservation District partnered on a drought workshop. A diverse array of participants was on hand, including ranchers, government land managers and CSU Extension agents.
During the event, Don Schoderbek, CSU Extension specialist, explored the mechanics of range plants and how they change during drought. He noted that the grass plant sets growing points, or buds, for new growth the previous summer.
Without late-summer moisture, following-year growth is impacted. And new growth is critical to root survival, which is where grazing comes in. Grazing mediates the amount of green leaf material needed to supply roots with energy. Schoderbek noted that the roots, while belowground, are the body of the plant year to year.
Roy Roath, retired CSU professor and Extension specialist, said that drought is more than what happens in the rain gauge. It can be a dynamic process that impacts each ranch differently. He noted that what ranchers do in good years can determine how intense the drought will be. One area he discovered was having greater cover, which allows you to "catch" added precipitation. He discussed his work on the Meadow Springs Ranch near Carr, Colo. After 10 years of managing with cover as an objective, the ranch withstood the 2002 drought without major stocking-rate or surface-water impacts.
One tip picked up during a farm tour as part of the event is that even nuisance plants like yucca, cactus and sand sage help catch moisture. The key to succeeding through drought will be a diverse forage base, which can lead to better livestock production.
Source: Don Schoderbek, CSU
Subscribe to receive top agriculture news
Be informed daily with these free e-newsletters
You May Also Like
---