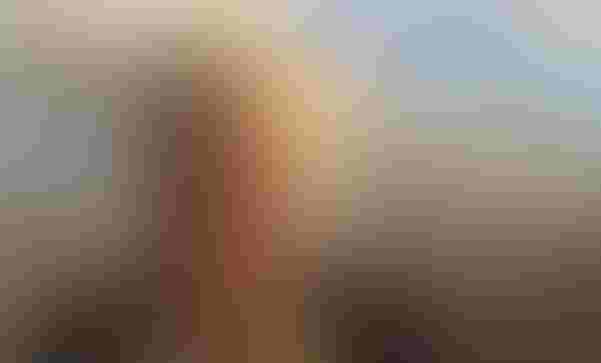 Nancy Caywood and her family are known for growing cotton, but there isn't enough water this year to grow it, she said.
Nancy Caywood/Caywood Farms
Third generation Central Arizona farmer Nancy Caywood is of the school of thought that if you don't talk about a problem, you can't find ways to solve it.
And she's got a lot to talk about after she and other Pinal County growers have had to labor under Tier 1 water restrictions implemented at the start of the year when Arizona's share of the Colorado River was cut.  The Bureau of Reclamation estimated the reduction meant that Central Arizona Project farmers there would lose access to nearly half the water on which they had been reliant.
"We have to pay for our water whether we receive it or not," Caywood says.  "Our irrigation canals were shut down weeks ago, about the time we took our final cut of alfalfa --- and it was a light cut --- before we had to decide, 'That's it'.  We moved some acreage into Sudan grass where we're taking our remaining water allotment to grow that out --- before we won't be able to grow anything else on it.
"It's heart-wrenching that we might have to give it up.  We're just trying to hang on because this is what we love."
Timing plays a big part in agriculture and it's unfortunate that the Caywood family had leased their grasslands prior to the cutback announcement. 
Related: A perfect storm: War, drought and the economy
"We knew it was lurking in the shadows, but there was no choice," she says. "You grow what you can and throw in the towel on the rest of it.  Like this year in our attempt to grow barley for certified seed.  We didn't have enough water to finish it out and it didn't make grade."
Not enough water
Barley is one of the crops grown on their 700 acres near Casa Grande along with alfalfa, Sudan grass, and corn. Despite being known as a cotton producer, "We planted a tiny bit of cotton this year to continue our cotton tours, but we put no commercial cotton in the ground because we knew we weren't going to have enough water to carry it through."
With rumors of a Tier 2 cutback on the horizon, Caywood says: "I've heard of a possible Tier 2 and if it goes into effect it will noticeably impact the general population whereas Tier 1 impacted only farmers.  People need to start worrying about their hydroelectric power and understanding their water taps may not always turn on as they have in the past."
Reminded of the old boxing adage that even a good fighter can take only so many punches, she acknowledged that her farming community was waiting and anticipating yet another shoe to fall.
Related: Western water, power in short supply this summer
"My parents, who passed recently, were optimistic and offered us advice about looking ahead and anticipating problems, but it's hard to do so when this is new ground being plowed and we don't know what to expect.  We're hoping monsoon moisture will be greater this year because with the Colorado River system not looking good right now, we could use a wetter summer season.
"Large solar companies are hovering, wanting to buy our land, but we don't want to sell.  We want to hang in there as long as we can.  We're optimistic we'll be able to make enough money on our corn and Sudan grass to cover farm expenses.   We've paid for our water and taxes this year and remain hopeful it will rain, the canals will fill up, and things will be good again."
In reference to our quoted "No Farms, No Food" slogan, she countered with a favorite quote of her own on Facebook --- "No civilization can survive the time when the agricultural economy is destroyed."
Ag represents freedom
"Agriculture represents freedom," says the former schoolteacher with a Master's degree in Agricultural Education who conducts the Caywood Farm Tours.  "Being the teacher I am, if you look at the Hierarchy of Needs chart, the very basis of the pyramid, the largest part is survival, and agriculture is survival."
It's under fire and in danger in a lot of places throughout the West with Central Arizona being the bullseye of that target.  Dan Thelander is a partner in the family farm that produces alfalfa, barley, durum wheat, and cotton on 2,500 acres in Pinal County, a declared drought region.
Well over a decade ago, he spoke to a U.S. House of Representatives Subcommittee on pricing and availability of water and said if it cost too much farmers couldb't get enough of it --- "Many acres won't get farmed, possibly as much as a third of the district may go out of production for lack of water (as happened in the 1980s prior to CAP water arriving in the area).  A lot of farmers will go out of business while those farmers who do hang on will make less money."
Thelander is quoted in an Associated Press story a few months back, standing next to a dry field kicking up dust, and acknowledging: "I didn't plant anything on 400 acres this year to cut down on water use.  More and more of the farm is going to look like this because we won't have water to keep things growing."
Related: Water cuts could devastate Arizona ag
Fellow farmer Paul "Paco" Ollerton saw the handwriting on the wall years ago and sold his land, only to lease some of it back.  His growing plan for 2022 showed a 25-35 percent reduction in planted fields.
It's a resounding theme among that tight-knit farming community.  "We're only growing the most profitable crops," said fourth-generation farmer Bryan Hartman.  "We've changed our mix and fallowed some of our productive cropland, aiming to maximize yield and income to give us the best chance to stay in business.  It won't be easy because we're not magicians."
Farmers, ranchers, dairymen, any member of the agricultural industry in Arizona, has been impacted by the cutting of more than half a million acre feet.  Arizona Farm Bureau President Stefanie Smallhouse was accurate in her earlier prediction of, "Dry fields, less livestock, diminished dairy --- a ripple impact with no easy fix."
Subscribe to receive top agriculture news
Be informed daily with these free e-newsletters
You May Also Like
---