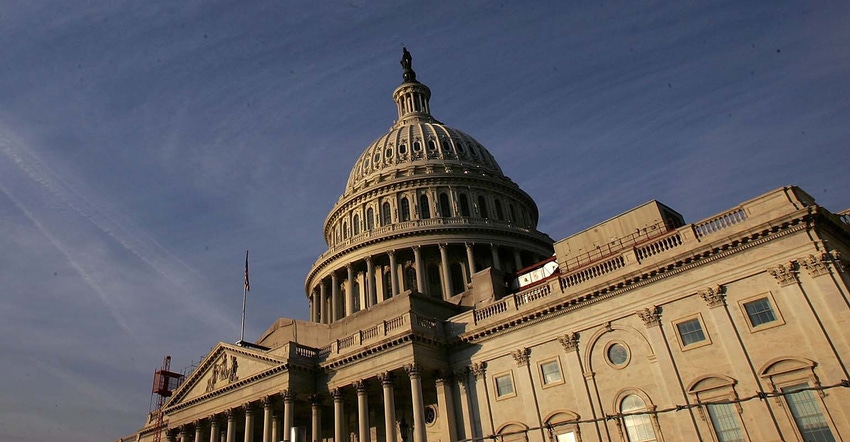 HEADED TO THE HILL: Representatives of the dairy industry are heading to Capitol Hill to talk with senators in hopes of getting the Workforce Modernization Act approved before the session ends.
Win McNamee/Getty Images
Leaders of the International Dairy Foods Association are urging Senators to pass the Farm Workforce Modernization Act. During a media conference this week the group called attention to the issue, Michael Dykes, president and CEO, says the bill is critical to the continued growth of the industry. He warns of dire consequences if the measure is not put into law soon.
"I can't stress to members of congress enough that the workforce situation is one that needs immediate attention," he says.
The Workforce Modernization Act would enhance the current guest working program, allowing more farm workers and their families to earn legal immigration status. Previous attempts to pass similar bills in 2019 and 2021 passed the House only to die in the Senate.
According to Dykes, there are around one million open jobs among Dairy Association members, which he estimates to be around two openings for every person seeking employment.
He shares that the best chance for the Senate to pass the measure is for it to be included in the anticipated omnibus appropriations bill expected to be taken up later this month.
David Ahlem, CEO and president of Hilmar Cheese Company, concurs with Dyke's sentiment, categorizing labor shortages as a threat to food security and a catalyst for increased consumer prices. He adds that consistently running with a short-handed workforce put additional strain on the system, creating worker safety issues and potential food safety concerns.
Heather Draper, the IDFA Ice Cream Segment Board Director and Director of the Ice Cream Club in Boynton Beach, Fla., adds that her company, as well as thousands of others, are struggling to attract and retain workers. This has prevented her from keeping up with demand and caused her to postpone expansion plans.
She notes USDA projects next year that the United States is expected to import more food than it exports. Increasing the labor force could help reverse this trend.
Over the coming days, Dairy Association members plan to lobby several Senators. Dykes hopes they will be able to persuade a filibuster-proof 60-Senator majority in favor of the bill. He remains optimistic this will happen before the Senate recesses for the year.
Subscribe to receive top agriculture news
Be informed daily with these free e-newsletters
You May Also Like
---