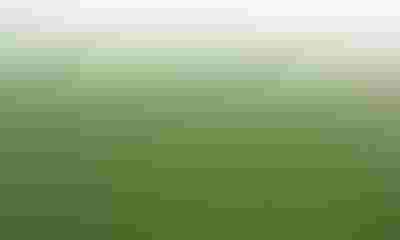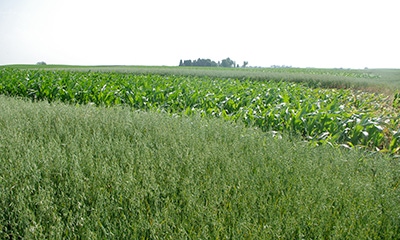 With lower commodity prices the past couple of years for corn and soybeans, many Iowa farmers have found that adding a small grains crop like oats or wheat to their crop rotation can help reduce the amount of fertilizers and pesticides they need to purchase. Not only does this improve their bottom line financially, but adding that third crop has many other benefits. Diverse crop rotations have been shown to use less energy, cause less erosion, and improve soil and water quality all while improving the yield of corn. Small grains can also be easily integrated into an organic farming system, too.

These benefits are summarized in a new infographic by Practical Farmers of Iowa, available to view or download at practicalfarmers.org.
Practical Farmers has also organized several small grains-focused field days as part of its 2016 summer field day series where farmers can learn more about the benefits and challenges of producing and marketing small grains, directly from their farming peers:
* June 20 – Reintegrating Small Grains into an Organic Crop Rotation – Polk City
2:00 to 5:00 p.m.; Hosted by: Aaron and Nicole Lehman
* June 25 – Managed Grazing to Improve Pasture and Cropland – Cherokee
2:00-5:30 p.m.; Hosted by: Nathan and Sarah Anderson
* June 30 – Working Together to Keep Children on the Farm – Knoxville
2:00-5:00 p.m.; Hosted by James and Julie Petersen and family
* July 27 – From a Soil Conservation to a Soil Regeneration Mindset – Hastings
10 a.m.-1 p.m.; Hosted by Jon, Tina, Bach and Nancy Bakehouse
* August 13 – 7 Farmers, 10 Enterprises: Diversity at 7 W Farm – Paullina
10 a.m.-2 p.m.; Hosted by Dan and Lorna Wilson and family
 Details on each of these events can be found in PFI's 2016 Field Day Guide at practicalfarmers.org or contact PFI office at 515-232-5661 to request a printed copy.
Diverse crop rotation allows better use of all nutrients in soil
The first small grains-focused field day of the year will take place on Monday, June 20, from 2:00-5:00 p.m., at the farm of Aaron and Nicole Lehman, near Polk City (13740 NW 30th St.). The Lehmans grow organic oats, corn, soybeans and hay on about 200 acres. "Small grains add a lot," says Aaron, who is a fifth-generation farmer. "For one thing, having a diverse rotation allows us to better use all the nutrients in the soil."
The event – "Reintegrating Small Grains into an Organic Crop Rotation" – is free to attend and will feature dinner following the program, along with a discussion on farm policy led by Iowa Farmers Union for anyone who wishes to stay. RSVPs are requested for meal. Contact Lauren Zastrow at [email protected] or 515-232-5661. The field day is sponsored by Blue River Hybrids Organic Seed; Grain Millers, Inc.; Iowa Farmers Union; Iowa Organic Association; Organic Crop Improvement Association International; Polk County Soil and Water Conservation District; Prudenterra; and Town & Country Insurance.
When you have a good rotation, one crop compliments the next
Aaron and Nicole have found that reintegrating small grains into their crop rotation has been essential to their organic farming operation. For instance, Aaron has found that small grains are good at scavenging nutrients left by corn and soybeans. Not only are these nutrients available to subsequent crops, he says raising small grains helps keep those nutrients out of streams and rivers. "When we have a good rotation, one crop compliments the next." Another benefit of diversifying a crop rotation with small grains is they help break up weed and disease cycles, making it easier to manage pests.
At the same time, Aaron and Nicole have discovered that learning how to effectively grow and sell small grains is crucial to the process. Field day attendees will hear about the benefits and challenges of small grains production and marketing in Iowa, while contemplating the positive role longer crop rotations play in sustainable farming. Other speakers will include Matt Liebman, agronomist at Iowa State University who holds the Wallace Chair for Sustainable Agriculture, and David Weisberger, with the ISU department of agronomy.
Directions from Alleman: Travel 2.5 miles west on 142nd Avenue. Turn left (south) on NW 30th Street. Travel 0.5 mile; the farm is on the west side of the road. Directions from the north edge of Polk City: Travel about 2 miles east of Polk City on 118th Avenue. Turn left on NW 44th Street and go 3 miles north. Turn right on to NW 142nd Avenue and travel 1 mile. Turn right onto NW 30th Street and travel 0.5 mile. The farm is on the west side of the road.
Practical Farmers' 2016 field days are supported by several sustaining and major sponsors including: Albert Lea Seed; Applegate Organic & Natural Meats; Center for Rural Affairs; Featherman Equipment; Grain Millers, Inc.; Iowa Agriculture Water Alliance; Iowa Beef Center; Iowa Center for Ag Safety and Health (I-CASH); Iowa Cover Crop; Iowa Environmental Council; Iowa State University Department of Agronomy; ISU Extension and Outreach; ISU Graduate Program in Sustainable Agriculture; Leopold Center for Sustainable Agriculture; Midwest Organic and Sustainable Education Service (MOSES); MOSA Organic Certification; National Wildlife Federation; Natural Resources Defense Council; North Central Sustainable Ag Research and Education (SARE); Organic Valley, Organic Prairie, CROPP Cooperative; RIMOL Greenhouse Systems; Riverside Feeds, LLC; Soil First; The Yield Lab; Trees Forever; Wallace Chair for Sustainable Ag; Welter Seed & Honey Co.; and Willcross Soybeans.
Subscribe to receive top agriculture news
Be informed daily with these free e-newsletters
You May Also Like
---