Conservation from out-of-production catfish ponds
Conservation from out-of-production catfish ponds
When Ashland Plantation discontinued catfishing farming, it needed a plan for the 400 acres that had been in ponds.About 300 acres will be put into trees under the Conservation Reserve Program.Under the Agricultural Water Enhancement Program, 30 acres have been converted to water storage facilities.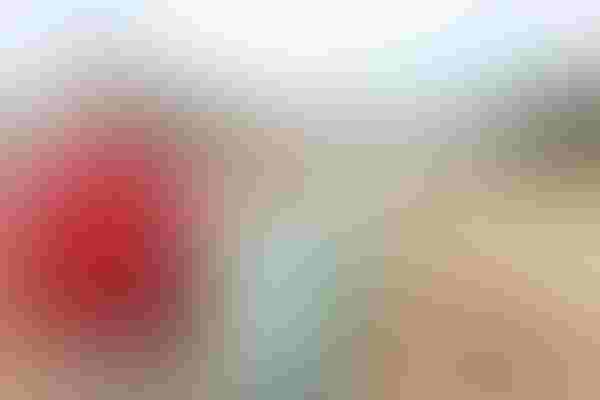 When the owners of Ashland Plantation decided to discontinue the catfish farming part of their operation, the question became how best to utilize land that, for the most part, wasn't suited to crops.
"We had something over 400 acres in ponds that had been in place for 20 years or more," says Pierce Brown, who with his cousin, Richard Brown, is the fourth generation to farm at Schlater, Miss.
"Catfish had been a good enterprise for many years, but when profitability declined we decided to shut it down," he says. "We landformed some of the ponds and put them back into crops, but most were in areas that were subject to flooding, or the soils were too heavy, and they just weren't economically suited to farming — the risk would be too great."
About 300 acres will be put into trees, primarily hardwoods, under the Conservation Reserve Program.
"We like trees," Pierce says. "We're all avid hunters, so we like the wildlife habitat aspects of the program, but we also appreciate the long term conservation and ecological benefits."
As the pond conversion process continued, Richard says, "We saw an article in Delta Farm Press in which Dean Pennington, executive director of the Yazoo-Mississippi Delta Water Management District, outlined some of the water problems confronting the Delta and we decided to see what type of water conservation programs might be available for some of our land in ponds."
That led them to the Natural Resources Conservation Service office at Greenwood, Miss., where they learned about the Agricultural Water Enhancement Program (AWEP), under which they've now converted 30 acres of ponds into two water storage facilities, from which they will irrigate row crops in nearby fields.
AWEP is a voluntary conservation initiative that provides financial and technical assistance to agricultural producers for conserving surface and ground water and improving water quality. Part of the Environmental Quality Incentives Program (EQIP), AWEP operates through program contracts with producers to plan and implement conservation practices in project areas established through partnership agreements.
"If you look at a map of the aquifer under the Mississippi Delta, there's a big red dot over this county, indicating the area of greatest depletion," Pierce says.
"We could've just drilled more wells — even though the heavy catfish farming in the area has had an impact on the aquifer, we still can drill wells economically and get adequate water for irrigation. But, if we can meet some of our crop needs by utilizing these water storage structures and at the same time help preserve aquifer resources for future generations, we see it as a win-win situation."
A lot of the dirt was already in place for the projects, says Richard, so the earthmoving and construction work and costs were less than starting with a blank slate.
Trees and water storage
"By taking advantage of the CRP and AWEP programs to put the bulk of these ponds in trees and water storage structures, we can not only do something that provides benefits for our farming operation, we can also do something to help preserve resources long term."
Ashland Plantation's crop breakdown this year is 25 percent cotton, 25 percent soybeans, and 50 percent corn. All the crop land is irrigated, mostly with furrow.
Both water quantity and quality are major concerns in the Delta, says Paul Rodrigue, NRCS water management engineer, who designed the storage facilities for the Browns. He is located at the agency's Grenada, Miss., office.
"We've seen in the Grand Prairie region of Arkansas what can happen to an aquifer as a result of heavy water use for agriculture, and we want to learn from their experience and utilize these federal conservation programs to help preserve this vital resource in the Mississippi Delta."
Financial assistance programs include AWEP, mostly for water quantity programs; EQIP, which addresses all resource concerns; Cooperative Conservation Partnership Initiative (CCPI), which addresses both water quantity and quality; and the newest program, Mississippi River Basin Initiative (MRBI), which primarily addresses control of nutrients in lakes, rivers, and streams.
"One option for financial assistance under AWEP is to combine a tailwater recovery system and an on-farm water storage system — basically, take existing ponds and 'super-size' them to create a reservoir of recovered water from crops and rain water that can be collected and used for irrigation," says Rodrigue.
"What the Browns have done with one project is to combine two adjacent ponds, covering 20 acres, by taking out the internal levee, raising the height of the levee, and bringing in the existing drainage channel to feed tailwater into the structure for storage."
Another converted pond also covers 10 acres, and the Browns are in the design phase for a structure that will be built from the ground up. It's located in a low-lying area between two ridges and will cover 28 acres.
"The structures are designed with the idea that the water in them will be exhausted by irrigation during the crop season and then will be filled again by March 1 for the next crop year," Rodrigue explains.
"There will be years like 2009, when a lot of irrigation isn't needed, and there will be the occasional very dry year, when supplemental well water will be needed. There will also be an occasional year, like 1991, when winter rainfall won't be enough to fill the structures. But, long-term analysis shows that, in most years, the stored water will be adequate for irrigating the fields for which they're designed."
Reduce groundwater demand
Well water will remain available as backup, but the goal is to reduce groundwater demand for irrigation by 50 percent to 75 percent over the long term.
For row crops, approximately 1 acre foot of water is needed per acre of crop, so the 30-acre structure (8-foot depth) can meet the typical season's crop water need for 240 acres.
While the upfront capital investment for the storage structures is "fairly large," by using the stored water first, Rodrigue says, "we calculate that irrigation costs can be reduced by 50 percent over the 15-year amortized lifespan. And since nobody knows what energy costs will be in the years ahead, the savings could be greater."
For the embankment storage facilities, the typical requirement for construction is for 25,000 cubic yards of earthmoving. Financial assistance under AWEP is $1.50 per cubic yard, and the cost to the farmer is about equal to that. One or two pumps will be required, along with overflow pipes, and an underground line to carry water to the fields for irrigation.
A 10-acre facility typically costs about $70,000, he says, but because the Browns already had ponds and levees in place, the earthwork costs were less.
"These structures allow farmers more control over their water resources, reduce their dependency on pumped water, and take some of the uncertainty out of potential stricter permitting and water use regulations in the future," Rodrigue notes.
Unfortunately, he says, a lot of those who're getting out of the catfish business haven't recognized the opportunity that exists for cost-sharing to convert ponds to water storage.
"While some locations won't be suitable, a great many hold potential for growers to create structures that can reduce their irrigation costs while helping to reduce demands on the aquifer.
"Water conservation ranks high in all of the NRCS programs, and these programs are gaining popularity as farmers learn about them and the word spreads. Because of the new programs that are becoming available, though, they often aren't aware of the specific opportunities available to them."
Continuous sign-ups for these programs are available at NRCS offices, Rodrigue notes, and "we would encourage growers who have an interest in becoming cooperators to go to their local office for further information."
Three types of systems
There are three types of systems that qualify for assistance under AWEP, he says:
1. Surface water use (pumping from lakes, streams, etc.).
2. True tailwater recovery systems to capture irrigation return flow, with pumping and delivery systems for reapplying the water to the land. "We try to size these so there will be .3 acre feet of water for each acre of field to be watered."
3. On-farm water storage structures, "where we begin with tailwater recovery systems and construct large embankment ponds for storing large quantities of water."
"Our field offices work with the farmer-cooperator to complete the enrollment process and do the planning survey and design work," Rodrigue says. "The farmer-cooperator then hires a contractor to do the actual construction work, and after it's completed, we do a checkout to be sure it is built to design standards."
It usually takes about six months to complete the contract process and then 12 months to 24 months for construction and NRCS checkout. For long-term projects such as this, cooperators are usually those who have control of the land, either the owners or those who have long-term leases.
"While these are excellent programs for farmers who have old catfish ponds that can be converted, or low-lying land that isn't suitable for crops, unfortunately there is no payment available for loss of income for taking crop land out of production for these programs," Rodrigue says.
"But for a relatively small investment over the long term, for farmers with available land, these programs offer a real opportunity to maximize their irrigation potential and help to preserve natural resources. For every dollar the landowner invests, the government makes an investment, too — it's one of this country's great conservation stories."
Subscribe to receive top agriculture news
Be informed daily with these free e-newsletters
You May Also Like
---