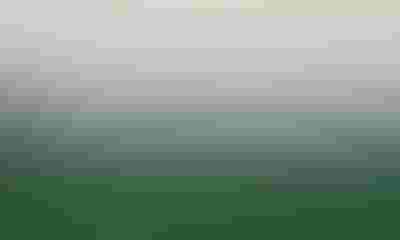 Haley Banwart has been named assistant field specialist for the Coalition to Support Iowa's Farmers (CSIF). She will communicate the coalition's mission and services by sharing the success stories of Iowa's farm families who have grown their livestock farms successfully and responsibly using on-farm best management practices.
Other responsibilities include leading the organization's farmer education efforts, including the annual Farming for the Future Conference, coordinating the popular Gary Wergin Good Farm Neighbor Award, and networking with the state's livestock and poultry leaders to provide timely assistance to farm families to help them manage changes to their farms.

GOOD, FREE ADVICE: The Coalition to Support Iowa's Farmers helps livestock farmers with facility siting, planning and construction, following all rules and regulations. CSIF also helps with neighbor relations, providing advice and assistance at no cost.
Banwart spent two summers as CSIF intern, has farm background
After spending two summers as the coalition's intern, Banwart assumes a position previously held by Rita Reynolds who decided to join her husband's family farm and crop insurance business. A native of northwest Iowa, Banwart grew up on a diversified crop and livestock farm near West Bend. She graduated from Iowa State University with a bachelor's degree in ag communications and journalism. Banwart is currently pursuing her Master's degree in ag education with an emphasis in communications.
"The coalition has been a trusted resource for Iowa farm families wanting to remain viable on the land and active in their communities. The coalition has existed for more than 12 years," says CSIF executive director Brian Waddingham. "Haley Banwart will help maintain and advance the coalition's reputation as a prompt, reliable and trusted resource for livestock and poultry farmers."
Helping families grow livestock farms responsibly, successfully
The coalition, created by farmers to serve farmers, is here to help families grow their livestock farms responsibly and successfully. "We can help with livestock facility siting, planning and construction planning, and help livestock farmers to follow all rules and regulations and neighbor relations," says Waddingham.
Farmers are encouraged to get off to the right start when considering building or growing a livestock farm by planning at least eight to 12 months prior to start of construction. "Make certain your financing is in order and network with other farmers who've successfully started a new livestock farm or have grown an existing livestock farm," advises Waddingham.
Need to follow rules and regulations from the very beginning
Visit the Rules & Regulations page on CSIF's website for a review of all regulations applicable to the type and size of livestock farm facility you plan to build, he advises. Be sure to contact CSIF directly at 800-932-2436 for assistance in understanding how regulations will impact your plans.
Make sure to work with a reputable builder. Ask for and check references. The builder needs to know all rules and regulations that apply to your new barn. The builder also needs to know the appropriate concrete standards as determined by the state of Iowa and enforced by the Department of Natural Resources (DNR). For tips on where to build, go to Siting Considerations.
CSIF was created by farmers to help farmers raise livestock successfully and responsibly. It's a joint partnership involving the Iowa Cattlemen's Association, Iowa Corn Growers Association, Iowa Egg Council, Iowa Farm Bureau Federation, Iowa Pork Producers Association, Iowa Soybean Association, Iowa Turkey Federation and Midwest Dairy Association. The nonprofit, non-partisan organization provides assistance to farmers at no cost. CSIF does not lobby or develop policy. Farm families wanting a helping hand can contact the coalition at 800-932-2436.
Subscribe to receive top agriculture news
Be informed daily with these free e-newsletters
You May Also Like
---