Iowans would pay a higher state sales tax to finance improvements in water quality and other natural resources programs under a new lobbying effort endorsed earlier this week by a group of Iowa farm, business and conservation leaders. The Iowa's Water & Land Legacy Coalition will urge lawmakers in the 2017 session of the Iowa Legislature to increase the state sales tax by three-eighths of a cent.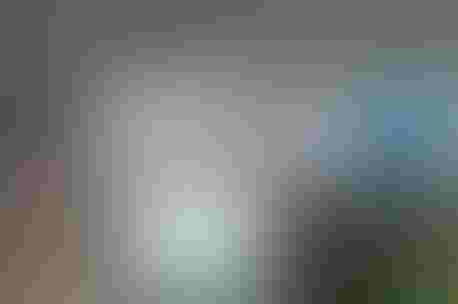 > FUNDING NEEDED: The Iowa's Water
The money generated would go into the state's Natural Resources and Outdoor Recreation Trust Fund. That fund would channel the dollars toward established state conservation and water quality improvement programs to the tune of $180 million every year. Such programs would include cost-sharing with farmers and landowners as an incentive to get them to put more water quality improvement practices on the land such as cover crops, bioreactors, saturated buffers, no-till, strip-till, etc.
Would help Iowa solve its water quality funding problem
Representatives of the coalition gathered for an outdoor press conference September 12 on the edge of downtown Des Moines, right where the Des Moines and Raccoon Rivers come together. It was a motley crew of outdoorsmen, sportsmen, farmers, legislators and business people who gathered to make the announcement. The coalition consists of the Nature Conservancy, Ducks Unlimited and the Iowa Soybean Association just to name a few of its members. 
"When the 2017 legislature convenes in January, the coalition will propose raising the state sales tax by three-eighths of one cent," said Kirk Leeds, CEO of the Iowa Soybean Association and co-chair of the coalition. "The additional $180 million a year in state revenue this would raise will support programs and initiatives that include cleaning up Iowa's rivers and streams, upgrading soil conservation, and enhancing wildlife and outdoor recreation programs."
Message delivered loud and clear, "It's time to fund the trust"
Clean water, healthy soils and enhanced natural spaces such as parks and lakes, are not Democrat or Republican ideas, said Leeds. "Rather, they are vitally important pieces of Iowa that are directly tied to our economy and quality of life."
"Everyone involved in agriculture, especially farmers and landowners have a vested interest in conservation as we expand efforts to feed the world," he added. At least 60% of the additional sales tax money would be used to help fund cost-share practices and other efforts to improve Iowa's waters. The Iowa Nutrient Reduction Strategy, a voluntary statewide effort, calls for reducing rural and urban nitrate runoff and phosphorus runoff losses by 45%. There is no deadline set to meet that goal.
Branstad hasn't offered support for sales tax increase
Iowa governor Terry Branstad hasn't offered any support for a sales tax hike. "Gov. Branstad is pleased to see Iowans discussing ways to secure a long-term, reliable source of funding to address water quality issues," says Ben Hammes, the governor's communications director. "However, Gov. Branstad continues to believe that we prioritize our state budget and achieve our goal of finding a long-term reliable source of funding without raising taxes on Iowa's taxpayers."
Leeds said Iowa's 40,000 soybean farmers are proud to support the coalition's efforts. "Farmers have and will continue to make investments in water quality, soil health and creating recreation opportunities for all Iowans," he said. "Farmers understand they are part of the solution. But they also know that all Iowans share in the costs and benefits of improved water, enhanced soils and expanded recreation. And, that is why we strongly support funding the trust fund."
Iowans approved the trust fund, but it has never been funded
Iowans overwhelmingly voted (63% approval) to amend the state's constitution in 2010 to create the trust fund. However, the fund sits empty because the Iowa Legislature hasn't increased the sales tax to put any money into the fund.
Leeds and fellow coalition co-chairs Jan Glendening, Iowa state director of The Nature Conservancy and Tammi Kircher, chairwoman of Iowa Ducks Unlimited, are urging legislators to increase the sales tax to generate the estimated $180 million annually for the constitutionally-protected trust fund.
Leeds and other supporters are optimistic change will come
Though funding the trust hasn't gained much traction with enough lawmakers in the past, Leeds and other supporters are optimistic this will change in the coming legislative session. "We know it will take a lot of work, and there are political hurdles to overcome," Leeds said. "But we believe the timing is right. There appears to be political leadership in place to come up with a long term, sustainable funding source."
Glendening added, "It's going to be different this time" in the legislature. She said The Nature Conservancy has been working to get the trust fund implemented and funded for a decade. Protecting Iowa's natural resources of land, water and wildlife is important to its members and all citizens. Glendening is convinced the new broad-based support, which represents all Iowans, will be enough to convince legislators to fund the trust.
It would help farmers put best management practices to work
"We have ag groups coming to the table, along with businesses and others," said Glendening. "We've had Iowans at the table for a long time. Having more cost-share funding available would be an incentive to get more farmers to voluntarily use the best management practices to improve water quality that have been identified in the Iowa Nutrient Reduction Strategy."
State Sen. Matt McCoy of Des Moines supports the sales tax hike along with most fellow Senate Democrats. "Iowa doesn't have the resources available to properly fund the Iowa Nutrient Reduction Strategy — the science based plan implemented in 2013 to reduce nitrate and phosphorus loads entering Iowa waterways by 45% from point and nonpoint sources. The sales tax increase is needed," he said.
Voluntary is best way to get farmers to solve water quality problems
McCoy believes the voluntary approach to get more farmers to use more of the nutrient management practices outlined in the Iowa Nutrient Reduction Strategy is the best way to mitigate water pollution. He's afraid if the state legislature doesn't fund what amounts to a multi-billion dollar, decades-long cost-sharing effort, the federal government will step in and mandate change.
"The vast majority of farmers want to use the nutrient management practices outlined in the strategy but they lack the resources, especially with commodity prices so low now," McCoy said. "This sales tax increase would put money in their pockets by providing them the cost-share to put these practices on the land voluntarily. We have a lot of confidence in farmers and in the voluntary approach. Farmers are committed to do the right thing. Now it's time for elected officials to have the political courage to move forward because we all know the water quality problem exists."
Missouri, Minnesota use a similar tax to support the environment
Kircher said legislators have the support of Iowans because a super majority of voters approved creating the trust fund. Advocates say polling the last several years has been consistently supportive of the need to put money into the trust fund and use it to protect soil, water and other natural resources. "It's time legislators listen to what Iowans are telling them. Iowans are saying they support this tax increase," Kircher added.
Similar mechanisms using state tax funding to help the environment exist in Missouri and Minnesota. Raising taxes is historically a heavy lift in Iowa, but certainly not unprecedented. Two years ago lawmakers, after years of toiling with the idea, raised the gas tax for needed road, bridge and other infrastructure improvements. Leeds says it's time for the Iowa Legislature and the governor to get behind a sales tax hike that's needed to improve water quality. "It's time Iowans make that investment to improve infrastructure related to water," he said.
Subscribe to receive top agriculture news
Be informed daily with these free e-newsletters
You May Also Like
---