CDFA's Ross, growers voice concerns over Chinese tariffs
CDFA's Ross, growers voice concerns over Chinese tariffs
California Secretary of Food and Agriculture Karen Ross, California Farm Bureau Federation president Jamie Johansson and several growers took part in a media event hosted by the interest group Farmers for Free Trade.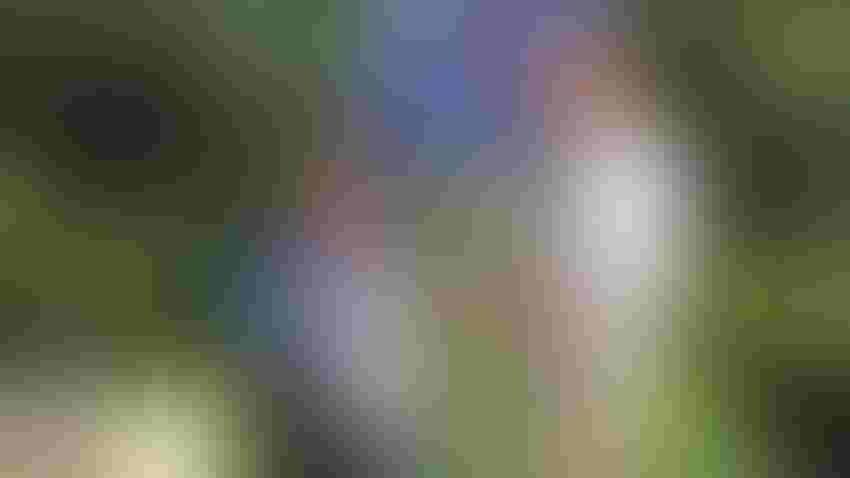 California Secretary of Food and Agriculture Karen Ross (left) receives a button from Brian Kuehl, executive director of Farmers for Free Trade, during a media gathering at a winery near Lodi, Calif.
China's retaliatory tariffs against the U.S. are already having a negative effect on California's agricultural exports, growers and a top state official contend.
For LangeTwins Family Winery and Vineyards in the Lodi area, the 15 percent additional tariff on wine has already resulted in one order being canceled and another being put on hold while price negotiations occur, the winery's Aaron Lange says.
"This hurts California's ability to compete with other nations," Lange told reporters April 26 during a gathering at his family's winery to urge a quick solution to the trade dispute.
Jeff Colombini, who farms apples, cherries, walnuts and olives in Lodi, has several commodities affected by the tariffs. One-quarter of his apple crop, half his cherries and 80 percent of his walnuts are exported, he says.
"Apples were a big winner with" the North American Free Trade Agreement, he explains, noting that exports to Mexico quadrupled and Canada doubled under the pact. U.S. apples just gained access to China in 2015, and exports have grown to 2.5 million boxes per year, he says.
"This is significant and of concern because China is an emerging market," says Colombini, president of Lodi Farming Co. "If apples don't find a home overseas, they go to California or to the East Coast."
That, in turn, creates an over-supply domestically, which pushes down prices to growers, he notes.
"Free trade is not just important to me, it's important to the 200 employees who work in my operation" and to other industries that support agriculture, Colombini says.
A key ally
He and Lange have an ally in state Secretary of Food and Agriculture Karen Ross, who asserts that about $20 billion in California's $46 billion in farm gate receipts "goes to ports and onto trucks" and employs many people in the shipping industry.
China has become the third biggest destination for the Golden State's agricultural products behind the European Union and Canada, Ross says.
"California has been very successful at growing new markets," she says, noting the state's Mediterranean climate makes it uniquely suitable for all sorts of crops. "Being able to make bilateral and multilateral trade agreements is critical to us."
Ross was joined by California Farm Bureau Federation president Jamie Johansson and others at the media event cosponsored by Farmers for Free Trade, a new national advocacy group headed by former U.S. Sens. Max Baucus, D-Mont., and Richard Lugar, R-Ind.
California hard-hit
The event was to publicize the organization's study that found California commodities will be particularly hard-hit by the roughly $500 million in Chinese tariffs imposed on American agricultural goods in response to President Donald Trump's duties on imported steel and aluminum.
New tariffs of 15 percent to 25 percent were attached to goods including almonds, walnuts, pistachios, grapes, oranges, apples, cherries, wine, ginseng and pork. Among the California commodities that will be hardest hit are pistachios ($99 million in potential additional duties), wine ($29 million), almonds ($28 million), and cherries ($28 million), according to the report.
"No one is saying China has been behaving well," says Brian Kuehl, Farmers for Free Trade's executive director. "We're just concerned about the impact on agriculture and (hoping) that this doesn't turn into a trade war that will last two years."
The group's study follows a report last week by Rabobank finding that the volume of California products direct-shipped to China is low, albeit not insignificant. About 4 percent of U.S. exports in the fruit and nut category and 2 percent of vegetable exports go to China, Rabobank notes.
Long-term damage
However, University of California-Davis economist Daniel Sumner warns that California exports could suffer long-term damage as the state loses its reputation as a reliable source of agricultural goods. That concern was shared by participants at the Lodi media gathering, who argue that China could take advantage of free trade agreements with the U.S.' competitors.
"The last time we had an agricultural trade deficit was in the 1950s," says Johansson, an Oroville olive grower. "That's quite an accomplishment."
U.S. Agriculture Secretary Sonny Perdue reassured farmers during a stop in Knoxville, Tenn., last week that Trump will not leave them to take the brunt of China's tariffs. He said the USDA and the administration are "working on solutions" to market issues.
Ross says she met earlier this week with Ted McKinney, the USDA's under secretary for trade and foreign agricultural affairs, to voice concerns.
"I'm convinced he's going to fight hard for us," says Ross, a former chief of staff for then-U.S. Agriculture Secretary Tom Vilsack.
But Rob Neenan, president and chief executive officer of the California League of Food Processors, says he would prefer the administration work through the World Trade Organization to resolve disputes "rather than risk a global unwinnable trade war."
Subscribe to receive top agriculture news
Be informed daily with these free e-newsletters
You May Also Like
---