Broad coalition promotes $10B water bond in California
Broad coalition promotes $10B water bond in California
Storage and infrastructure are sticking points.Governor's selective fiscal restraint seen as insulting.Legislature has little time to put up new measure or leave 2009 bond on ballot.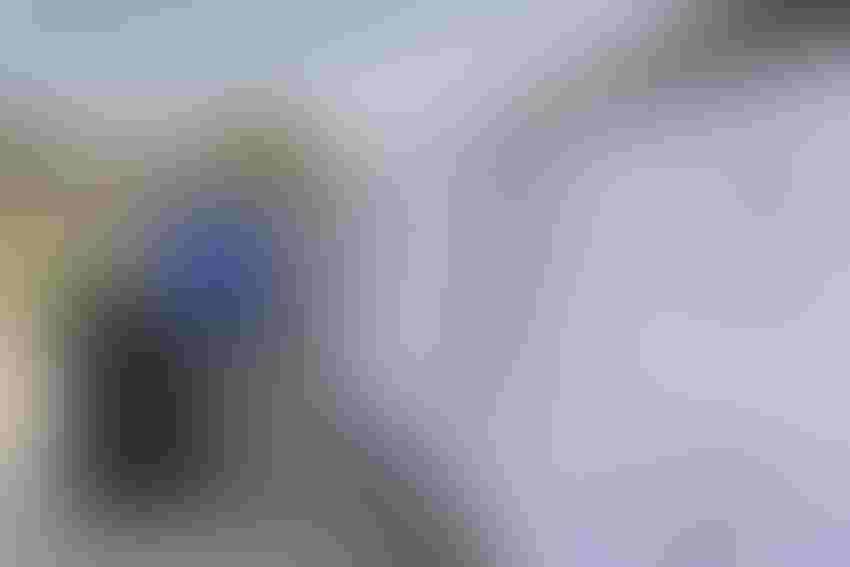 <p>Manuel Cunha, president of the Nisei Farmers League, gestures during a press conference in Fresno at the numerous number of signatures on a letter calling on California Gov. Edmund Brown, Jr. to support a water bond with money for storage and infrastructure.</p>
Agricultural leaders and local elected officials in Central California are calling it "do or die" time as efforts are ramping up to get a water bond on the November ballot in California.
Officials say billions of dollars must be spent to keep California cities and farms from drying up and dying.
San Joaquin Valley elected officials and agricultural leaders took to the steps of Fresno City Hall Wednesday morning to call on the legislature and California Gov. Edmund Brown, Jr. to support a $9.8 billion water bond measure that legislative leaders are currently debating and must pass within the next couple weeks if it's going to make it to the November election.
The hastily-called press conference came after reports were published that Brown wrote a letter earlier this month to campaign supporters calling for a fat-free water bond totaling $6 billion.
"That just won't do what we need," said Manuel Cunha, president of the Fresno-based Nisei Farmers League. Cunha called Brown's $6 billion proposal "a slap in the face" to agriculture and local communities.
Ready to go on the November ballot is an $11.14 billion water bond measure passed by the legislature in 2009. That bond was pulled just before the Nov. 2009 election for a host of political reasons.
California agriculture has pushed to get that bond back on the ballot at every possible election since then, but the legislature has repeatedly punted the measure to the next possible election.
Kicking the can
"We can't kick that can down the road any further," said Barry Bedwell, president of the California Grape and Tree Fruit League.
What agricultural leaders want is, at the very least, the $9.8 billion bond to be approved for the ballot by the legislature. That measure would replace the $11.14 billion bond tagged to go this November.
Cunha says the 2009 bond has all the provisions in it Central California agriculture wants, including money for new water storage and infrastructure, but sees the slightly smaller bond measure as more politically palatable.
"The Governor will likely fight us on the 2009 bond because he needs that money for high speed rail," Cunha said.
Among the provisions Cunha and others want from a water bond include:
$3 billion with continuous appropriation funding for new surface water development;

$300 million for local/regional conveyance projects and groundwater recharge;

$2.25 billion for Delta sustainability;

$1 billion in Integrated Regional Water Management (IRWM) grants; and,

$400 million for safe drinking water, including water quality funds for use by disadvantaged communities as well as specific language directed at aiding rural residential homeowners and tenants.
Additionally, the bond agricultural leaders want will also support adequate supplemental funding to provide development of regional water supply projects throughout California resulting in the production of beneficial water supplies to statewide water users.
Cunha says leaders from both sides of the political aisle have been working "feverishly on this thing" to get it done and he praised them for their efforts.
Broad support
The press conference was also used to call attention to a letter signed by cities, counties, agricultural leaders, chambers of commerce, chiefs of police, sheriffs, school districts, and at least 100 private citizens in the San Joaquin Valley that calls on the California Legislature to put the water bond measure up for a vote.
Included in the letter are signatures by the mayors of Fresno, Kerman, Parlier, Fowler, Mendota, Clovis, Orange Cove, and the Los Angeles-area city of San Fernando.
Calls to put the 2009 bond on the Nov. 2014 ballot became much louder last winter after California and federal regulators shut off surface water flows to much of the state earlier in the year. Those water deliveries were halted in part because the water simply was not available after three years of dry conditions were capped with nearly no rain and snow during the 2013-14 rainy season.
Lawmakers have until the end of August to make a decision on the proposed bond measure or simply leave the 2009 measure on the ballot, according to Amanda Fulkerson, spokesperson for Assembly Member Connie Conway, R-Tulare. Cunha said Conway has been helpful in keeping agriculture's interests in the bond discussions.
Tulare County Supervisor Allen Ishida said a meeting several months ago of county supervisors from the eight San Joaquin Valley counties, plus those representing the San Joaquin/Sacramento River Delta region, generated the support of 24 California counties to favor a water bond that would address storage and infrastructure needs in the state. That support included the County of Los Angeles.
"We need water; we need it to sustain life here," Ishida said.
Ishida further called on state leaders to divert money already set aside for California's proposed high speed rail project on California's more-pressing water infrastructure needs.
The latest agricultural news each day to your Inbox. Click here for the free Western Farm Press Daily e-mail newsletter.
Fresno City Council President Steve Brandau called Gov. Brown's $6 billion water bond concession "cheap and chinsey," as Brown's latest call for fiscal responsibility has not been matched by previous actions, including his support for the $68 billion high speed rail project and other expensive projects.
"We're issuing a challenge to our governor today: do not be cheap and chinsey when it comes to our water infrastructure," Brandau said.
Subscribe to receive top agriculture news
Be informed daily with these free e-newsletters
You May Also Like
---