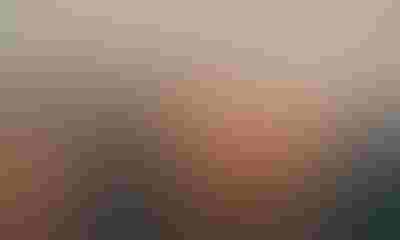 The numbers that back up the use of beef implants in beef cattle sound impressive.
Consider these two:
A 3-ounce serving of beef from a non-implanted steer contains 1.3 nanograms of estrogen, according to information provided by Zoetis, a maker of beef implants. A 3-ounce serving of beef from an implanted steer will have just 1.9 nanograms of estrogen. One pound of implanted beef has 15,000 times less estrogen when compared with the amount of estrogen produced every day by the average adult man and 9 million times less than the amount produced by a pregnant woman.

IMPLANT INFO: Cattle gain weight faster in the feedlot with implants. Photo: Ten03/iStock/Thinkstock
To produce the same total amount of U.S. beef without using growth implants, American farmers and feeders would need 10 million more beef cattle, 81 million more tons of feed, 17 million more acres of land and 138 billion more gallons of water. Proper use of implant technologies allows farmers to produce a safe, high-quality product for a growing population, with no significant impact on food safety and supply or the environment.
Those are two examples of the facts that you might want to have ready the next time you are asked about beef implants and safety, says Gary Sides, managing nutritionist, beef strategic technical services at Zoetis, a company that makes implants.
"Beef producers work hard every day raising healthy and safe beef, so it's important for them to be armed with all of the facts in exactly how they are doing this," he says. "If producers can't explain the value and safety of all of their management practices, then we know for sure consumers won't be able to understand this."
Take time to review information about implant practices and technologies, Sides suggests, so that you feel confident talking about the health and safety of the beef you are producing.
The following are additional answers Zoetis provided to two common questions consumers and others have about implant value and safety:
Why are implants considered safe for consumers?
The Food and Drug Administration and USDA have checks and balances in place to help ensure the food supply is free from unsafe levels of hormones.
Food safety. These products must be approved by the FDA, and approval is granted only after rigorous and extensive scientific tests to show efficacy and safety. They must be proven safe for animals, the environment and people. Producers and veterinarians also are legally and ethically obligated to follow FDA requirements for safe and effective use on the farm. 
Why are implants considered safe for the environment?
For approval and licensing, implant products need to show no significant impact on the human environment.
Environmental assessment. For example, in order for Zoetis to be granted approval for SYNOVEX ONE implants, Zoetis was required by the FDA's Center for Veterinary Medicine to show no significant effects of the active ingredients in Synovex Choice — trenbolone acetate and estradiol benzoate — on aquatic organisms in the water systems where cattle may be fed (either pasture or feedlot locations). In 2014, after five years of research, the FDA issued a finding of "no significant impact," based on the results discovered in this environmental evaluation. In this environmental assessment no significant impacts of these implants and their metabolites on humans or the environment were found in all five regions included in the study, which included waterways, air, plants or aquatic species, when these products are used according to label directions.
Fewer emissions. Studies show animals with implants grow faster, thus having less impact on the environment than animals without implants — using less nitrogen and producing less carbon dioxide and methane per pound of protein.
Other savings. Implants help the animal retain more nitrogen, so less nitrogen is lost to the atmosphere and soil. And because producers are raising animals using less feed over a shorter time, less methane and manure are produced.
For more information, visit the Sustainable Beef Resource Center website at sustainablebeef.org.
Source: Zoetis
Subscribe to receive top agriculture news
Be informed daily with these free e-newsletters
You May Also Like
---