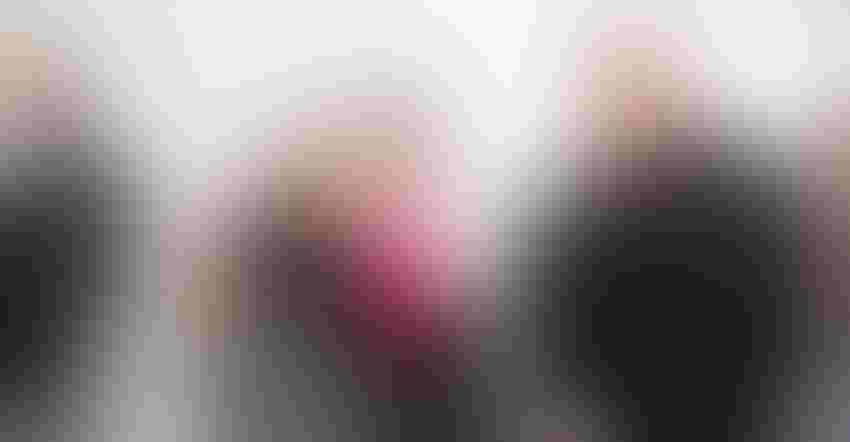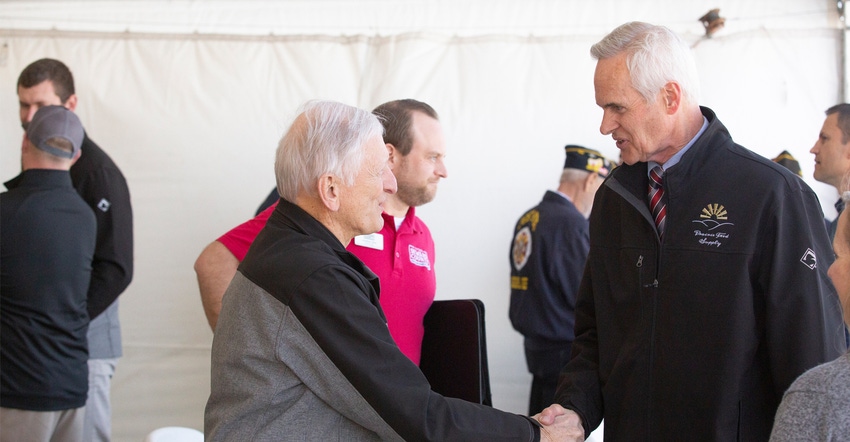 GREETING: Sonny Beck (left), CEO of Beck's, greets Nebraska Lt. Gov. Mike Foley at a flag-raising event at the new Beck's facility near Goehner, Neb.
Sonny Beck
Beck's, a fifth-generation, Indiana-based seed company, broke ground this past spring and ceremoniously raised the flag this fall over a new facility, located on 150 acres near Goehner, Neb., just off Interstate 80.
Along with the new Nebraska facility, Beck's had plots at Husker Harvest Days for the first time this past growing season.
The company is building a distribution facility and a Practical Farm Research (PFR) station at the site to test production practices unique to Nebraska crop conditions.
"We want to test production practices that will help all Nebraska farmers succeed regardless of whose seed they use," says Sonny Beck, CEO of Beck's. "This $20 million facility will be complete in August 2023."
Beck says that Nebraska is a drier climate and requires more irrigation, and also is windier, requiring sturdier stalks. "We have to develop seed for the area it is going to be sold in," Beck says.
For next season, he explains that dozens of trials will be planted at the new research site, ranging from population studies to new farming practices suggested by university researchers. Other trials will include new products that are in the market, as well as standability and wind trials.
The Goehner site will join six other PFR locations in the Beck's family, with 12 total sites around the country — including five cooperator sites that also conduct PFR for Beck's. Other Beck's PFR sites are located in Indiana, Ohio, Kentucky, Iowa and Illinois, with cooperator sites in Minnesota, Wisconsin, Michigan and the Delta.
"Nebraska's amazing agricultural productivity is made possible by innovative companies like Beck's," Nebraska Lt. Gov. Mike Foley said at the flag-raising ceremony. "By researching and developing better-performing plants, Beck's helps farmers increase yield and optimize the land and water they use to grow crops."
Jonathan Jank, president and CEO of Seward County Chamber and Development Partnership, also spoke at the flag raising. Once completed, Beck's will bring multiple full-time employees to operate the facility and to bring farmers localized service and unique studies that can help improve overall efficiency in the field.
The facility is expected to be fully operational by 2023, with an anticipated grand opening at the inaugural Nebraska Field Show on Aug. 3.
Learn more at beckshybrids.com.
About the Author(s)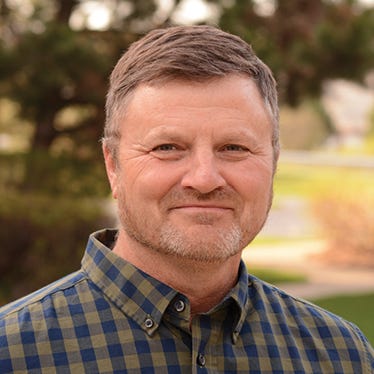 Curt Arens began writing about Nebraska's farm families when he was in high school. Before joining Farm Progress as a field editor in April 2010, he had worked as a freelance farm writer for 27 years, first for newspapers and then for farm magazines, including Nebraska Farmer.
His real full-time career, however, during that same period was farming his family's fourth generation land in northeast Nebraska. He also operated his Christmas tree farm and grew black oil sunflowers for wild birdseed. Curt continues to raise corn, soybeans and alfalfa and runs a cow-calf herd.
Curt and his wife Donna have four children, Lauren, Taylor, Zachary and Benjamin. They are active in their church and St. Rose School in Crofton, where Donna teaches and their children attend classes.
Previously, the 1986 University of Nebraska animal science graduate wrote a weekly rural life column, developed a farm radio program and wrote books about farm direct marketing and farmers markets. He received media honors from the Nebraska Forest Service, Center for Rural Affairs and Northeast Nebraska Experimental Farm Association.
He wrote about the spiritual side of farming in his 2008 book, "Down to Earth: Celebrating a Blessed Life on the Land," garnering a Catholic Press Association award.
Subscribe to receive top agriculture news
Be informed daily with these free e-newsletters
You May Also Like
---