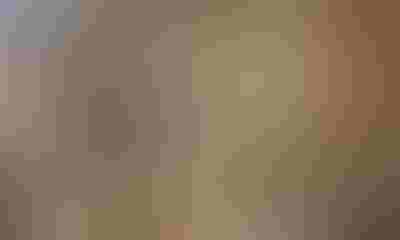 If you work with an agronomist, he or she may be asking you shortly if you want stalk nitrate testing done on your cornfields this year. Usually this involves the consultant pulling precise samples of cornstalks at the end of the season, drying them, bagging them and sending them to a lab for analysis. The agronomist will make money, at least for their time, but will you learn anything of value?
A panel of Indiana Certified Crop Advisers weighs in on this question. They are Jamie Bultemeier, an agronomist with A&L Great Lakes Labs, Fort Wayne; Gene Flaningam, Flaningam Ag Consulting, Vincennes; and Bryan Overstreet, Purdue Extension educator in Jasper County.

Overstreet: The stalk nitrate test is kind of like a postmortem test on your corn. It lets you know if you had enough nitrogen, or maybe if you had too much N applied this year.
One year of data may not tell you much, especially if you dealt with weather extremes, including too much or too little water. Stalk nitrate testing works best if you do it over a number of years so you can see patterns over time. I like conducting this test where manure was applied to get a better feel on if the nitrogen is being used efficiently.
Bultemeier: You get insight as to how efficient the crop was in utilizing nitrogen nutrients. Corn takes up nitrate during the season and stores it in the lower stalks. A properly conducted stalk nitrate test gives you an index of how much nitrate is left at the end of the season. Too much means excessive input costs, while too little means unrealized yield potential.
Flaningam: It's an excellent tool for fine-tuning future N programs. Compare N rates applied to the field to your year-end stalk nitrate concentration. These tests are a type of report card for your N program. Cost of samples are minimal compared to the costs for soil sampling. My general feeling is that it would be money well spent in your farming operation.
Bultemeier: The real value of a stalk nitrogen test is when you begin to question your nitrogen rates. If you plant a few different rates each year and then perform the corresponding stalk nitrate tests, you can begin to dial in your nitrogen rates.
Under the supervision of a CCA, a few years of plot work coupled with the results from the stalk nitrate testing can produce very valuable the information. However, if you just do the test once without investigating a range of nitrogen rates, there may be very limited value.
About the Author(s) Editor, Indiana Prairie Farm
Tom Bechman is an important cog in the Farm Progress machinery. In addition to serving as editor of Indiana Prairie Farmer, Tom is nationally known for his coverage of Midwest agronomy, conservation, no-till farming, farm management, farm safety, high-tech farming and personal property tax relief. His byline appears monthly in many of the 18 state and regional farm magazines published by Farm Progress.

"I consider it my responsibility and opportunity as a farm magazine editor to supply useful information that will help today's farm families survive and thrive," the veteran editor says.

Tom graduated from Whiteland (Ind.) High School, earned his B.S. in animal science and agricultural education from Purdue University in 1975 and an M.S. in dairy nutrition two years later. He first joined the magazine as a field editor in 1981 after four years as a vocational agriculture teacher.

Tom enjoys interacting with farm families, university specialists and industry leaders, gathering and sifting through loads of information available in agriculture today. "Whenever I find a new idea or a new thought that could either improve someone's life or their income, I consider it a personal challenge to discover how to present it in the most useful form, " he says.
Subscribe to receive top agriculture news
Be informed daily with these free e-newsletters
You May Also Like
---