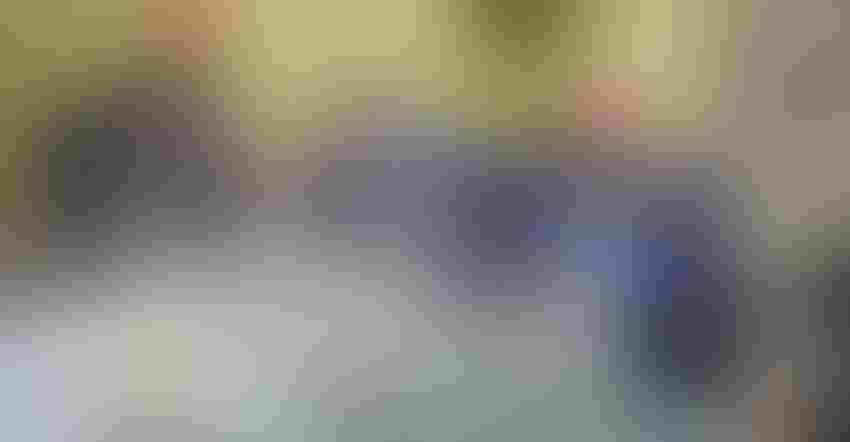 Mexican Secretary of Agriculture, Livestock, Rural Development, Fisheries and Food José Calzada Rovirosa, Canadian Minister of Agriculture Lawrence MacAulay and USDA Secretary Sonny Perdue enjoy an after dinner treat at Leopold's Ice Cream in Savannah, Georgia, on June 19, 2017.
USDA photo by Preston Keres
by Alan Bjerga 
U.S. Agriculture Secretary Sonny Perdue and his counterparts from Canada and Mexico lauded NAFTA's benefits to farmers as they began to lay the foundation for broader negotiations to modify an accord that President Donald Trump once called a "disaster."
Canadian Agriculture Minister Lawrence MacAulay and Mexican Agriculture Secretary Jose Calzada met with Perdue Tuesday in Georgia for what the U.S. secretary said would be candid talks on "irritants" in the three-way trade relationship.
"It's entirely correct to modify this agreement," given changes in agriculture since the North American Free Trade Agreement was implemented in the 1990s, Perdue said in a news conference in Savannah, Georgia, with MacAulay and Calzada. "That's why we're beginning to lay a groundwork. There are family discussions that need to take place."
New rules on Canada's dairy-supply system and how Mexico plans to enforce a recently concluded agreement limiting its sugar exports to the U.S. were among the topics of discussion, Perdue said in an interview Monday. The three agriculture ministers didn't go into detail during their news conference about topics they discussed privately.
Trump's talk of pulling the U.S. from NAFTA spooked markets this year, pushing the Mexican peso to a record low in January. But the prospect of a major upheaval in North American trade eased in recent weeks after Trump backtracked on his threats and started the process of renegotiating the terms of the deal. Those talks, which will be led by Commerce Secretary Wilbur Ross and U.S. Trade Representative Robert Lighthizer, are set to begin as soon as August.
Harvesting Surplus
Agricultural groups have largely supported the trade accord, saying it has expanded markets to benefit all three nations. Farming is one of the few U.S. sectors to carry a trade surplus, which is projected at $22.5 billion in the year that ends Sept. 30. All three officials highlighted the benefits to the agriculture industry even as they acknowledged changes were coming. 
"NAFTA has been a favorable agreement" for the agricultural industry, Perdue said. MacAulay called the trading relationship among the three countries "the envy of the world."
While Mexico drew most of Trump's ire over trade during the campaign and early in his presidency, there's been greater friction recently with Canada. Trump pledged in April to aid U.S. dairy farmers claiming harm from new Canadian policies that match domestic production with demand through quotas. U.S. producers contend that has depressed U.S. exports.
Wine on the Table
Perdue said changes to Canada's system of wheat classification and the policy in the Canadian province of British Columbia to only allow local wines on grocery store shelves also will be up for discussion.
Canada's MacAulay downplayed disputes with the U.S. during the news conference, echoing Perdue's comments about the nature of the agricultural disagreements.
"There will always be irritants, but we can deal with the irritants," he said. "There are so many things that are vital in the agricultural sector. What we want to do is make sure we work together as a unit." 
With Mexico, enforcement of an agreement that cuts the amount of refined sugar that Mexico can send to the U.S. will require further talks, Perdue said. Mexico, meanwhile, has been seeking out alternative corn sellers in case trade relations with the U.S. sour. 
Calzada called NAFTA an "umbrella of trust" that should be strengthened through renegotiation. "Each country will specialize in different fields" of agriculture, he said. "We have details that we have to attend each day, but that big umbrella gives certainty to the producers in each of the three countries."
Georgia Tour
In addition to their meetings, Perdue, the former governor of Georgia, is giving MacAulay and Calzada a tour of the Georgia Ports Authority and some of the state's farmland.
After China, Canada and Mexico are the second- and third-biggest buyers of U.S. farm goods. The three nations sold $91.6 billion of farm goods to one another last year, according to United Nations data. Mexico buys more U.S. corn and dairy products than any other country. The U.S. is the biggest export market for Canadian beef and pork and the U.S. buys about two-thirds of Canada's canola oil.
Since its adoption, NAFTA has knit the three agricultural economies more tightly, with effects ranging from cattle being raised and processed across borders to U.S. dependence on Mexican avocados for guacamole at Super Bowl watch parties.
A withdrawal from NAFTA would be "devastating" to rural America, a point Perdue said he's impressed upon Trump, who won election to the White House in part due to wide victory margins in small towns and farming communities.
"By and large, the agriculture sector feels like it's fared fairly well," under NAFTA. But any agreement that's nearing a quarter-century needs review, he said at the news conference.
--With assistance from Eric Martin and Jen Skerritt.
To contact the reporter on this story: Alan Bjerga in Washington at [email protected]
To contact the editors responsible for this story: Joe Sobczyk at [email protected]
C. Thompson
© 2017 Bloomberg L.P
Subscribe to receive top agriculture news
Be informed daily with these free e-newsletters
You May Also Like
---