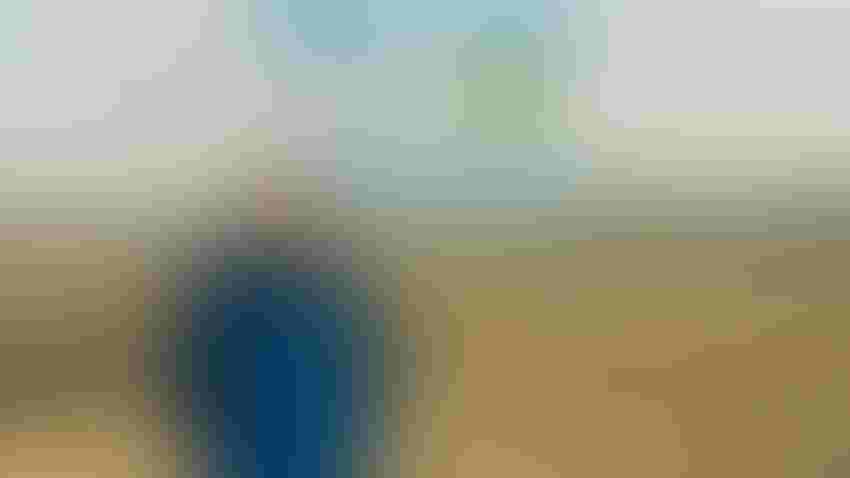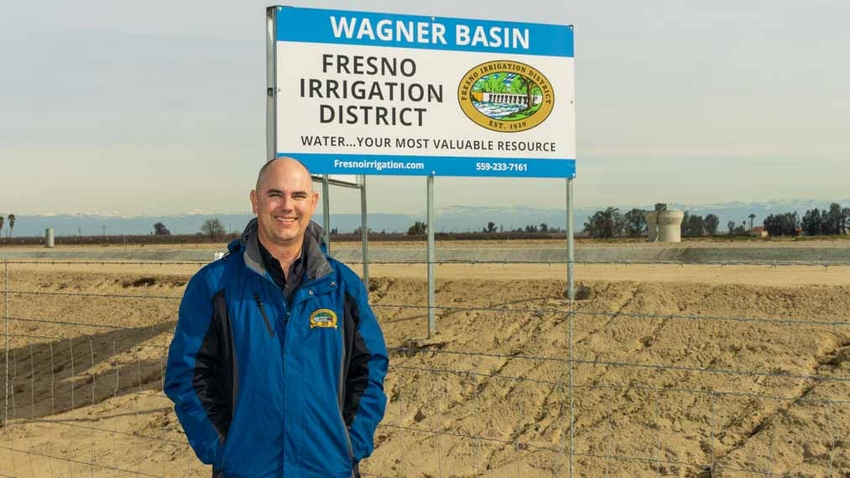 Fresno Irrigation District General Manager Bill Stretch continues a management acumen of groundwater recharge borne from his predecessor. Agricultural values in the district tend to be among the highest in the San Joaquin Valley because of the dual sources of irrigation water.
Todd Fitchette
Groundwater recharge efforts in Fresno Irrigation District (FID) could be one of the reasons the region tends to command higher farmland values than neighboring areas. The district's rights to Sierra runoff certainly helps.
The 2023 Trends Report, published by the California Chapter, American Society of Farm Managers and Rural Appraisers, reported earlier this year that FID permanent cropland values last year climbed to $48,000 per acre for good quality, young tree nut orchards. This compares to a ceiling of $25,000 for non-FID almond property in Fresno and Madera counties.
By comparison, the top value statewide for almonds in an irrigation district was about $55,000 in northern Stanislaus and southern San Joaquin counties.
Record runoff
This year's record runoff has surely commanded attention throughout the state. The Kings and San Joaquin River watersheds in the southern Sierra Nevada have never had more snow and water availability in recorded history. For Fresno Irrigation District, that means this irrigation season could extend past its typical August deliveries.
At about 250,000 acres, Fresno Irrigation District (FID) is one of the largest by land mass in the western U.S., according to FID General Manager Bill Stretch. With this comes the opportunity for "a pretty good water supply" through the Kings River, and its relationship with the federal Friant Division, which oversees San Joaquin River water.
"We can deliver or import about 500,000 acre feet of water per year," Stretch said.
In years like this, it won't be difficult to hit that number.
Airborne snow observatory surveys by NASA suggest several times that number was still contained in the watersheds in early June that feed those two river systems. Through decades of district efforts that predate Stretch, and existing projects that include emergency funding from the State of California, FID will continue to move available water into recharge basins to serve farms, major cities, and disadvantaged communities.
Combined with its various local partners, including the cities of Fresno and Clovis, FID can recharge about 200,000 acre feet of water into the aquifer through existing and temporary facilities, said Kassy Chauhan, special projects manager for FID in a video posted to social media.
FID has about 900 acres of active recharge basins, according to Stretch.
The district recently purchased 400 acres for more recharge.
"We took out a $20 million loan two years ago while interest rates were low during the drought to do more recharge," Stretch continued. "With SGMA (the Sustainable Groundwater Management Act) in mind, we felt the timing was right to be aggressive and start building 400 more acres."
Recharge philosophy
Stretch is familiar with the district's philosophy for groundwater recharge over the past 25 years in various roles. In his role as general manager over the past four years, he manages water deliveries for one of the largest agricultural producing counties in the United States, partners with two major cities – Fresno and Clovis – to manage deliveries to over 1.13 million people and is working with the State of California to bank a record snowmelt in groundwater basins.
He inherited the district's philosophy of recharging groundwater basins, working closely with a board of directors that largely hasn't changed, a testimony to the general acceptance by the district's voting bloc of the agency's management acumen.
"Most of our board members have at least 10 years under their belt," he said. "Three of them just got reelected and ran unopposed. That tells me that the public feels like the board is doing a good job and that the management is doing a good job of running the district."
Elected about 15 years ago to the district's board of directors, current board Chairman Ryan Jacobsen noted that the district's long-term stability has helped it maintain a wise planning calendar for capital improvements.
"The stability has been good, which is important when we have the kind of intensive capital projects we need to do," Jacobsen said.
Under Stretch's predecessor, the district began to see the need for groundwater recharge about two decades ago.
"Even before SGMA, we recognized in the early 2000s under my predecessor, Gary Serrato that we needed to start building recharge basins, capturing storm water, and keeping that water within the district," Stretch said.
In about 2006 the district built its first recharge basin. About that time the district partnered with the City of Clovis on exchanges that would benefit that growing city's water supply needs. FID now partners with smaller cities, including Kerman and the Biola Community Service District to deliver water.
Along with the new recharge basins, Stretch says the district has worked diligently to automate its water infrastructure.
"When I first got here in 1998, we had about 10 sites that were automated," he continued. "Fast forward 25 years and we've got over 110 sites that are automated. That's helped us improve our bottom line and provide better service to our customers."
Subscribe to receive top agriculture news
Be informed daily with these free e-newsletters
You May Also Like
---