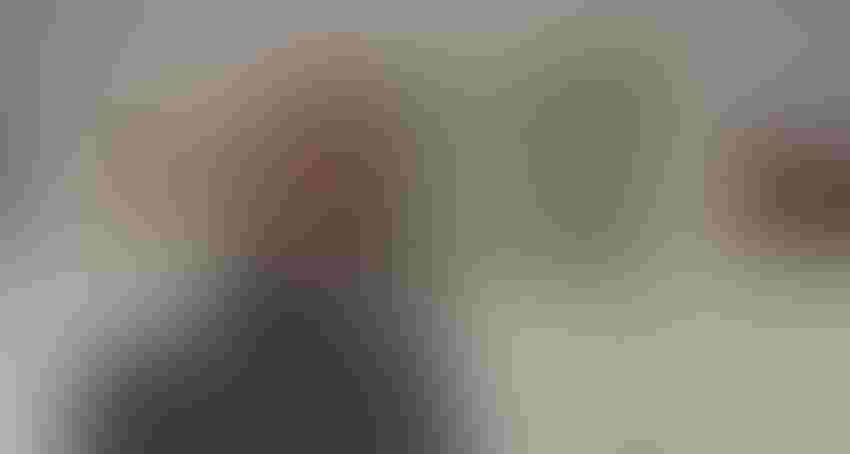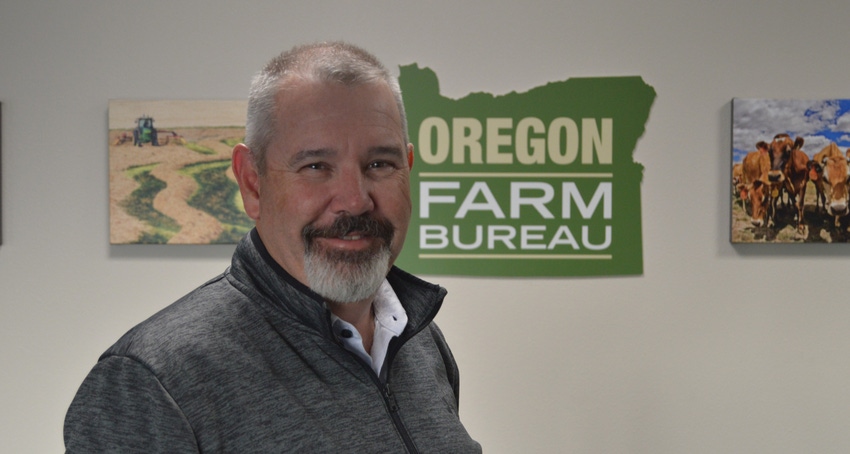 Greg Addington, at the Oregon Farm Bureau headquarters in Salem, is the new executive director of the organization.
Mitch Lies
Greg Addington has come full circle. The former executive director of the Klamath Water Users Association, starts Nov. 21 as executive director of the Oregon Farm Bureau Federation, an organization he worked for two decades ago.
It's a position that fits both his experience and interests.
"I think Greg is a perfect fit for the Oregon Farm Bureau," said Angi Bailey, president of the organization. "He comes to us with Farm Bureau experience on the field staff and in government affairs, which in itself, is valuable. But really it is what he has done since then that positions him well for leading the organization."
Addington served as head of the Klamath Water Users Association from 2005 to 2015 and led the REAL Oregon natural resource leadership program the past five years as part of Addington Consulting. With the Farm Bureau, he served as a field representative and later as a lobbyist on the government affairs staff from 1996 to 2005.
Addington said he developed a life-long appreciation for farming and ranching while growing up the son of a country veterinarian Eagle Point, Ore., enamored by two great uncles who were the cow boss and the buckaroo boss for a local ranch.
"My great uncles were well known cowboys in the Klamath Basin right around the California border, and they were a huge influence on me," Addington said. "I spent a lot of time around that world, the rodeo world and the cowboys, and I liked the lifestyle. I liked the people. They were the greatest characters I ever met. And it definitely influenced what I wanted to do."
Addington took his interest in agriculture to the University of Idaho, where he graduated with a degree in agricultural economics. He started his professional career working in agricultural co-ops, first for Cenex Petroleum in Walla Walla, Wash., and later for Grange Co-op in the Southern Oregon city of Central Point. His next step, which took him to the Oregon Farm Bureau, included a little serendipity.
First stint at OFB
"I didn't think I wanted to do what I was doing for the co-op forever, so I started looking around," he said. "I found an ad doing sales for a seed company up here in the (Willamette) valley, and I thought that was perfect. There was another ad right next to it for a grass root advocacy organization seeking a field representative. I didn't know what that was, but I thought while I'm up here, I'll apply for that one too.
"So, I went and did the interview with the seed company, and it just went terrible," he said. "Then I did the interview with the Farm Bureau and it was easy. It felt right. And that is how that started."
As a field representative in Southwestern Oregon, Addington served as a liaison between Farm Bureau staff in Salem and county Farm Bureaus, occasionally dipping into political issues.
"I always liked the political stuff," Addington said. "And I started really paying attention to politics. I was always asking a lot of questions in staff meetings about policy and elections and endorsements, and I think (former Oregon Farm Bureau Executive Director) Andy (Anderson) recognized that I liked that stuff and so when an opening came up on the government affairs staff, Andy called me up and said, 'Why don't you come up and be a lobbyist?'
"I thought, I don't know how to be a lobbyist, but I really wanted to do it, so I said yes and we moved up here," Addington said.
In Salem, Addington worked as a Farm Bureau lobbyist for two sessions.
"I met great people along the way," he said. "The natural resource lobby in general was great to me and patient with me. And I enjoyed my time right up until I took the job in Klamath."
Klamath battles
In Klamath, Addington led an association that was at the center of multiple competing interests over the use water in the Klamath Basin. And at the end of the day, in what Addington said was the hardest thing he has ever done, the multiple parties came to an agreement. Congress, however, scrapped the deal, sending parties back to the drawing board.
"I spent ten years there and probably eight-and-a-half was working on that agreement," Addington said. "At the end of the day it died, but 45 very different interest groups signed the dotted line on that agreement, and I'm proud of that.
"And even though some people say it was a waste of time, I say no. We had water for ten years while we were working on that. We had ten years of zero litigation. Since then, we've had at least a half a dozen or maybe a dozen pieces of litigation in the courts," he said. "And the water years have been terrible."
Still, Addington said, when Congress scrapped the deal, he knew it was time to move on.
"It was just time to let somebody else take a whack at it," he said. "I'd had plenty at that point."
At the Farm Bureau, Addington brings a familiar face to an organization that faced upheaval last year, losing long-time Executive Director Dave Dillon, who headed the organization for 19 years, losing its communications director for the past two decades Anne Marie Moss, who died of cancer last spring, and losing Mary Anne Cooper, its long-time lead lobbyist and vice president of government affairs.
Addington identified filling staffing needs as one of his first priorities, as well as working closely with county Farm Bureaus to ensure they stay engaged in their communities.
Policy priorities
On a government affairs level, Addington said water and labor issues are priorities.
"Land use and Endangered Species Act issues are out there, and there are no shortages of other issues," he said. "But I think the ag labor and water issues are going to be really big moving forward for the industry.
"And I think getting a full team in place is important, and educating legislators is important," he said. "As many as half of the legislators could be new this next session. So, regardless of their political stripes, there is a lot of work there, making sure they know who we are and what we do and what the issues are."
Looking ahead, Addington, 53, said he is looking forward to working with the farmers and ranchers that make up the Oregon Farm Bureau, as well as the staff, for many years to come.
"At the end of the day, there are so many great people out there among our members, so many people that make you smile," he said. "And they are grateful for what we do here, and that goes a long way.
"I think most of the people in this kind of work do it because of the people you are representing," Addington said. "And I think that goes back to my background. I love the cowboys, I love the ag people, and they have influenced me a lot. And that is why I'm doing this."
Subscribe to receive top agriculture news
Be informed daily with these free e-newsletters
You May Also Like
---