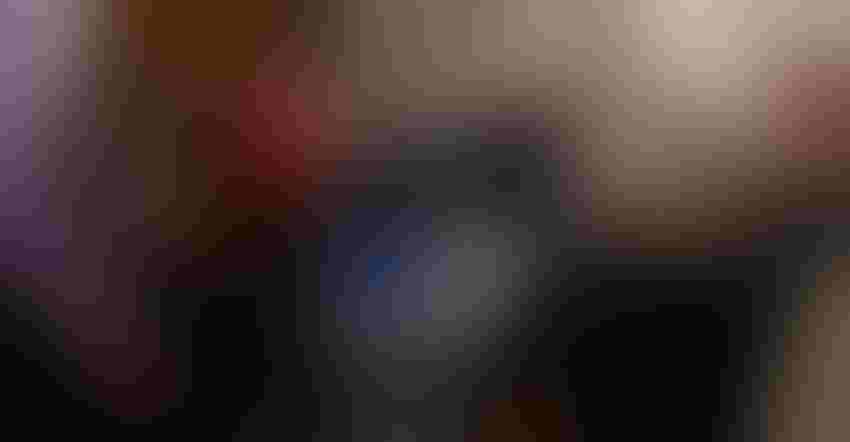 In this photo from 2014, Sam Clovis, far right, joins Joni Ernst, center, and other Republican candidates, from left, Terry Branstad and Kim Reynolds during a campaign stop at the Amtrak Osceola Train Depot in Osceola, Iowa.
Chip Somodevilla/GettyImages
A coalition of 54 farming, food, consumer and environmental groups have joined together to call on the Senate to oppose the nomination of Sam Clovis to be USDA Undersecretary for Research, Education and Economics.
The groups say Clovis is not the right person for the job for several reasons, including:
He is a climate change denier who has no background in food or agriculture.

He believes raising the minimum wage is "nonsensical."

He is against a pathway to citizenship for undocumented immigrants.

He supports construction of a border wall.

He lacks a science background.
"The USDA needs strong leadership to support the hard-working scientists who ensure the agency's scientific integrity and provide policymakers and the American public with the best information available," they wrote in their letter to senators.
"Our country's food and agriculture systems face complex challenges - from pollinator declines and deteriorating soil health to severe drought and flooding due to our rapidly changing climate — and without competent, science-based leadership, the USDA will be unable to protect our environment and help thousands of farmers and their communities adapt to these worsening burdens." 
The letter comes after Sen. Chuck Schumer, D-N.Y., and Sen. Brian Schatz, D-Hawaii, called on President Trump to withdraw the Clovis nomination, according to an article in Huffington Post.
"If President Trump refuses to withdraw Mr. Clovis, we will vehemently oppose his nomination and urge our colleagues from both parties to come together and summarily reject him as well," the two said in a joint statement, according to the Huffington Post article.
Meanwhile, Iowa Sen. Charles Grassley in sticking by Clovis, according to an article in RollCall, where Grassley says that Clovis "will serve the country and USDA well."
Others have issued statements opposing Clovis' nomination
"Clovis' nomination is an affront to America's farmers and citizens who deserve a healthy, resilient food system," said Kendra Klein, staff scientist at Friends of the Earth. "Scientists at the USDA deserve a leader equipped to understand the complex challenges they work on every day. Sam Clovis is not that person." 
"The Office of the Chief Scientist of the USDA is responsible for coordinating science to inform policies and decisions that impact all aspects of our food and agriculture system," said Navina Khanna, director of the HEAL (Health Environment Agriculture Labor) Food Alliance. "Mr. Clovis has no scientific background that would qualify him for this position – he is a talk show host who claims that climate science is junk science, and he opposes sound immigration policy, despite the fact that much our agriculture and food economy are largely dependent on migrant labor." 
The Union of Concerned Scientists is calling for people to add their name to a letter urging the Senate Agriculture Committee to vote no on Clovis.
Farm group support
Most ag groups, however, support the nomination of Clovis, saying in a letter that "USDA already employs some of the finest and most dedicated scientists in the world. They do not need a peer."
Who's Clovis?
Clovis served on Trump's agriculture advisory committee during the campaign. He has been serving as a USDA liaison to the White House since Trump took office.
A native of Hinton, Iowa, Clovis is a U.S. Air Force veteran who was an economics professor at Morningside College and radio talk show host before he entered politics, running for U.S. Senate and Iowa state treasurer in 2014, according to Radio Iowa. 
Source: Friends of the Earth, Union of Concerned Scientists, Growing Produce
Subscribe to receive top agriculture news
Be informed daily with these free e-newsletters
You May Also Like
---