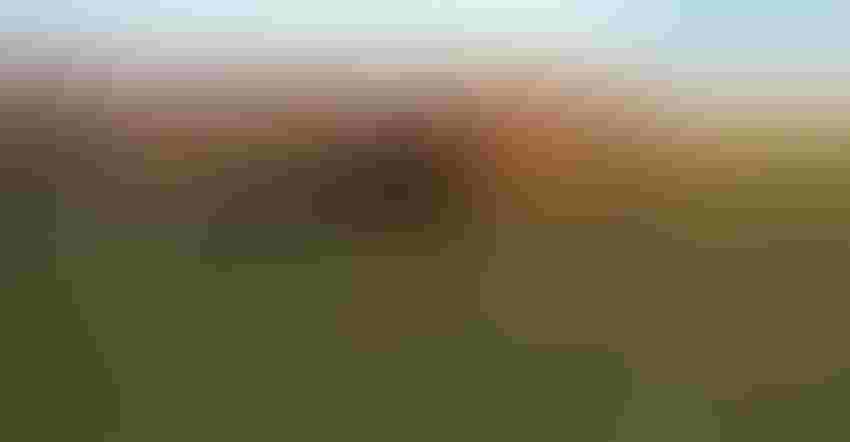 SPREAD AND HOLD: The right cover crop mix will hold manure nitrates where you spread them.
Remember when manure was considered just a waste product? Times have sure changed since then. We now know the value and benefits that properly managed manure can offer. Cover crops can hike those values even higher.
Here are five factors that can help you make it happen:
1. Detain the escape artist. Nitrate nitrogen, manure's most unstable nutrient, is the ultimate escape artist. If a living cover crop is present when manure is spread, it'll immediately capture the nitrates, to be used for cover crop growth, then release them back into the soil to be used by our cash crops.
Since nitrogen is the key target of cover crop management, it's important to use grass species that require nitrogen. It makes no sense to plant a legume that produces its own nitrogen — unless cover crop mixes are part of your game plan. Make sure they're limited as a percentage of your cover crop mix.
Once you're a few years into using cover crops, you'll have earned the right to be able to spread manure in conditions you never could previously. Well-managed cover crops and no-till will build strength into the soil and allow for this.
However, if you're just a year or two into this system, don't be in your fields when it's too wet and cause compaction. Yes, this takes patience and fortitude, but eventually it pays off. 
2. Manure timing is still important. By far, the best is to spread on a growing cover crop at least four inches high. This allows the cover crop to immediately soak up nutrients. Since growing degree days are limited in the fall, it's better to plant the cover crop first and haul manure later as conditions permit.
Manure application before planting the cover crop will take weeks before any appreciable quantity of nutrients is absorbed. Avoid spreading manure on a cover crop that's less than 4 inches tall; severe burning or smothering may occur.
3. Right manure rate is critical. Limit dairy manure to 6,000 gallons per acre. Swine manure could be put on a bit higher since it has less solids. However, your cover crop's growth stage will be the most influential factor to manure's smothering potential.
An even manure distribution deserves astute attention. Do an excellent job of spreading — no skips or overlaps. The latter can create extreme planting challenges. Cereal rye lodging, for instance, can make it almost impossible to plant through.
4. Watch those wheel tracks? Depending on the cover crop species and growth stage, application equipment wheel tracks can terminate cover crops where they pass. It's still a small price to pay for the advantages cover crops offer in soaking up nutrients.
Radishes are most susceptible due to their tender stems. But research shows they can take up more nitrogen in the fall than cereal rye, so their use is merited.
5. Do an even manure spread — wet or dry. Most suggestions for managing liquid manure application on cover crops also pertain to dry manure. The most challenging aspect is creating an even spread pattern to avoid smothering the cover crop with manure clumps. Any good dry manure spreader can achieve this.
Drag line application have become more popular. The ultimate may be applying manure via pivot or traveling gun irrigation equipment. Both give greater flexibility in timing and managing around adverse soil conditions.
One novel approach is mixing in cover crop seed as the manure spreader is being filled. The challenges are keeping the cover crop seed in suspension for an even "seeding rate," and the time it takes to add the seed. The latter might be offset by not having to make a planting pass to put the seed in the ground. It works best where heavy manure application rates are desired.
A better method is broadcasting cover crop seed on the surface shortly before manure application. The manure may cover seed for better germination.
The Coach's Closer
Well-managed manure coupled with well-managed cover crops keeps valuable nutrients in the field where they belong — a benefit for the environment and money in the bank for you.
Groff is a cover crop pioneer and innovator who farms on the Chesapeake Bay watershed. Check out his website, covercropcoaching.com.
Subscribe to receive top agriculture news
Be informed daily with these free e-newsletters
You May Also Like
---