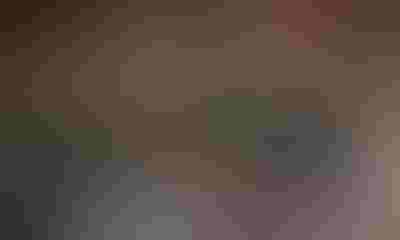 As we went to press, Pennsylvania's General Assembly still haven't put forth a 2015-16 budget plan to restore crucial funding for Pennsylvania agriculture's foundational education programs – Extension, 4-H and Master Gardeners, to name a few. And the clock is ticking toward a shut-down.
Related: 4-H, Extension and ag research need Penn State line-item backers
But last week brought a huge lobbying force to the Capitol. Farm groups, agribusinesses and hundreds of 4-H youths went to Harrisburg, Pa., enmasse to urge restoration of 2015-16 Penn State Extension and research programs – zero-funded by Governor Tom Wolf due to a budget impasse with the General Assembly.

PRESENCE NOTED: Appropriation Committee members took note of the 4-H youths in front-row seats in the budget hearing.
Without restoration of the $50.5 million Land Scrip Fund before May 1, Penn State University will be forced to shut down 67 county Extension offices, research work at three experiment stations and put 1,100 jobs at risk. That's the word from Penn State President Eric Barron.
Among other effects, it would impact leadership development for close to 90,000 youths involved in 4-H, points out Rick Roush, dean of the College of Agricultural Sciences. "We've already gone eight months without a state-funded operating budget."
On Tuesday, Pennsylvania Farm Bureau held a press conference at the Biglerville Fruit Research and Extension Center, noting that the facility and two others could be shuttered without an infusion of state funding.
PFB President Rick Ebert noted that legislation (Senate bill 1120 and House bill 1831) had been introduced. But the General Assembly and Governor Wolf needed to be pushed to resolve the impasse.
Funding crucial
Bruce Hollabaugh, fruit grower and co-owner of Hollabaugh Brothers Fruit and Market at Biglerville brought the importance of Extension and research home: "Extension and research helped us develop the high-density fruit systems that we've transitioned to. It has had a huge impact on the future of our business.
"When brown marmorated stinkbugs invaded during the heart of our fruit harvest system, researchers were instrumental in understanding the pest and developing controls. Losing research development for even a year would ruin the integrity of hundreds of projects," he added.
But the main event occurred Wednesday as hundreds of Penn State supporters filled and overflowed the Capitol rotunda for the Senate Appropriations Committee hearing.
Related: Penn State Extension and 4-H is #1, no thanks to politics
And, a group of 4-Hers met with the governor. He pointed out that Republican leaders sent him
"an irresponsible budget that was unbalanced by $500 million. It would have grown the already multi-billion dollar deficit and made a $95 million cut to education."
He also noted that his proposed 2016-17 budget includes a 5% increase – $2.4 million, for the Land Scrip Fund – the largest increase since 2012, "when the Republican-controlled legislature cut Land Scrip funding by 19%." He said he was ready to ink a "bipartisan, compromise budget that was balanced to make historic investments in education and agriculture programs."
What you can do – now
If you haven't already contacted your legislative representatives about this, now's the time to make certain they support fund restoration, urged Pennsylvania Farm Bureau President Rick Ebert. Visit www.pfb.com/actnow to find a draft message ready to send to your state representative, senator and the Governor.
You'll also find a list of key budget leaders and their email addresses at 4-H, Extension, ag research need Penn State line-item backers. Ebert also says the public can show its support via the Twitter hashtag: #SavePSUag .
You can also sign an online petition at http://bty.link/2m0, which needs about 1,600 more people to reach 15,000. 
~~~PAGE_BREAK_HERE~~~

INVALUABLE AG SUPPORT: In a Biglerville Fruit Research and Extension Center press conference, Bruce Hollabaugh told media reps that even a short-term shut-down of research and Extension would have an irreparable effect. 
~~~PAGE_BREAK_HERE~~~

SILENT PROTEST: 4-Hers and alums from across Pennsylvania filled the Capitol to drive home the importance of programs like 4-H in every county.
~~~PAGE_BREAK_HERE~~~

SAYS IT ALL: This 4-Her proudly carried one of many placards saying "Good kids = Good investment". 
~~~PAGE_BREAK_HERE~~~

NOT HERE FOR A TOUR: This Northumberland County 4-H group went to the Rotunda steps to show their support for restored funding.
~~~PAGE_BREAK_HERE~~~

PRESENCE NOTED: Appropriation Committee members took note of the 4-H youths in front-row seats in the budget hearing.
~~~PAGE_BREAK_HERE~~~

LOBBYING THE GUV: These 4-Hers shared their concerns with Governor Wolf, and he shared his.
Subscribe to receive top agriculture news
Be informed daily with these free e-newsletters
You May Also Like
---