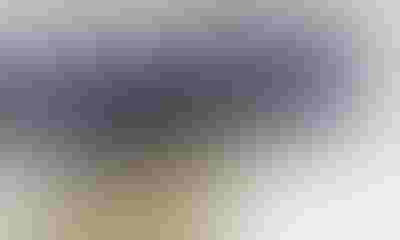 Winter weather can affect a cow's nutritional requirements. Cold, wet and windy conditions increase her energy needs. While farmers control just how much feed is available, University of Missouri Extension livestock specialist Gene Schmitz says that they must also control the environmental conditions in which the cows eat and drink.
Maintaining body condition in cattle can be tough from December through February. Proper nutrition with a focus on high-energy diets is major component for feeding programs. Many beef producers will closely monitor feed energy intake during the winter, but they might be overlooking just where and when the nutrients are being offered to cows.

CONSIDER ENVIRONMENT: To reduce cow energy requirements in winter, farmers need to analyze access to shelter. Feeding and loafing areas should be covered and dry.
In order to help cattle deal with the cold stress and maintain body condition, Schmitz recommends beef cattle producers keep these three concepts in mind when caring and feeding cattle in winter:
1. Reduce exposure to the wind. Consider bringing cattle closer to the barn or providing a winter shelter in the pasture. At the least, winter cattle in pasture with access to a tree line. This allows cows to find respite from the wind, which can influence critical temperature in cattle.
2. Keep the cattle as dry as possible. When periods of heavy snow are predicted, bring cattle into a loafing shed. Beef producers should also keep feeding and loafing areas dry.
3. Provide plenty of water. Make sure that water is available to cattle at all times. Schmitz warns that restrictions in water consumption reduce feed intake.
4. Consider feeding in the evening. Incremental heat production from digestion is greatest four to six hours after feed is consumed, Schmitz notes. So heat from fermentation would be greatest at night when temperatures are generally the lowest.
Cattle are hardy animals that can adapt to a wide variety of environmental conditions. However, Schmitz says by making a few management changes, beef farmers can help reduce the impact of these environmental stressors and help keep cattle producing at an acceptable level.
About the Author(s) Editor, Missouri Ruralist
Mindy resides on a small farm just outside of Holstein, Mo, about 80 miles southwest of St. Louis.
After graduating from the University of Missouri-Columbia with a bachelor's degree in agricultural journalism, she worked briefly at a public relations firm in Kansas City. Her husband's career led the couple north to Minnesota.
There, she reported on large-scale production of corn, soybeans, sugar beets, and dairy, as well as, biofuels for The Land. After 10 years, the couple returned to Missouri and she began covering agriculture in the Show-Me State.
"In all my 15 years of writing about agriculture, I have found some of the most progressive thinkers are farmers," she says. "They are constantly searching for ways to do more with less, improve their land and leave their legacy to the next generation."
Mindy and her husband, Stacy, together with their daughters, Elisa and Cassidy, operate Showtime Farms in southern Warren County. The family spends a great deal of time caring for and showing Dorset, Oxford and crossbred sheep.
Subscribe to receive top agriculture news
Be informed daily with these free e-newsletters
You May Also Like
---