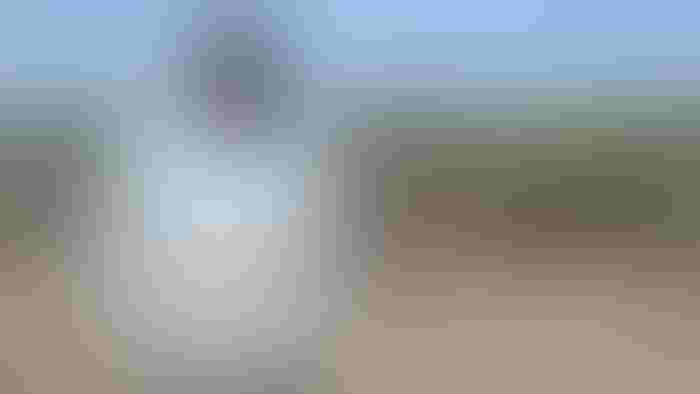 STANDING STRONG: Wellman, Iowa, farmer Clint Whetstine stands in front of where his cattle operation pens and barn were prior to the March 31 tornado that destroyed his farm.Photos by Jennifer Carrico
"I feel fortunate that I didn't know that house was gone until we opened the door," says Wellman, Iowa, farmer Clint Whetstine. He and his family took shelter in their basement as an EF4 tornado destroyed the house they live in, as well as his uncle's house and the family's farming operation a mile away on March 31.
He says if they had known what was happening right above them, they would've been more scared. While most people say a tornado sounds like a freight train, the Whetstines' experience was much different.
"I looked out the west window, and that's when I saw the funnel cloud hitting our farm to the west. We all got in the bathroom and waited. It was just a couple minutes. We heard the wind come up and heard kind of a big crack," he explains. "Then it sounded like somebody was banging a bag of cans from the can shed on the ceiling above us for 10 seconds. Just rattle, rattle, bang, bang and then it got quiet — and we wondered if it was over."
Once it was over, the Whetstines opened the bathroom door to realize the stairwell and basement were full of stuff, and the east wall of the house was blocking the basement walkout door. Clint called a friend, who is the fire chief in town, to say they had been hit by the tornado. By the time the fire department arrived, Clint's son, Case, had found a window to get out of. The firefighters helped Clint's wife, Angela; the couple's daughter, Allie, and a couple others who had been at there, out of what was left of the Whetstine house.
"My dad called and said Uncle Ed's house was gone, too, and the farm had been hit hard. It was all a shock to the system, but by the time we got to the farm with about 30 minutes of daylight left, I couldn't believe the number of people who were there already there to help pick up," Clint says.
The loss
Besides the loss of their house, the Whetstines lost several buildings, multiple pieces of equipment and both cattle and hogs — but the people were all safe.
"My parents were on their way to the basement when it hit, as was my Uncle Ed. His wife was safe in Kalona. My whole family was in the basement. How my neighbors were safe, I'm not sure," Clint says. "Our house was destroyed, but theirs was completely gone."
The monoslope cattle barn where the Whetstines fed out cattle only has the cement walls remaining. The entire upper parts of the two hog finishing buildings were separated from the cement foundation, and the hog nursery was also damaged.
The fat cattle housed in the monoslope barn were moved to a cattle feeder's place about 20 miles away. They lost 13 of those 170 cattle. The 54 head of cows penned by the barn were due to start calving. A few had started early, and the newborn calves had been moved to the pasture with their mothers. Of those five calves, only one survived, which was found by a neighbor. They offered to care for the orphan. The family lost 14 head of cows, too.
The corral system was wiped out. It took the cows about a week to realize there wasn't wire on the fence where it normally was, but they didn't go far, as rye cover crop was planted in the field next to the pasture.
Between the hog finishing buildings and the nursery, they lost about 50 head of hogs. The remaining hogs were moved to a facility owned by a retired hog producer near West Chester, 10 miles south. He offered his facilities, which had just been cleaned out.
"Saturday morning was rescue mode to get livestock moved and to a safe place. Numerous semitrucks and trucks with trailers showed up to help. By 2 in the afternoon, all the hogs had been moved out; and by 3, I hopped in the neighbor's pickup and trailer and took the last load of fat cattle to Harper, where they could be fed," Clint says.
The help
Loads of people — church members, high school students, neighbors, hunting buddies, and community groups — all showed up to help pick up storm debris. Clint says the great thing about small-town Iowa is that people show up when you are in need. A neighbor offered a home for them to live, as it had just been vacated and is only a few miles away.
The Whetstines were also fortunate to have the help of the people from Farm Rescue. Since this nonprofit organization began in 2005, nearly 1,000 farm and ranch families have been helped. Those in need are mostly referred by family or friends after a natural disaster, illness or sickness according to Dan Erdmann, marketing program manager for Farm Rescue.
Clint had been aware of the organization for only a short time, as he heard their presentation at a Wyffels seed kickoff meeting last August. Wyffels is a donor to Farm Rescue, and he has been a seed representative for the company for 13 years. His sister, a graphic artist, does work for seed companies as well as Farm Rescue, but Clint didn't even realize it.
"That Saturday morning, my sister called and asked if my Wyffels district sales manager had gotten me in contact with Farm Rescue," Clint says. "She then made some phone calls, and then I got a call from Ben [Smith, Iowa's field operations manager] with Farm Rescue. We were on the phone for probably an hour and a half to talk through things. He asked about what we have left of our equipment, what we needed and what we need to get done."
The group, funded mostly by donations, provides farm families with assistance with tillage work, planting, haying, harvesting, feeding livestock and hauling commodities. Farm Rescue has representation in eight states; and following a farmer's application process, the board of directors must approve the project before the work can begin.
"We have eight full-time Farm Rescue staff members and nearly 300 regular volunteers," Dan says. "One man, who is a volunteer from Kentucky, will help us for up to eight weeks twice per year. They come from all different backgrounds; we've even had a rocket scientist volunteer."
Mike Youngblood, a retired John Deere engineer who worked at the Waterloo, Iowa, plant for 38 years, got involved with Farm Rescue six years ago when a woman in the Waterloo area lost her husband and needed help for harvest.
"We show up and get acquainted with the family — finding out their needs, gathering any equipment they might have on site, making sure Farm Rescue has brought the right equipment — and then we get to work," says Youngblood, who has helped families in six states dealing with a variety of disasters. "It's rewarding to be able to help others and see their appreciation."
The Whetstines needed an extra tractor for tillage work and planting. Ben helped figure out exactly what was needed and thought of the details, so Clint was able to concentrate on the cleanup efforts and other issues that might arise.
"He wanted to know what width rows we needed in our soybean fields. They are providing the equipment to get the tillage work done and plant my soybeans," Clint says. "It's been great working with these guys, and I'm very thankful for their help."
Moving forward
Clint says his insurance company has been easy to work with — and it's definitely worth having a good insurance policy when a disaster happens. The day after the tornado hit, his Uncle Ed called to tell Clint he should build a house where Ed's house had stood, so he could be where all the farm activity happens. Since Ed is retired and in his 80s, he thought said it is time to move to town. Clint will continue to farm in partnership with his dad, Larry.
"We are working out the details, but it was so great to have Ed say he wants us to be there where my great-grandpa started it all," Clint adds. "You never ever expect something like this to happen to you. You see it on TV, and you think 'Wow, that's terrible,' but you never really think about what happens next. We are finding that out now. All I've ever wanted to do is farm; so whatever it takes, we are going to try to get it done."
Subscribe to receive top agriculture news
Be informed daily with these free e-newsletters
You May Also Like
---