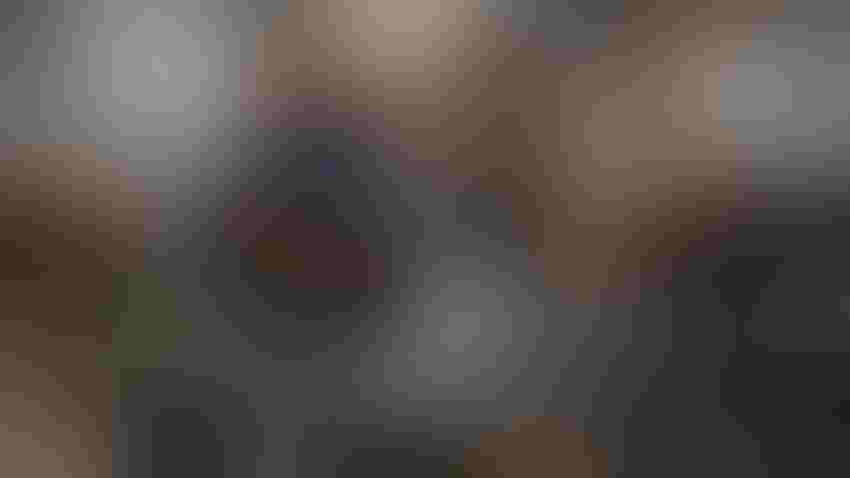 LEARNING TO DO: Mike Sheely, here teaching a natural resources class, says the success of the Maple River High School program is a credit to community support, which results in good students willing to work hard.
Kevin Schulz
All great teams are the sum of its parts, and it takes all involved working in unison toward a common goal to achieve success.
Maple River High School's agriculture department and FFA chapter are achieving because of a lot of parts working together.
"It comes down to, we've got the best kids," says Mike Sheely, ag instructor and FFA advisor, "and that comes from parents, that comes from grandparents, that comes from a community culture."
Maple River's student body comes from the communities of Amboy, Good Thunder, Minnesota Lake and Mapleton, which is where a new K-12 building sits on the south edge of town in Blue Earth County.
Sheely came to Maple River on his first teaching job out of the University of Minnesota, and he likens his landing at the school as being dealt a good poker hand. "I'm dealing with an ace, a king, a queen and maybe another ace — and some other schools, you may not have as good of a hand. It makes it so easy because you put kids in the right spot, and that starts with your community."
Putting students in the right spot is a pattern that Sheely has developed over the years, as he has learned his students' strengths, and they have learned his commitment. Along with stressing classroom success, Sheely sees that success translating into success in FFA contests. That didn't happen overnight.
Sheely says there were 12 FFA members when he started in 2012, and the number grew slowly to the current 112.
"I think the key is, students need to see other people's success," he says, "to know they can do it. Sometimes they don't believe in themselves. … They just got to do it and see it and be like, 'I can do this. I can achieve this. All I got to do is work hard.' [In] FFA and even our ag classes it's not who is the smartest, it's who's willing to work the hardest. And that's why I love it."
Today's success has been bred by success of the past, as Sheely says, "due to the classes of 2013, 2014, 2015, where we had some success at state. We were happy to get a team through — two teams through, three teams. And the kids who are younger see that, and they're like, 'I can do that because they can do it.' Now it's so easy because it's what's expected."
That momentum culminated at the 2022 Minnesota FFA Convention, where Maple River had its best statistical showing, with 10 teams in the top seven placings and two state winners.
Sheely and his fellow ag teacher, Lea Zuern, could push to have a state champion every year, "but our goal is to have our juniors and seniors in the top five at state," he says. "We'd rather have more kids have a great experience than a few kids have an amazing experience and go to nationals."
For his mentorship in the program and the success at Maple River, Sheely was honored as FFA Advisor of the Year by the Minnesota Farm Bureau at that organization's annual meeting in November.
Feeder program
To mimic what a lot of youth sports programs have in place, Sheely has devised a feeder program for younger students, giving seventh- and eighth-graders a limited menu of potential contest teams.
"Take milk quality that is offered to the younger students; we're not trying to learn the entire contest," he says. "We're trying to learn some of it and make them feel like, 'Hey, I did that part really well. That way when they're in ninth grade, they've got a head start."
His goal is to have his students peak as juniors and seniors, and those upperclassmen typically make up the farm management, milk quality and crops teams. "If you have a team that is all seniors, you're probably with your friends," he says, "and part of this is having fun, right? It's not just competing."
Last year's floral team threw Sheely's formula out the window, as that team — made up of sophomores — exceeded expectations by winning at state and advancing to the National FFA Convention and contest.
FFA prohibits repeat winners, so once a team wins state and goes to nationals, they must then choose another category for subsequent years. "That's insane that they won it as sophomores — super tickled," he says, "but they're done with floral, and they have to pick a new contest for this year."
As Sheely and Zuern divide the ag classes offered at the high school, there is no way the two of them can adequately prepare students for the contests in each of the varied areas. That is where the community aspect comes in as others who receive assistant stipends help prepare FFA members.
Mariah Moore, a Maple River grad; Collin Nienhaus, a middle school science teacher; and Alicia Sandberg, a STEAM (science, technology, arts, engineering and mathematics) teacher, offer their specialties to the team effort.
Subscribe to receive top agriculture news
Be informed daily with these free e-newsletters
You May Also Like
---