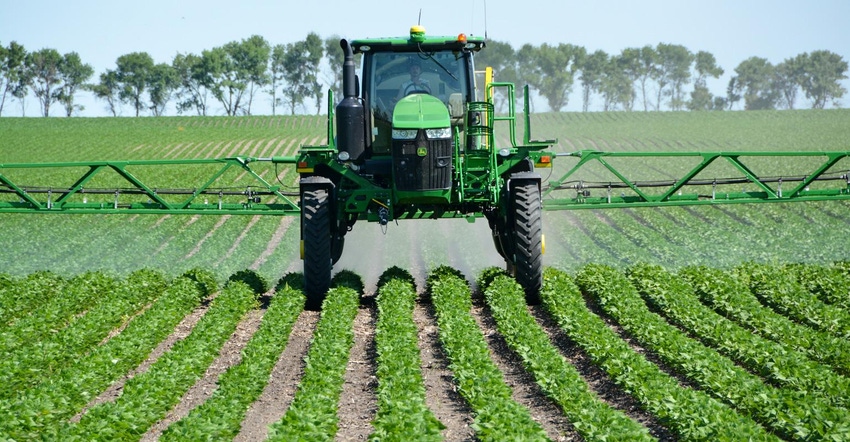 SPRAYING STOPPED: Farmers who had one of three versions of new-formulation dicamba on hand June 3 can spray, all other stocks can not be sold according to EPA.
Photo: Lon Tonneson
The first statement from EPA issued last week was a simple response noting disappointment in the court ruling, while farmers across the country with crops to spray wondered what they could do. Individual states issued their opinions of the ruling and groups ranging from the American Farm Bureau Federation to the National Corn Growers Association issued statements calling on EPA for more guidance.
On Monday night, June 8, the agency issued a key order providing farmers what it calls "needed clarity" following the 9th Circuit Court of Appeals June 3 vacatur of three dicamba registrations. Today's cancellation order outlines limited and specific circumstances under which existing stocks of the three products can be used for a limited period of time. The EPA order will "advance protection of public health and the environment by ensuring use of existing stocks follows important application procedures," according to the statement.
EPA Administrator Andrew Wheeler noted that "at the height of the growing season, the Court's decision has threatened the livelihood of our nation's farmers and the global food supply. Today's cancellation and existing stocks order is consistent with EPA's standard practice following registration invalidation, and is designed to advance compliance, ensure regulatory certainty and to prevent the misuse of existing stocks."
Bayer, makers of XtendiMax, one of the three products vacated by the court order, issued the following statement:
"We welcome the EPA's swift action. XtendiMax and the other low-volatility dicamba products are vital tools that many growers rely on to safely, successfully and sustainably protect their crops from weeds.
"Our top priority is making sure all our customers have the support they need to have a successful season. We are reviewing the EPA's action and we will keep this webpage updated with the latest information for our customers: roundupreadyxtend.com/xtendimaxupdates.
"Bayer stands fully behind XtendiMax, and we ill continue working with the EPA, growers, academics, and others to provide long-term access to this important tool."
Engencia manufacturer BASF also released a statement"
"While BASF supports the U.S. EPA's action to allow the use of existing stocks of Engenia herbicide by growers and commercial applicators, we believe that additional clarity and flexibility is required to address the complexities of the supply chain so that farmers have the opportunity to use Engenia this season in accordance with the EPA order. Therefore, we will be working with the EPA to address this issue."
The details of the order
EPA's order addresses sale, distribution and use of stock for three dicamba products -XtendiMax with vapor grip technology from Bayer, Engenia from BASF and FeXapan from Corteva.
First, distribution or sale by any person is generally prohibited except for ensuring proper disposal or return to the registrant.
Second, growers and commercial applicators may use existing stocks that were in their possession on June 3, 2020, the effective date of the court decision. Such use must be consistent with the products' previously approved labels, and may not continue after July 31, 2020.
On June 3, 2020, the Ninth Circuit Court of Appeals issued an order vacating EPA's pesticide registrations containing the active ingredient dicamba: Xtendimax with Vaporgrip Technology (EPA Reg. No. 524-617); Engenia – (EPA Reg. No. 7969-345); and FeXapan – (EPA Reg. No. 352-913).
The Agricultural Retailers Association wants more clarification after release of the EPA statement. "ARA is concerned with these details, as it appears inconsistent with EPA's long-standing existing stocks practice following registration invalidation," says Richard Gupton, ARA senior vice president of public policy and counsel. "ARA is seeking clarification on the impact on agricultural retailers that do not provide commercial application services."
He adds that the current order will create confusion, especially since it is being issued at the end of today with June 3, 2020 cut-off date and after many states publicly authorized the continued sale and use of these products over the weekend through today. "The EPA announcement does not fully address the continued confusion being created by the [court] decision," Gupton says.
Looking back
In 2016, EPA conditionally registered the three dicamba-based herbicide products under section 3 of the Federal Insecticide, Fungicide and Rodenticide Act, 7 U.S.C. 136a, for postemergence use on crops genetically engineered to be dicamba tolerant. The registrations were subject to an automatic two-year expiration. Prior to expiration in the fall of 2018, EPA extended the registrations to allow use through Dec. 20, 2020.
On Jan. 11, 2019, the National Family Farm Coalition, Pesticide Action Network North America, Center for Biological Diversity and Center for Food Safety petitioned the United States Court of Appeals for the 9th Circuit for review of EPA's 2018 decision extending registration for the products. On June 3, the court issued its opinion finding that EPA's registrations for these dicamba products were not supported by substantial evidence and vacated the registrations. The vacatur became effective immediately on June 3, 2020, and as of that date the three products became unregistered. Absent further order, as provided by EPA, sale and distribution of existing stocks of these products would be in violation of FIFRA, according to EPA.
Sources: EPA, and the Agricultural Retailers Assocation. The source is solely responsible for the information provided and is wholly owned by the source. Informa Business Media and all its subsidiaries are not responsible for any of the content contained in this information asset.
Subscribe to receive top agriculture news
Be informed daily with these free e-newsletters
You May Also Like
---