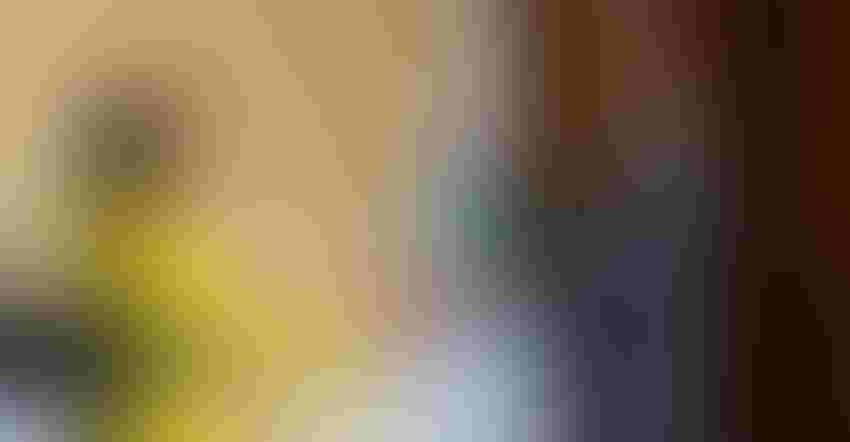 EPA Administrator Michael Regan was sworn in Thursday, March 11 following his Senate confirmation the day prior.
Eric Vance, EPA
In floor action Wednesday, the Senate confirmed Environmental Protection Agency Administrator Michael Regan by a vote of 66-34. During his confirmation hearing, Regan emphasized that the "RFS is definitely a priority for this administration" and also highlighted his track record of working with the agricultural industry to find workable solutions during his time in secretary of the North Carolina Department of Environmental Quality.
"We can't regulate our way out of every problem we approach," Regan says during his confirmation hearing.
Related: EPA nominee Regan talks future of WOTUS, RFS
During his confirmation hearing farm state senators drilled him on his future plans for the handling of the Renewable Fuel Standard as well as the issuing of small refinery waivers that surged during the Trump administration.
"Administrator Regan has been on the record supporting biofuels as critical to help meet an ambitious climate agenda, committing to following the letter of the law on the Renewable Fuels Standard, and pledging transparency on any small refinery exemption decisions," says Growth Energy CEO Emily Skor. "We look forward to working with Administrator Regan on all of these policy and regulatory initiatives, and offering our organization's perspective and high-level of expertise as he makes these decisions." 
Related: Ag groups supportive of EPA nominee
Renewable Fuels Association President and CEO Geoff Cooper says Regan built a strong track record of listening to all stakeholders to find practical, science-based solutions to the environmental issues impacting the people of North Carolina. "We welcome a similar approach to problem-solving as he takes the helm at EPA, and we appreciate the outreach he has already conducted to renewable fuel stakeholders," Cooper says.
He adds, "We were pleased to hear Administrator Regan say that agriculture and biofuels will have 'a seat at the table' as our nation tackles climate change, and we believe ethanol will be a critical component of the drive toward net-zero greenhouse gas emissions by 2050."
Sen. Joni Ernst , R-Iowa, a member of the Senate Environment and Public Works (EPW) Committee, voted in opposition to Regan, citing concerns on issues such as the RFS  and agency rulemaking.
"President Biden has already taken steps to roll back the Trump administration's Navigable Waters Protection Rule and transition the federal fleet to electric vehicles," Ernst says. "This, coupled with the unsuccessful record of the Obama-Biden Administration on securing E15 year-round and their harmful WOTUS rule leave me concerned about how Mr. Regan will handle important issues to Iowans."
Related: Biden administration: Will farmers see another WOTUS redo?
House Agriculture Committee Chairman David Scott, D-Ga., says he looks forward to starting a dialogue with Regan and his staff to ensure that EPA's pesticide registration programs remain trusted and science based, as well as on the role that the Renewable Fuel Standard and our agriculture producers have in mitigating climate change.
"I also want ensure that America's farmers and ranchers have a seat at the table as the EPA considers their regulatory obligations and look forward to the appointment of the agricultural adviser at the EPA," Scott adds.
Chris Novak, CropLife America president and CEO, says Regan's demonstrated commitment in reaching out to, and working with, the regulated community will be critical in developing solutions to address climate and to enhance the credibility and transparency of the EPA's work. "Administrator Regan's focus on engagement with all stakeholders will help to ensure farmers, public health officials and other pesticide professionals' voices will be part of the conversation on the essential need for the strong risk-based regulation of pesticides."
National Association of State Departments of Agriculture CEO Barb Glenn notes Regan's experience and informed understanding of the value of state agriculture departments will contribute to environmental impacts that will be felt for generations.
"NASDA looks forward to developing incentive and science-based policies with the Administrator to help agriculture and rural communities better adapt to climate change," Glenn says. "Together with Administrator Regan, state departments of agriculture will continue to nourish people and communities while serving as stewards of the environment."
Ernie Shea, president of Solutions from the Land, says the agricultural leaders SfL represents is particularly impressed with Regan's work with rural communities and agricultural interests in the state, where he served as chief advocate for clean air, water and energy.
"As the top EPA enforcement official, Regan can be expected to work across political lines, as well as with business interests and with advocacy groups. SfL stands ready to provide the new administrator with insights from the agriculture sector on the role it can play in meeting the nation's environmental demands," Shea says.
Subscribe to receive top agriculture news
Be informed daily with these free e-newsletters
You May Also Like
---