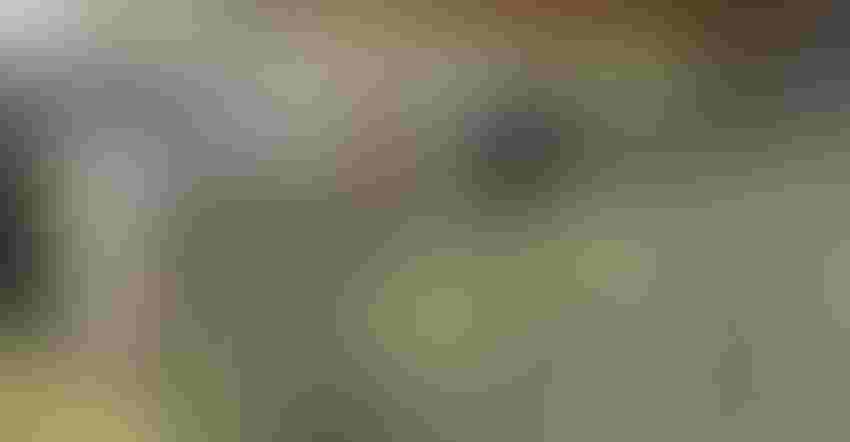 TROUBLE IN NORTHEAST: Cows eat at the feed bunk at Eltimar Farm in Marathon, N.Y. Ed Maltby, executive director of Northeast Organic Dairy Producers Alliance, says the goal is to get some needed cash flow to existing Northeast organic dairy farmers — or risk more going out of business.
Courtesy of Northeast Organic Dairy Producers Alliance
John Painter was stunned when he received a letter from his organic dairy processor on Sept. 2. It stated that, effective Sept. 5, he would lose his contract with New Jersey-based Amish Country Farms because of the volatility of the organic milk market.
Dairy farmers losing their markets is nothing new, but getting less than five days' notice of it was something he never expected.
"It was totally ridiculous," says Painter, who milks 400 cows and farms more than 5,000 acres in Westfield, Pa.
Organic dairy farms are struggling right now, and it's especially challenging in the Northeast. This year's drought, which was especially bad across New England, has led to tighter forage supplies amid already high input costs.  
Federal aid requested
Ed Maltby, executive director of the Northeast Organic Dairy Producers Alliance, says the organization is asking for one-time assistance from the federal government to help producers get through winter.
"What we're facing is a loss of the small to midsize operations because they can't cash flow," Maltby says. "There is no more equity left, no more taking out loans."
In a letter sent to Scott Marlow, deputy administrator of farm programs at the Farm Service Agency, last month, 10 organizations — including NODPA — stated that "organic dairies in the Northeast need emergency aid due to the catastrophic conditions caused by a dramatic and unprecedented increase in input costs, which has been aggravated by regional drought. We share many of the same problems that organic dairies in California and the West are experiencing. Small to midsize organic dairies across the country are facing large losses and many are facing the prospect of going out of business; some already have."
Some points brought up in the letter:
Organic soybean meal has hit $1,900 per ton delivered to the farm, double what it was 18 months ago.

Organic corn is the highest it's been since 2015 at $11 per bushel FOB (free on board), or $15 per bushel delivered, up 30% from 18 months ago. 

Forages and alternative protein sources are competing with demand from the conventional market.

Auctioneers have reported higher organic dairy farm sales and increased culling of organic cows.

Producers are anticipating heavy culling to get through winter, some up to 25% of their herd.
The letter also points out that organic dairy does not have an existing federal safety net or margin protection program to help when costs of inputs rise and pay price is below production expense.
It's not just in the East, however. Albert Straus, CEO of Straus Family Creamery in Petaluma, Calif., called the situation "a crisis" as the extreme drought in the West has caused feed prices to rise 40% with limited availability of organic forages.
Straus says he has had to increase the pay price to the 12 farms he markets milk for by $2.50 per cwt for them to stay afloat, or risk farms reducing herd sizes or go out of business.   
Travis Forgues, executive vice president of membership for Organic Valley/CROPP Cooperative, says that 12 of the 18 dairy farms dropped by Amish Country Farms were picked up by Organic Valley and were incorporated into three existing routes.
He says the organic dairy market is stagnant right now, largely because of rising costs for consumers and farmers, and increased competition in dairy cases from alternatives like plant-based products.
"Commodity prices are out of control for farmers, specifically in the West," Forgues says. "Forage needs are really affecting them, too. There is not a lot of money right now. We are challenged to break even as a cooperative."
Forgues says the cooperative has about 1,800 members and sees an average yearly attrition of about 3%, largely from farmers retiring or getting out of the business. The attrition rate was below normal the past couple of years, he says, but this year it is approaching 4%.
A former Vermont dairy farmer himself, Forgues says producers in the Northeast and West are grain reliant and don't grow enough soybeans, which is a big cost. Drought has also affected forage supplies, another big cost.
Prices stay flat
At the same time, the price organic dairy farmers get for their milk has stayed flat. Maltby says a survey done by the Northeast Organic Farmer Association-Vermont in 2020 showed organic dairies getting between $30-$31 per cwt for milk, a figure that hasn't changed much since then and is $5 per cwt below what it once was.
Liz Bawden, who farms with her husband in Hammond, N.Y., a mile away from the Canadian border, once shipped milk for Horizon Organic — which decided to pull out of the Northeast last year — and now ships to Maple Valley Creamery in Kinderhook, N.Y., which also threatened to drop organic dairy farms last year but has since kept most of its farmers on as it now has a contract to supply fluid milk to a new baby formula plant in Pennsylvania.
She remembers when milk from her 100 dairy cows fetched $39 per cwt. It declined to $35 per cwt, but then nosedived in 2017-18 to $25.50 per cwt and never recovered. At the same time, input costs have stayed the same, or in some cases gone up.
"It's been stagnant and from a farming perspective, it's been really tough," Bawden says.
She and her husband decided in May they were not going to feed anymore grain, which was costing upward of $800 per ton. The cows didn't produce enough milk to justify the increased costs, she says.  
The farm started shipping to Maple Hill on Sept. 1, which offered a higher pay price and required them to go grain free.
Bawden and her husband are both 65, and she says they thought about quitting farming altogether, but her son is interested in continuing the farm. Many of her organic dairy friends are not so lucky.
"They are milking a lot more cows and not having an easier time of it," she says. "Organic farmers are going out of business, by choice, because they don't see it has a great road ahead."
More processors needed
Horizon Organic's decision to pull out of New England and much of eastern New York last year highlighted concerns about lack of processing plants in the region.
Maltby says that Horizon used to process milk at a Hood plant in eastern New York and even in New Jersey, but the decision to shift nearly all its dairy processing to the Steuben Foods plant just outside Buffalo put them closer to larger herds in western New York and Ohio.
"If you're a processor you want your source closer," he says. "And as the infrastructure has disappeared here in New England; that's what happened."
Organic Valley works with 85 co-processors around the country and owns two plants — one in Wisconsin and a powder plant in Oregon. Forgues says the Northeast is need of more processing facilities, but the cost to build one — for example, an ultra-high temperature plant costs upward of $200 million — is too high for processors to justify the investment.
Organic Valley, he says, is diversifying. In recent years it started a 100% grass-fed milk product to compete with other alternatives, but organic milk and dairy products still make up most of its business.
Painter, who runs the dairy farm with family members, says about 20% of his farm's milk now supplies his nieces' growing business, Painterland Sisters yogurt, and it might supply more of the milk in the years ahead.
"If you're just making a living on dairy, it's a real struggle right now, and that's why we have diversified," he says. "We also have lots of land, so we have lots of feed." 
Butterworks Farm, a small dairy farm and creamery in Westfield, Vt., expects to increase its weekly sales to area colleges and universities this fall, thanks to a growing regional partnership between farmers, processors and retailers.
According to an Aug. 30 article in VTDigger, an online news website, Sodexo, a food management company that services institutions such as schools and colleges, announced that it would double or even triple its purchases of organic dairy brands that support New England's organic farms.
"A lot of work is being done to see if the margins involved in selling to institutions are enough to support the pay price," Maltby says of the initiative.
He says a group of organic dairy supporters in the region want to launch a new regional dairy brand and are looking at existing plants to take milk, including one in southern New York. "The Northeast desperately needs a new plant, both from conventional and organic, to handle small volumes of milk and things to make," he says.
In the short term, he says the goal is to provide some needed cash flow to existing farmers or risk more going out of business. He says that another 30 to 40 Vermont dairies could be gone within a year. 
In the long term, though, Maltby says the future of organic dairy, at least in the Northeast, will be marketing the product as an individual or regional brand, not just as a commodity.
"We need a product that can have that integrity and can sell that to both retailers and consumers," he says.
About the Author(s)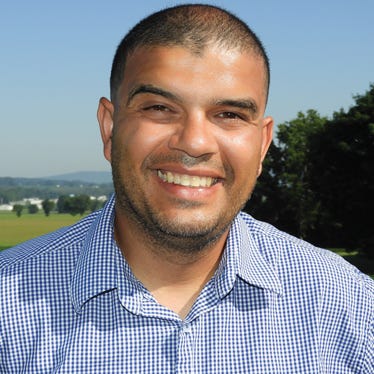 Editor, American Agriculturist
Chris Torres, editor of American Agriculturist, previously worked at Lancaster Farming, where he started in 2006 as a staff writer and later became regional editor. Torres is a seven-time winner of the Keystone Press Awards, handed out by the Pennsylvania Press Association, and he is a Pennsylvania State University graduate.
Torres says he wants American Agriculturist to be farmers' "go-to product, continuing the legacy and high standard (former American Agriculturist editor) John Vogel has set." Torres succeeds Vogel, who retired after 47 years with Farm Progress and its related publications.
"The news business is a challenging job," Torres says. "It makes you think outside your small box, and you have to formulate what the reader wants to see from the overall product. It's rewarding to see a nice product in the end."
Torres' family is based in Lebanon County, Pa. His wife grew up on a small farm in Berks County, Pa., where they raised corn, soybeans, feeder cattle and more. Torres and his wife are parents to three young boys.
Subscribe to receive top agriculture news
Be informed daily with these free e-newsletters
You May Also Like
---