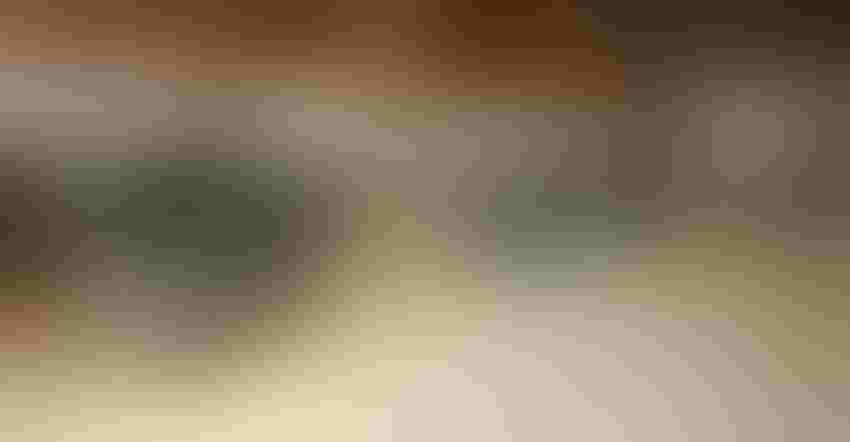 DRY COW CARE: Reducing overcrowding, feeding a balanced ration and using an appropriate selective dry cow therapy all contribute to decreased disease and less risk of early-lactation milk production loss and culling.
branex/Getty Images
By Stephanie Plaster
The transition period for dairy cattle encompasses the weeks before and after calving, and is a critical time to manage the future productivity, health and longevity of each cow and calf. These weeks set the cow up for either success or a struggle throughout lactation and subsequent pregnancy.
In times of tight margins, it may seem advantageous to overcrowd pens to try to maximize milk production and minimize building and labor costs, but this has been shown to consistently increase the incidence of lameness, respiratory disease, decreased feed intake, lowered milk production and ketosis. Prefresh cows are wider than their lactating counterparts and require more space to be comfortable and to compete at the bunk. Stocking at a rate greater than 80% to 85% in a typical freestall pen decreases milk production in the subsequent lactation.
The goal is to maintain 30 inches of bunk space per cow, which reduces competition at the bunk and provides adequate space for walking and movement in the pen. This minimizes the risk of lowered dry matter intake commonly seen in prefresh cows. Increased competition and lowered dry matter intake contribute to higher stress levels, a weak immune system and a higher risk of metabolic disorders. 
A Journal of Dairy Science article from October 2016 found the total cost per case for a cow experiencing ketosis to be an average of $180.91, $426.50 for mastitis, $333.17 for lameness, $262.65 for metritis, $313.39 for a retained placenta, $639.51 for a left-displaced abomasum and $246.23 for hypocalcemia; this includes veterinary costs, labor, discarded milk, decreased milk production, additional days open, and culling and death costs. 
Decreasing the risk of metabolic disorders during the transition period can save the farm from significant expenses, loss of production and loss of income. Reducing overcrowding, feeding a balanced ration and using an appropriate selective dry cow therapy all contribute to decreased disease events in fresh cows, as well as reduced risk of early-lactation milk production loss and culling.
Several other measures contribute to the overall health, well-being and production of the transition cow.  As summer approaches, the threat of heat stress returns. Dry cows are often overlooked during this time, but heat stress in dry cows causes decreased fetal growth and decreased mammary development, which leads to reduced milk production in the subsequent lactation. Ensure water is clean and readily available, and fans and sprinklers offer sufficient cooling coverage to help dry cows manage the heat.
Vaccination protocol
Strong vaccination programs protect the cow, calf and entire herd from infectious diseases that decrease cow health and profitability. The economic impact of preventable diseases is an unnecessary burden. Farms should work with their veterinarian and calf or heifer raiser to develop an appropriate vaccination schedule for the farm, and pair the vaccination program with other herd health best management practices such as good nutrition, ventilation, sanitation and biosecurity.
Lastly, changes are disruptive for prefresh cows and can contribute to stress and lowered dry matter intake. The plan for when and how to move cattle during this period should minimize pen movement as much as possible. The pens should be bedded deeply with clean, dry bedding to increase comfort and lying time. At this point, all of a cow's energy is being devoted to producing a strong, healthy calf and developing her mammary system for a robust lactation.
The transition period is an opportunity to set up every cow for a healthy and productive lactation. Ensuring her comfort and health during this time will pay big dividends. 
Plaster is the Extension agriculture educator for Washington and Ozaukee counties in Wisconsin. This column is provided by the University of Wisconsin-Extension Dairy Team.
Subscribe to receive top agriculture news
Be informed daily with these free e-newsletters
You May Also Like
---