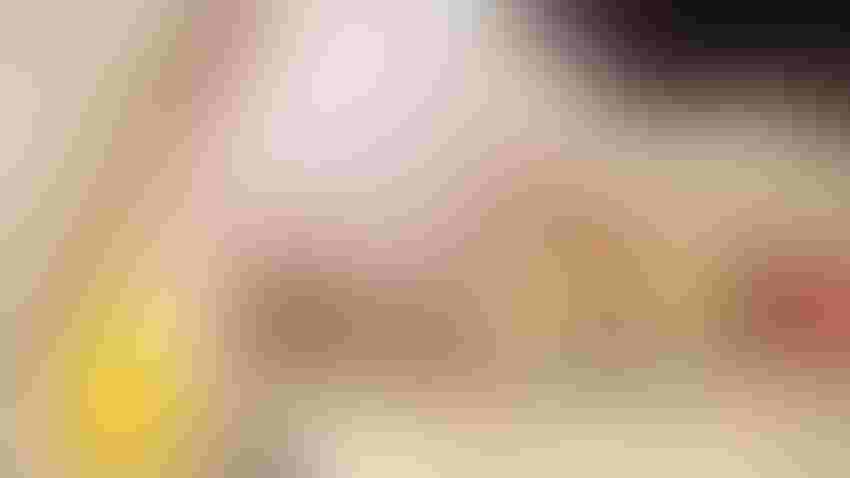 UDDER DEVELOPMENT: Providing quality nutrition with greater protein levels from birth to 3 months helps with mammary gland development in dairy heifer calves
Mickael Guyot/Getty Images
How soon do you focus on udder development in your dairy heifers? Katie Boesche says it should start at birth.
"If we increase their plane of nutrition — their milk replacer intake, their starter intake, their average daily gain — that all impacts how their mammary gland is growing so that they have higher milk production when they enter the lactating herd for their entire productive life," says Boesche, who worked at Purina as a dairy senior technical support consultant and has seven years of industry experience promoting dairy nutrition and health.
Just how high will milk production go? After adjusting nutrition for birth to 3 months, researchers at Cornell University found that for every 0.1-pound increase in average daily gain preweaning, first-lactation milk production increased 155 pounds, and milk production through three lactations increased 502 pounds.
While those numbers may sound modest, the results add up, according to Boesche, who grew up on an Illinois dairy farm and has a bachelor's degree from the University of Illinois, along with a master's degree in mammary development from Ohio State University and a doctorate in nutrition physiology from Purdue University.
Switching from a conventional calf program to an elevated plane of nutrition could support over a 3,000-pound increase in lifetime performance, she explains. Considering a dairy cow's lifetime performance can be 65,000 to 70,000 pounds, that is close to a 5% increase.
"It's a really big impact that we're able to have just from changing their nutrition early in life," Boesche concludes.
History of gains in milk production
The goal for dairy farmers has always been to move a heifer into the lactating herd as early as possible because heifers are not moneymakers.
In the 1960s, Boesche says researchers tried increasing rates of average daily gain to get those animals to calve as soon as possible. However, pushing these young animals too early to create puberty did not give enough time for the mammary gland to develop to its full potential.
Today, Purina Animal Nutrition Center has a better understanding of how the gland develops and the significant role it plays in overall increased milk production. It starts as soon as the calf is born.
Studies at the Purnia farm in Gray Summit, Mo., along with other university research, show there is a window of opportunity early in life, from birth through the first 3 months, where a heifer calf can really grow the mammary gland. According to Boesche, during this period, the gland grows 3.5 times faster than the rest of the body.
There are two types of tissue in the mammary gland. One is the mammary fat pad, which is the surrounding supportive tissue. The other one is the parenchyma, the tissue that will actually secrete milk later in life.
"This is the tissue, that parenchyma, that's growing in this young calf," Boesche says. "As that tissue develops, the number of cells that are present determines the milk production potential later in life."
Protein supply during this early stage of development impacts growth of the parenchyma tissue, so dairy farmers should look to a higher protein-to-fat ratio.
Researchers at Virginia Tech University found that feeding a high plane of nutrition preweaning, compared to a restricted diet, increased parenchyma development sevenfold.
Change in dairy calf management
Gustavo Cruz, senior dairy scientist with Purina's Dairy Technical Innovation, suggests farmers feed high-protein milk replacer from birth through weaning, and then a protein-rich diet into the starter phase.
Purnia starters are either 20% or 22% protein. Dairy farmers should feed it at a higher rate of milk replacer — 2.5 pounds of dry powder mixed appropriately, per calf per day, which is a much higher rate compared to other recommendations.
Later, Cruz says farmers should incorporate an 18% grower product, fed through 6 months of age, until they switch to fermented forage or until they transition onto a TMR heifer program.
This complete program is the basis for Purina's research that supports an increase in milk production when those cows enter the lactating herd compared to their cohorts fed lower planes of nutrition.
Dairy farmers may still be reluctant to make that management and dietary shift for calves. Boesche says the hesitancy of producers is tied to the greater initial investment.
"It costs more to feed a higher plane of nutrition, a higher milk replacer diet," she says. "But we spent a lot of time doing the calculations on feed costs around costs, including vet labor, taking production cost into account, and the increased income from that higher milk production — we're able to show it really does pay off."
How fetal period affects milk production
Boesche says researchers are looking even earlier than birth, all the way to the womb, to see if improved nutrition helps with mammary development. They are focusing on the impact the in-utero environment can have on the milk output of the calf.
"They are looking at the dam's diet, if she is in heat stress or any other kind of trigger," she explains. "There's some really cool research coming out, showing that even during that period, that in-utero period can impact that calf's milk production as she enters the lactating herd two years later. I feel like we're just scratching the surface of the potential impacts we can have here."
Subscribe to receive top agriculture news
Be informed daily with these free e-newsletters
You May Also Like
---