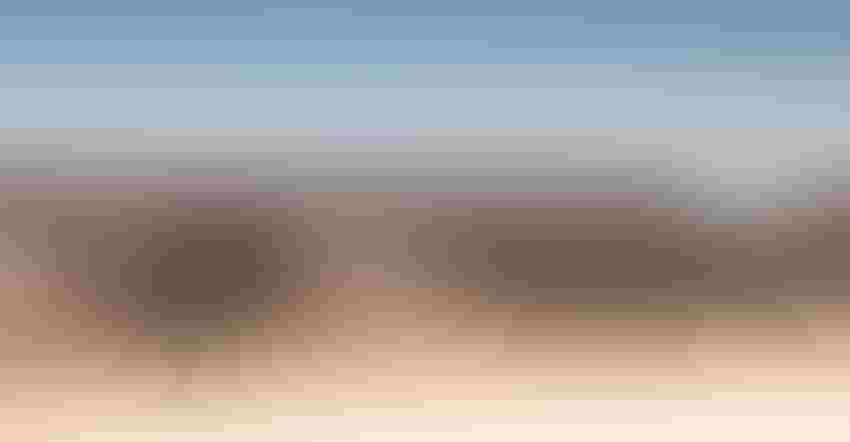 DAIRY SECTOR: The 2021 Kansas Governor's Summit on Agricultural Growth hosted its virtual dairy sector breakout session July 1. Attendees learned about dairy production and consumer marketing trends, and provided input on the opportunities and challenges they see the state's dairy industry facing in the future. KDA decided to keep future breakout sessions virtual so as many people as possible could attend.
RCarner/Getty Images
The Kansas dairy sector has plenty of opportunities and challenges ahead of it in the coming decade, according to stakeholders. Dairy farmers and industry professionals gathered July 1 for the virtual dairy sector breakout session of the 2021 Kansas Governor's Summit on Agricultural Growth.
Each year, the ag summit provides an opportunity for the stakeholders in the state's agricultural sectors to gather and discuss the future of their respective ag segments, and identify how the state government can open doors for progress. In 2020, the one-day event had to go virtual due to the COVID-19 pandemic and health precautions. Following that virtual experience, the Kansas Department of Agriculture elected to continue the opportunity to hold sector breakouts over Zoom webinars.
"We decided, after last year, that there was a benefit in having our individual sectors meet virtually online so that we can expand our reach and make it accessible to as many people as possible," says Mike Beam, Kansas secretary of agriculture. "The whole purpose of today's sector and the summit as a whole is to really try to collectively identify what our challenges may be and our opportunities to grow agriculture in the state."
Kansas dairy sector
Shirley Acedo, with the KDA ag marketing team, explains that Kansas dairy has an estimated direct economic impact of close to $700 million, and provides more than 1,000 jobs. When you include the indirect and induced effects, that comes to close to $1.4 billion in output and more than 4,000 jobs, she adds.
Stephanie Eckroat, executive director of the Kansas Dairy Association, adds that the state has 228 Grade A dairy farms that milk about 173,000 dairy cows, 181 milk haulers and 17 milk processors. The state ranks 16th in dairy production in the U.S., she adds.
"Hopefully with the news that has come about in the last couple months, we may see an increase in that," Eckroat says. Hilmar Cheese Co. announced it will build a new cheese and whey processing plant in Dodge City, this past May, she adds. That would be more than 270 new dairy jobs in the state, with an economic benefit of about $550 million.
"After that announcement, KDI [Kansas Dairy Ingredients] also made an announcement in June that they would be doing an expansion at their facility, and they estimate another 40 jobs being added in addition to another $45 million into the economy of that area," Eckroat says.
Attendees to the breakout heard from Jocelyn Johnson, a research scientist of STgenetics, and Megan Sheets, consumer insights manager of Midwest Dairy, about trends they should consider for the future.
Beef on dairy
Johnson spoke about STgenetics' work in using sexed beef semen on dairy cows for a resulting terminal-cross calf that will be fed out for beef. According to Johnson, data collected from 280 Angus-Holstein crossbred steers showed they averaged $3.50 a head. The goal of the work, Johnson says, is to find the right beef genetics for marbling and carcass weight that result in a crossbred carcass that can bring a premium.
She says that as the progeny testing program continues, STgenetics will continue to identify superior sires for these crossbreeding programs, using performance and carcass data, and continue genomic testing to predict performance and profitability. She says the practice of using beef sires on dairy females will be an opportunity for the dairy and beef cattle industry in Kansas in the future.
Consumer trends
Sheets says coming out of the COVID-19 pandemic, health and wellness are top of mind for consumers, and that puts milk in a good position. Midwest Dairy research conducted over the summer shows 83% of consumers say they agree that dairy products are an important part of a balanced diet.
Additionally, consumers are newly concerned with their immunity and immune health, which has resulted in vitamin and mineral supplement sales growth, Sheets says. Milk and dairy products are an excellent source of vitamins D and B, which are essential for immune health.
"People are looking for real food, with clear ingredients that they can understand," Sheets says. This "back-to-the-basics" trend started back in March 2020, when the U.S. started to see people staying at home.
"We saw a lot of people turn back to the familiar food, because it was comfortable," she says. "It brought people comfort sticking to milk, cheese, yogurt, things they've grown up with."
Beyond nutrition, though, dairy's sustainability message will resonate with consumers, an ideal trend that Kansas dairy industry partners can use for the future.
Kansas agricultural stakeholders are invited to attend other virtual sector breakout sessions, as well as the in-person 2021 Kansas ag summit to provide further input into the various sectors. Registration details, as well as sector materials and agendas, can be found online at bit.ly/kdaaggrowthsummit.
Subscribe to receive top agriculture news
Be informed daily with these free e-newsletters
You May Also Like
---