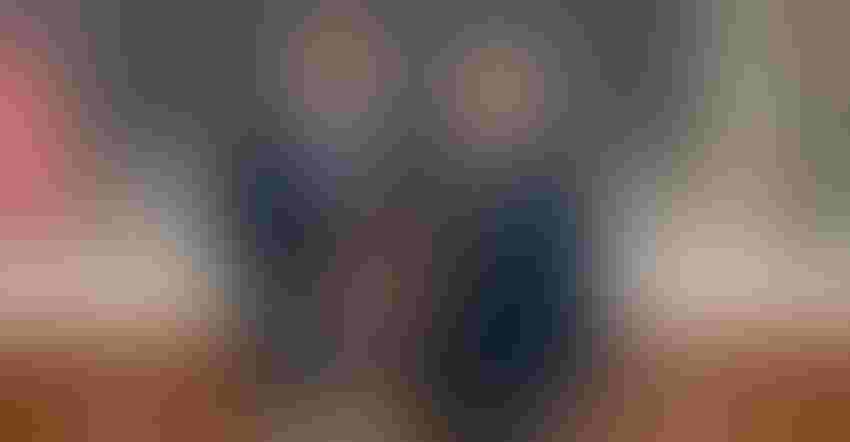 WINNERS: Dan and Doug Scheider were recognized by the Illinois Milk Producers Association with the Dairy Sustainability Award, along with their families.
Tifani Shea, Illinois Farm Bureau
Check out award-winning Illinois dairy farmers
Doug and Trish Scheider and Dan and Sarah Scheider operate Scheidairy Farm in Stephenson County, Ill., and were recognized by the Illinois Milk Producers Association with the Dairy Sustainability Award for their environmental innovation in technology and management.
The Scheiders milk 650 Holstein cows on their Freeport, Ill., dairy farm, which has a long history as a progressive and environmentally conscientious farm. They employ cover crops and invest in cow comfort, and consistently rank in the top 100 herds for energy-corrected milk for Central Star Dairy Herd Information Association Cooperative. The Scheiders also host many dairy tours, including for local medical students from the University of Illinois College of Medicine in Rockford.
The Scheider family also recycles water and sand in their barns. They use water to cool milk and plate coolers, which decreases energy use on the dairy. After the milk cooling process, water is recycled and used to clean the milking facility. It is captured and stored a third time, then used to wash sand in the sand separator. Sand-laden manure is mechanically separated, allowing the dairy to clean and reuse the sand as clean bedding for the cows.
IMPA also recognized David Ruppert, Montgomery County, Ill., with the 2022 Dairy Industry Service Award. This award recognizes an Illinois individual who has shown exemplary service and benefit to the state's dairy industry.
Ruppert grew up on his family's dairy farm and first began farming with his parents in 1974. He served on the Prairie Farms board of directors for 20 years. He served 16 years on the Illinois Board of Livestock Commissions. Among other leadership roles, Ruppert has been a member of the Lincolnland Holstein Club board of directors and president of the Illinois State Holstein Association.
IL Corn offers scholarship
IL Corn is offering five $1,000 scholarships for high school seniors and postsecondary students in agriculture. To apply, students need to complete an online application, include a letter of recommendation and resume, and answer the essay question in 500 words or less: "What are the three most important issues facing agriculture today? How would you address them?"
Applications are due Jan. 31, and all winners are required to attend an IL Corn meeting or event within a year of receiving the scholarship.
Growmark adds board members
Growmark has announced three new board members for its governing board, including Charlie Crow, John Scates and Steve Hopkins.
Charlie Crow operates Crow Farms Grain and Cattle in Morgan County, Ill., with his wife, Denise, and son Matthew. They raise 2,500 acres of corn and soybeans, along with 2,400 head of cattle, and own and operate land in Illinois, Kentucky and Florida. Crow was elected to the Prairieland FS board of directors in 2017.
John Scates is a third-generation partner in his family's 19,000-acre grain, vegetable and livestock farm in Shawneetown, Ill. He farms with his father, uncles, brother, son, nephew and cousins. Scates has served on the Wabash Valley Service Co. board of directors since 2015.
Steve Hopkins joins the board in the newly created position of advisory director. Hopkins owns and operates Riverview Farms Cattle in Louisa, Va., with his two sons and will offer expertise regarding agriculture and cooperatives in the southern U.S. A sixth-generation farmer, he also worked in Extension for Virginia Tech for almost 30 years and serves on the board of EverGro Cooperative, the newest Growmark member company.
"These three new members represent differing backgrounds and geographies, and we look forward to their diverse viewpoints in the boardroom," says John Reifsteck, Growmark board chair. Reifsteck will retire in 2023 and a new chair will be elected in December.
Durbin and Duckworth sign on for E15
Updated E15 legislation that would ensure permanent, full-market access for E15 has gotten bipartisan support from a variety of senators, including Richard Durbin and Tammy Duckworth. In April, the Biden administration lifted E15 restrictions for 2022. This new legislation would provide a permanent remedy to the problem on a national basis, even as several Midwest governors have also initiated a state-by-state solution.
The bill was introduced by Sens. Deb Fischer, R-Neb., and Amy Klobuchar, D-Minn., which tracks their previous bill, S. 2339, the Consumer and Fuel Retailer Choice Act. Durbin and Duckworth co-sponsored the bill, along with Chuck Grassley, R-Iowa; Tina Smith, D-Minn.; John Thune, R-S.D.; Sherrod Brown, D-Ohio; Joni Ernst, R-Iowa; Roger Marshall, R-Kan.; Jerry Moran, R-Kan.; Tammy Baldwin, D-Wis.; Kevin Cramer, R-N.D.; Ben Sasse, R-Neb.; and Mike Rounds, R-S.D.
"We're proud to have senators in Illinois who understand and recognize the importance of ethanol blends to consumers and farmers. Having the E15 option at the pump is a no-brainer for Illinoisans, helping relieve economical stress, lessening pollution and making us more energy independent," says Matt Rush, IL Corn president and farmer from Fairfield, Ill.
According to IL Corn, year-round E15 sales keep a lower-emission fuel choice in the marketplace for less money, and E15 cuts evaporative, carbon and tailpipe emissions compared to standard 10% ethanol blended fuels. Blending more ethanol to make E15 displaces more toxic components in gasoline, reducing exhaust emissions for cleaner air.
Subscribe to receive top agriculture news
Be informed daily with these free e-newsletters
You May Also Like
---