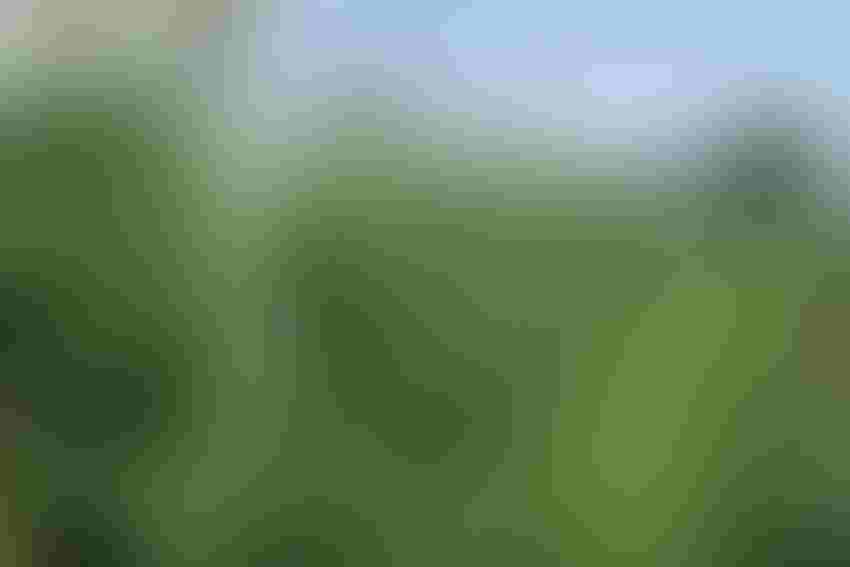 The farm grows hay and a range of vegetables, raises cattle, makes dairy products, and creates a safe haven for native crops.
Brian Ireland
Berry Hill Farm in Loranger, La., is a diversified farm that operates a farm-to-door operation, a dairy farm, and a hay service while utilizing a variety of methods to deal with rising inflation in an unstable commodity market. 
Jessee Fleenor works with his parents, William and Sandy, to operate Berry Hill Farm. The successful operation specializes in direct-to-consumer goods providing consumers with fresh dairy, eggs and vegetables.   
"Each week I bake a new bread and make a lagniappe item for our customers," Jessee said. "I also add in a new recipe each week and a little update from the farm. It helps the community connect with us, provides them something new to try, and a box full of freshly picked vegetables, fruit, eggs, or the newest dairy item." 
Most large-scale farmers focus on one to three crops and grow on thousands of acres of land. Berry Hill only has 30 acres and utilizes every inch of it. They grow or raise a little bit of everything and share that culture with customers.  
"Tangipahoa parish used to have around 1,200 dairy farms and now there are about 77 still in existence throughout the state," William said.  
Most farms have moved to large-scale models where the cows are monitored and milked robotically to reduce labor. With fewer people wanting to milk cows, this technology is proving useful. 
The Fleenors prefer the interaction with the animals and the customers. Milking is a labor-intensive activity. The cows are milked using a mechanical device while human interaction is required to operate the milker. 
"People new to the industry may not always understand what a commitment operating a dairy facility can be," William said. "Cows must be milked two times a day every day. If you don't then there will be consequences." 
The cows are grass-fed and rotated from one paddock to the next every four to six weeks. The Fleenors typically keep three to five mother cows at a time.  
"Our calves are not given supplemental protein, only the mothers' milk," William said. "In a commercial operation, the cows are slaughtered around 8-10 months old. Our cows typically live 28 months, allowing them to live a longer, happier, and healthier life." 
Water drainage 
Their land is sloped to naturally drain the rainwater or irrigation runoff into a collection pond on the back of the property. The pond is kept stocked with fish and aerated for aquatic life. 
William Fleenor focuses on growing Bahiagrass for food for the dairy cattle and hay for local farmers. 
"I target a 12% protein in the grass," William said. "Peak protein per university data occurs when the grass is 8-12" tall. We can harvest about five times per year. We then sell the leftover hay which ends up around 2,000 square bales each year." 
Twelve acres of land are dedicated to the production of hay. The hay is cut and processed into square or round bales, depending on the client's preference. 
The Fleenors run a state-certified dairy and dairy operation. All types of cheese are made but the focus is primarily on cheddar. 
The cows raised on Berry Hill Farm are Jersey dairy cows. These cows consistently produce a somatic cell count under one hundred, according to William. By law, the milk must contain a somatic cell count under 750 or it must be disposed of.  
The dairy products must be stored and aged for 60 days since they are not pasteurized. This requirement is to verify no bacteria growth has occurred and the cheese is ready to eat. Other products are made by Jessee including Greek yogurt, hummus, salad dressings, sweet bread, and much more. 
"We pick fresh items and deliver them every Tuesday and Friday," Jessee said. "Weekly bags include current vegetables, free-range eggs (if available), table flowers, and possibly an extra item like homemade yogurt or freshly baked bread." 
Food boxes 
The bags come with a list of ingredients, a recipe, and a weekly update from the farm. Jessee noted that it is important to connect the customers and community with the farm.        
"We create custom notes included in each bag," Jessee said. "For example, someone may be allergic to a specific ingredient or maybe they prefer one type of vegetable over others." 
All pests and diseases within the crops are treated with organic ORMI-approved chemicals. The Fleenors emphasize the importance of using natural methods and practices to preserve the land for the following generations. 
Jessee provides tips to new farmers to be creative and build equipment to develop that knowledge when it comes time to make repairs. 
The farm grows hay and a range of vegetables, raises cattle, makes dairy products, and creates a safe haven for native crops. The operation also includes pecan trees, blueberries, figs, blackberries, lettuce, and more to constantly provide customers with fresh produce and to stay diverse.  
Subscribe to receive top agriculture news
Be informed daily with these free e-newsletters
You May Also Like
---