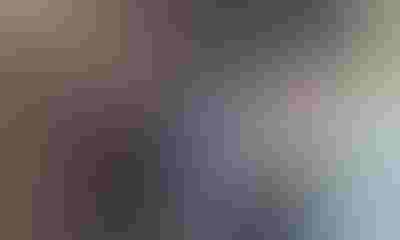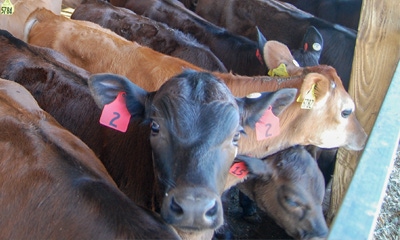 You know dairying times are tough when wayward bull calves start showing up at the farm gates of larger commercial dairy farms. It's already happening in isolated cases.
Trevor Amen, puts it graphically: "Milk producers are being slugged with a 1-2 punch of soft milk prices and slashed cattle prices." Despite the cattle collapse, producers are innovating to improve efficiencies and remain viable, reports this CoBank economist.

MIXED GENES: Jersey and Jersey-beef crosses fill this calf-growing facility in Pennsylvania.
Until early this year, dairy producers were partially insulated from the painful milk price plummet with record-high beef cattle prices that carried into bull calf and cull cow prices. But the beef bonanza is over. Calf and slaughter cow prices have retreated to historical averages — down roughly 90% and 40%, respectively, from their 2015 highs, he adds. Gone is the incremental revenue that once contributed up to a third of cow value. Now, calf and cull cow sales are less than 10% of margins.
3 ways to adapt and stay viable 
More aggressive culling. The U.S. dairy herd is now the youngest it has ever been, points out Amen. That's one reason for the rising herd and per-cow productivity.
Greater use of genetic tools. Use of sexed semen reduces bull calf numbers. Genomic testing identifies elite females to breed for greater milk production. Genomic testing also identifies second-tier females to crossbred with beef sire traits.
Beef feedlot alliances. Crossbreeding for specific beef traits plus preconditioning and grower programs sought by feedyards are boosting dairy-beef bull and steer calf premiums via higher-quality beef traits.
A video synopsis of the report, "Dairies Use Genetics to Manage Through Beef Price Decline" can be found on CoBank's YouTube Channel.
For more dairy-beef genetic information, click on these webpages:
ABS Dairy InFocus (Beef x Dairy) Genetic Management System
Genex Rapid Growth Adding Value to Dairy With Beef
Select Sires Breeding to Feeding Program
About the Author(s) Editor, American Agriculturist
For more than 38 years, John Vogel has been a Farm Progress editor writing for farmers from the Dakota prairies to the Eastern shores. Since 1985, he's been the editor of American Agriculturist – successor of three other Northeast magazines.
Raised on a grain and beef farm, he double-majored in Animal Science and Ag Journalism at Iowa State. His passion for helping farmers and farm management skills led to his family farm's first 209-bushel corn yield average in 1989.
John's personal and professional missions are an integral part of American Agriculturist's mission: To anticipate and explore tomorrow's farming needs and encourage positive change to keep family, profit and pride in farming.
John co-founded Pennsylvania Farm Link, a non-profit dedicated to helping young farmers start farming. It was responsible for creating three innovative state-supported low-interest loan programs and two "Farms for the Future" conferences.
His publications have received countless awards, including the 2000 Folio "Gold Award" for editorial excellence, the 2001 and 2008 National Association of Ag Journalists' Mackiewicz Award, several American Agricultural Editors' "Oscars" plus many ag media awards from the New York State Agricultural Society.
Vogel is a three-time winner of the Northeast Farm Communicators' Farm Communicator of the Year award. He's a National 4-H Foundation Distinguished Alumni and an honorary member of Alpha Zeta, and board member of Christian Farmers Outreach.
Subscribe to receive top agriculture news
Be informed daily with these free e-newsletters
You May Also Like
---