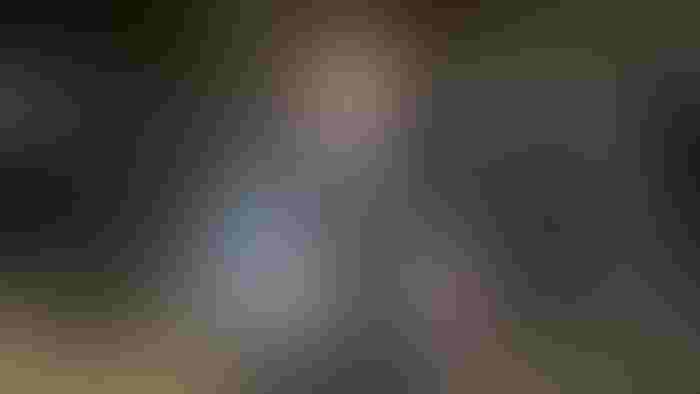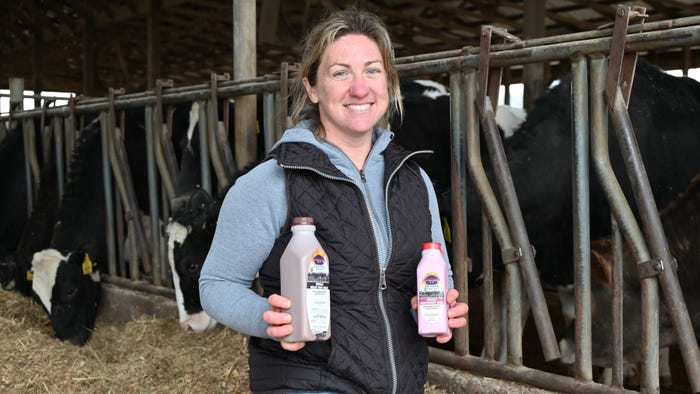 Amy Brickner once had visions of becoming a professor, doing research on feed formulations. But there was always a piece of her that wanted to return to the family farm in Carlisle, Pa.
Last May, she started leaving her mark on her family's dairy by opening Destiny Dairy Bar, a direct-to-consumer business on her family's Stover Dairy Farm.
"I always said it was my destiny to start this," she says. "I felt so strongly that if I could do anything for the rest of my life, it would be to share this with everybody else."
Fast-forward to early 2023 and the business is slowly coming along. The small store, made of wood from an old granary her uncle took apart and from reclaimed roofing, welcomes customers. People buy her raspberry- and orange cream-flavored milk by the gallons.
But with any business there are unknowns. And in her case, there are many.
"My driving passion and why I'm still here is, I truly believe that dairy products are the best nutritional value you can get," Brickner says.
Starting with the cows
Why go direct to consumer? Brickner says she wanted to do something different to connect with the local community.
She got traction in 2018 when she was able to get a grant from the state's Center for Dairy Excellence to write a business plan and start testing her herd for the A2A2 gene. It has been claimed that milk produced from cows with the A2A2 gene — A2 milk — is healthier to drink and easier to digest. Dairy companies have marketed A2 has an alternative for people who are lactose intolerant, for example.
Brickner explains that her now business partner, who had his own dairy herd at the time when she was testing her cows, flushed cows for other farms and happened to use bulls that had the A2A2 gene. He also had his own cow herd but wanted to sell them. Brickner says the two combined herds and she then bred the A2A2 cows to sexed Wagyu bull semen. "I also bred the A1A1 cows to beef bulls, and bred the conventional A1A2 cows to conventional semen," she says. As a result, the farm ended up with a lot of heifers.
"In 2020, at one time, I had 130 cows in the herd and had 55 cows milking. My grandma looked at me like, what are we doing here," she laughs.
Brickner says her first thought was to possibly keep the herd in the 130- to 140-cow range and put another milk tank in for the A2 milk. But that proved cost-prohibitive, she says. And when COVID-19 pandemic hit, production had to be reduced anyway.
"It became easier to shrink the herd and bring heifers over into the dairy barn, so I wouldn't have to build another facility," she says, adding that the herd was reduced to 80 head.
Realizing a dream
Switching the herd to all A2 was just the first step. The second step was figuring out what the business would look like.
Brickner says she had dreams of opening an on-farm creamery of some sort, but before she dove in, she visited other farms to see what they were doing. She visited farms and on-farm creameries in Kentucky, North Carolina, Massachusetts and Vermont. Each place was different, she says, allowing her to tailor what she saw to her own business and goals.
During quarantine, she bought a 15-gallon vat for producing cheese from a woman in Vermont who was expanding her own business. One of the biggest steps she took was contacting the cooperative who took her milk, Mount Joy Farmers Co-op, to let them know what she wanted to do.
They made an agreement that 200 gallons of her milk each week could go for producing her own milk. Her business partner transports the 200 gallons every Wednesday to a nearby Country Creamery in Greencastle where they mix everything and produce the milk.
Her flavored milk, which started with raspberry, is an all cream line and nonhomogenized. She's added other flavors such as orange cream, salted caramel, chocolate mint and even root beer.
Some of the milk also goes to make ice cream — 14 flavors thus far.
"For me, I wanted the farm to be a destination," she says. "I said, if I can't get my family's full support on my journey, I'm just going to start and see where it goes.
"And once they started seeing friends and family coming to the farm and trying my new products, they finally realized that it actually might be something worth considering," she adds.
Construction of the on-farm store started two years ago. A soft opening was held early last year and the grand opening was last May. She started selling ice cream at the store last July.
Navigating unknowns
Destiny Dairy Bar sits on the land that her mother's family has been farming for generations. It's been Stover Farms dairy since 1996. At that time, it was a partnership between her grandfather and his family.
It remained a partnership between her mother and uncle, and was to remain that way even with her plans to open the on-farm store. A new dairy barn was built in 2021, but then two months later, Brickner says she received a bombshell: Her uncle, who oversaw the farm's crop and fieldwork, was leaving the business. "My jaw hit the floor. I was like, 'Oh, OK, so now I get to run both,'" she says.
It's unclear why her uncle wanted to leave the business, but Brickner admits that family friction over the farm's future was an ongoing issue. "Stubbornness got us to this point," she says.
It has left many questions about the farm's future with no easy answers. As of now, the farm is around 400 acres, but the family has already contracted to sell at least half that to a developer who plans to build 1,300 homes. The store is on a preserved 145-acre tract.
The trade-off is that she now buys all her own feed from a farm in Mount Holly Springs, about a 10-minute drive away. That dairy, she says, produces better forages, something her farm has struggled to produce.
"When it takes you 21 days to make first-cutting haylage, you want to pull your hair out when you've got to feed dairy cows. The consistency wasn't good," she says. "It's a struggle to write the check, but at the same time, I know the diet is consistent and good."
Labor is a big concern as the dairy itself is struggling and the on-farm store isn't generating enough money yet to make the farm profitable. Brickner has purchased a micro dairy processor made from a refurbished shipping container that she hopes will get its electric and plumbing hookup sometime this spring. She wants to make milk, cheese and other products in the micro dairy, and potentially save money on having to process milk somewhere else and to boost the farm's products.
Long term, she hopes to put in a robotic milker, place every cow on pasture and provide guided tours of the farm. It would replace the current milking parlor is a double-eight rapid-exit herringbone. It was built with the anticipation of growing the herd to 500-plus cows, but that, of course, never happened.
No regrets
Still, with all the unknowns, Brickner says she does not regret going for a big change.
Her mother, Ann, who has health problems, is not physically active on the farm but still does much of the bookwork. Her 83-year-old grandmother, Julia Stover, still works on the farm every day feeding calves and just filling in wherever she can. "I won't let her quit," she says. "She makes sure all the grain is fed and the water is clean."
Her two sons, Graeson and Colter, are unsure if they want to take over some day, but they help out from time to time.
Some things, though, she would have done differently.
"I would have taken more marketing workshops beforehand, just because I didn't know all my options" in terms of marketing, she says. "At the time when I started, I just thought of doing everything organically, put my name out on social media, and people will come.
"Facebook and social have been good, but I have way too many people looking at me and saying, 'Well, what else are you going to do next?' I would have done that over again."
She says she also would have talked to other people about flavoring, ingredients and label options. But Brickner does not regret diving into the unknown.
"I just went for it. I've said to several people, if you wait until you know all the answers, you will never start. Just go with it," she says.
"It's coming along," she says. "More people are beginning to notice, and other business owners are starting to notice we're here," adding, "Most people who come here are so excited about being here and appreciate open space."
Subscribe to receive top agriculture news
Be informed daily with these free e-newsletters
You May Also Like
---