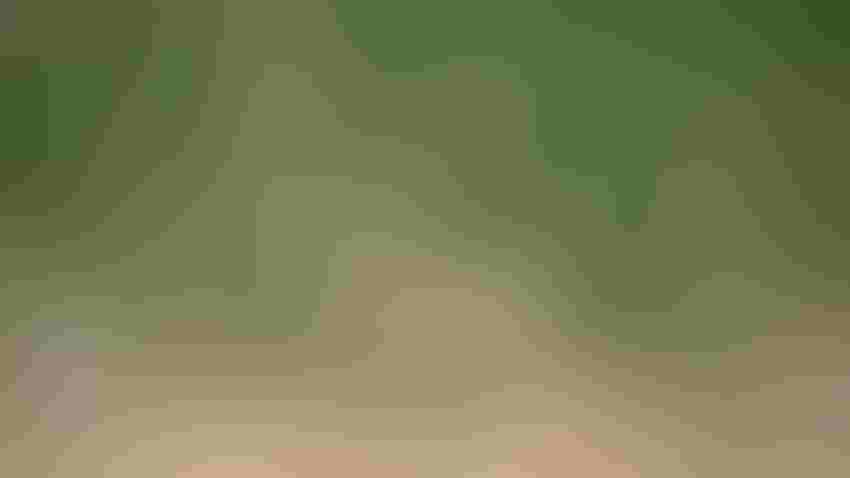 DRY EMERGENCE: Corn is emerged on this farm just outside Lebanon, Pa., but the ground is parched. Nearby Harrisburg, Pa., just experienced its driest May in history.
Chris Torres
How dry was May in our region? It was one for the record books.
It was the driest May ever in Harrisburg, Pa.; Wilmington, Del.; and Binghamton, N.Y.
Most of the region is now classified as abnormally dry, with pockets of moderate drought in south-central Pennsylvania — including Lancaster County — and central and northern Maryland, according to the U.S. Drought Monitor.
Jessica Spaccio, climatologist with the Northeast Regional Climate Center, says persistent high pressure over the region has been keeping precipitation largely to the south.
She expects a similar pattern for the next week or two, with some chances of spotty showers and storms —you may have had a storm or two this past weekend — but nothing significant.
Looking further out — eight to 14 days — temperatures are expected to cool down, and precipitation should return to normal by mid-June, she says.
Still, drier-than-normal conditions this early in the season, coupled with the fact that it was already a drier-than-normal winter, has Spaccio concerned.
"We're definitely watching it very closely," she says. "I think it is concerning because we are early in the season, and we're already seeing these dry conditions starting up."
How are crops affected?
Official USDA reporting via the weekly Crop Progress Report shows minimal impact to crops right now, although planted corn and soybeans might be delayed because of lack of moisture.
Overall, field crops are largely emerging in most places. Wheat and barley are mostly on schedule or ahead of schedule, and first-cutting hay is ahead of schedule, too. But topsoil and subsoil moisture levels are getting worse by the day.
In Pennsylvania, 80% of topsoil moisture is rated either short or very short, and 48% of subsoil moisture is rated short with 40% rated adequate. Pasture is rated 30% poor and 38% fair.
In New York, 50% of topsoil is rated either short or very short, while 20% of subsoil is rated short and 71% is rated adequate. Pasture condition is 29% fair and 50% in good condition.
Topsoil in Maryland is 78% short or very short, and 74% of subsoil is either short or very short.
Much of Ohio and parts of central Michigan are abnormally dry. Corn and soybean plantings, and emergence, are ahead of schedule in Ohio, and crop condition is mostly rated good.
Michigan crops, especially corn and soybeans, are largely on schedule, while 29% of winter wheat is heading. Most topsoil moisture — 68% — is rated as either short or very short. Subsoil moisture is rated 42% short and 16% very short.
Watch these indicators
The seven-day average stream flows for many rivers and streams in Maryland, New York and Pennsylvania are less than 10% of normal, according to the U.S. Geological Survey.
Spaccio says this is something to keep an eye on as this is a key indicator of immediate drought severity. She blames the record-low snowpack from this past winter and the dry May for the low stream flows.
Another thing to watch is groundwater status. This is more of a lagging indicator, she says, but for producers, this is something to watch closely — especially if the drought gets worse and governments start curtailing water usage.
Current groundwater levels are looking better than stream flows, but there are pockets where groundwater levels are 10% of normal. If the dry weather continues, expect those levels to get even worse.
Looking to the rest of the summer, at least through August, the NOAA Climate Prediction Center is forecasting above-normal precipitation for much of Pennsylvania and southern New York, and above-average temperatures for most of the region, especially closer to the coast.
But these predictions are far from perfect. The outlook for May, Spaccio points out, was for mostly equal chances temperature and precipitation. Turns out, May was record dry, and it was cooler than normal in most places.
Drought resources
If you need drought resources, Penn State Extension has released a handy resource guide with tips for growers to prepare for extended drought, and possibly filing a claim.
Extension also has articles on controlling escaped weeds in drought-stressed corn, and forage fertility and quality issues during drought.
Other resources include:
Subscribe to receive top agriculture news
Be informed daily with these free e-newsletters
You May Also Like
---