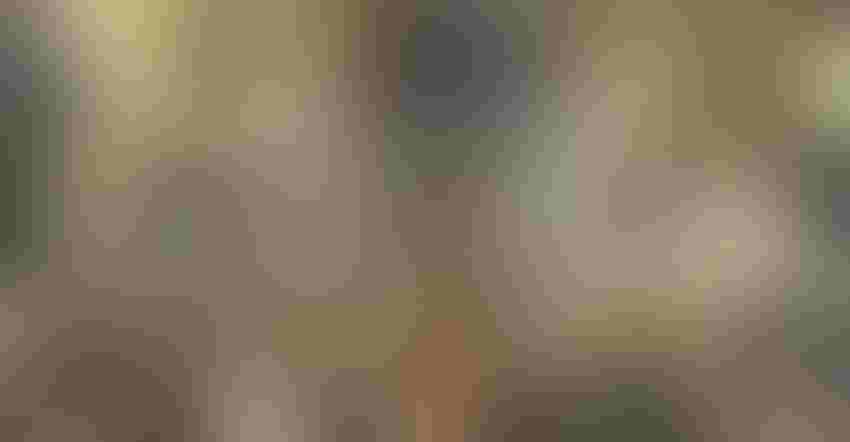 EARLY ONSET: Though white mold first appears in soybean fields in July and August, initial infection occurs earlier. Small tan cup-shaped mushrooms come up at soybean flowering during moist, cool conditions. Apply fungicide at the R1 or R2 growth stage.
Wayne Flanary had a very popular soybean field in Holt County, Mo., last year. What looked like either cotton or spider webs attaching to the stems and pods turned out to be white mold.
Typically, this strain of the fungal disease Sclerotinia sclerotiorum is found in places like the northern part of Iowa, and in Minnesota and Wisconsin. Known as sclerotinia stem rot or white mold, the disease thrives in cool temperatures, moist soils and dense plant populations. So, it was a rare sight in the traditional hot, dry northwest Missouri climate.
However, all contributing factors aligned in 2017. It was a cool summer with adequate rain, resulting in farmers planting into moist soils. This particular field was planted on 15-inch rows with 180,000 plants per acre. "It was really thick," Flanary, a University of Missouri Extension agronomy specialist, says. "All of those conditions combined made it conducive for this disease development."
What to look for
White mold first presents in soybean fields in July and August. However, initial infection occurs earlier.
At soybean flowering, small tan cup-shaped mushrooms appear at the soil level during moist, cool conditions. These mushrooms produce spores that infect soybean plants through the flowers. Other fungi are present in the soil that resemble white mold apothecia, so it is difficult to identify white mold.
Later in the growing season, farmers may see healthy plants start to wilt and die. The leaves remain on the stem but turn brown. The plants my not produce any seed. Farmers may mistake the symptoms as sudden death syndrome.
A closer look shows stem lesions below and above infected nodes. These eventually become white and stringy, like cotton or webbing. Farmers also see black secretions. These fungal growths may be produced inside or outside of stems and pods.
When disease strikes
Fungicides are the primary treatment for white mold. Flanary says fungicides must be applied from the R1 to R3 growth stage to be effective. The problem is, farmers would be spraying fungicide before even knowing if the disease was present.
He points to university research that shows applying fungicide at R5 does not show any value. "At this stage, rescue is not even worth making the effort," Flanary notes.
If white mold shows up in fields this year, harvest infected fields last. "You do not want to spread this disease," Flanary says.
Planning for next year
Field history is important to determine how to move forward with a management plan for white mold.
Flanary says farmers should consider the following:
• Plant varieties with resistance.
• Avoid early planting and late-maturing soybean varieties.
• Reduce plant population to less than 175,000 plants per acre.
• Switch to wide row spacing, greater than 20 inches.
• Consider crop rotation to three years of nonhost plants like corn or forages.
• Use fungicide, but apply at R1 or R2.
Disease ramifications
In all, Flanary says five fields were affected with white mold last year in Holt County, Mo. He also fielded calls from a dealer in Nodaway County, Mo., that saw the disease.
White mold causes yield loss. University researchers measure this based on disease incidence, which is defined as the number of plants that express symptoms of white mold divided by the total number of plants assessed. Flanary gave the example of pulling 100 plants and finding that 45 had symptoms; the incidence would be 45%.
Researchers found that for every 10% increase in incidence of white mold at the R7 soybean growth stage, yield reduces by 2 to 5 bushels per acre.
Flanary says that if conditions are right, there could be white mold showing up in fields again this year. However, proper preseason management can reduce the probability.
About the Author(s) Editor, Missouri Ruralist
Mindy resides on a small farm just outside of Holstein, Mo, about 80 miles southwest of St. Louis.
After graduating from the University of Missouri-Columbia with a bachelor's degree in agricultural journalism, she worked briefly at a public relations firm in Kansas City. Her husband's career led the couple north to Minnesota.
There, she reported on large-scale production of corn, soybeans, sugar beets, and dairy, as well as, biofuels for The Land. After 10 years, the couple returned to Missouri and she began covering agriculture in the Show-Me State.
"In all my 15 years of writing about agriculture, I have found some of the most progressive thinkers are farmers," she says. "They are constantly searching for ways to do more with less, improve their land and leave their legacy to the next generation."
Mindy and her husband, Stacy, together with their daughters, Elisa and Cassidy, operate Showtime Farms in southern Warren County. The family spends a great deal of time caring for and showing Dorset, Oxford and crossbred sheep.
Subscribe to receive top agriculture news
Be informed daily with these free e-newsletters
You May Also Like
---