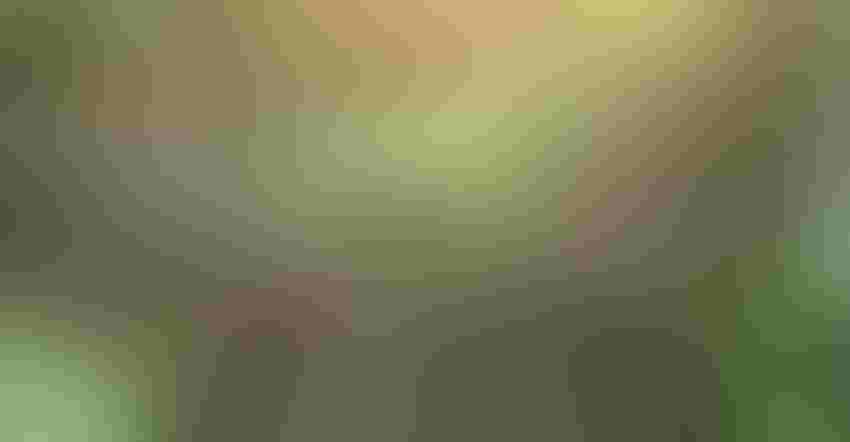 SEEING IS BELIEVING: Researchers at Cornell University are trialing tomato lines that have resistance to diseases like early blight, late blight and septoria leaf spot.
jxfzsy/Getty Images
Since 2005, progressive research has been helping make tomatoes resistant to key fungal and bacterial diseases, providing growers with lower and no-spray opportunities.
Martha Mutschler-Chu, a professor in the plant breeding and genetics section of Cornell University's School of Integrative Plant Science, is developing these tomato lines with help from vegetable grower Barth Davenport and others.
Since 2005, Mutschler-Chu has been successively transferring natural fungal and bacterial resistance found in wild tomatoes to field-grown tomatoes adapted to New York state and the Northeast.
"The lines released starting in 2009 have combined resistance to early blight, late blight and septoria leaf spot and resulted in commercialization of tomato hybrids with superior disease with no or less use of fungicides," Mutschler-Chu says.
Seed companies have used the enhanced resistance lines to create new hybrids. Starting in 2018, Mutschler-Chu's team completed lines with an improved level of early blight resistance along with resistance to late blight and septoria leaf spot.
Proving it on the farm
Tomatoes are among the diversified vegetables being grown by Barth Davenport, who operates Davenport Farms in Stone Ridge, N.Y., with his brother, Bruce. Field trials have evaluated several different lines developed by Mutschler-Chu.
"The trials here included heirloom and big red tomatoes that we grew out from seed to transplants in the greenhouse and then planted to the field. As fungal and disease concerns becoming more and more an issue, we were interested to see which higher-resistance varieties were available and how well they would grow here," Davenport says.
BREEDING RESISTANCE: Martha Mutschler-Chu of Cornell University has been successively transferring natural fungal and bacterial resistance found in wild tomatoes to field-grown tomatoes adapted to New York state and the Northeast.
Teresa Rusinek with the Eastern New York Commercial Horticulture Program helped oversee the trials at Davenport Farms. She notes how the research addresses growers' concerns.
"In my 24 years as a Cornell Cooperative Extension field scout and veg specialist, I have often seen tomato disease outbreaks on both organic and conventional production farms," Rusinek says. "Many growers worry about late blight, and they should, because it is a very fast-acting, destructive disease, but early blight and septoria can also take out tomato plantings, especially in an organic production system where effective fungicides are limited. This is why Dr. Mutschler-Chu's research is so important."
Building a tomato crop's resistance to fungal infection also addresses the fungus' increasing resistance to treatment.
"Insensitivity of the early blight pathogen to group 11 fungicides has been identified in farms in New York and elsewhere for some time now," she says. "Dr. Mutschler-Chu's work on tomato lines with fungal and bacterial disease resistance is an important tool to help growers implement an integrated pest management program and to reduce the risk of crop loss."
The commercially available higher-resistance hybrids tested at Davenport Farms included Plum Perfect, Summer Sweetheart and Brandywine.
"We try to spray as little as possible, judging what is needed from year to year," Davenport says. "The difference I saw was that the new varieties lasted longer through the end of the growing season."
Davenport sells tomatoes at the farm's market and to local food stores. The produce is used in the farm's kitchen, run by Culinary Institute of America-trained chefs. Consumer response is a key metric.
"Tomatoes do well as an option in our crop mix to meet consumer demand," he says. "We harvested Dr. Mutschler-Chu's tomatoes for sale at the farmstand and people liked them."
Staying ahead of diseases
Davenport has his ear to the ground for updates on Mutschler-Chu's current work.
The Christine Smart Lab at Cornell AgriTech in Geneva, N.Y., is testing newly developed tomatoes with resistance to bacterial spot as well as the fungal resistances.
"Bacterial diseases, such as bacterial spot and speck, have increasingly become an issue in the past 10 years on more and more farms in New York, and they can persist for many years in field soil, trellising stakes and in greenhouses," Rusinek says.
EAGER TO HELP: Barth Davenport (center), pictured with his daughter, Robin, and his brother Bruce, is eager to help lead research into disease-resistant tomatoes at his Davenport Farms in Ulster County.
Davenport does not overlook the economic benefits of this selective breeding research.
"The possibility of high-resistance, low-spray, no-spray tomatoes represents the potential for time, labor and cost savings," he says.
Mutschler-Chu's research is creating new options for seed companies and, ultimately, growers and consumers. The project will be expanded this year to cooperative field trials in other states and seed production in varying growing zones.
Next up, bugs
Additionally, Mutschler-Chu is working on the third class of living plant challenges: insects and insect-transmitted viruses. While insect pressure in field tomatoes in New York is quite low, it is present in controlled-environment production and is increasing in the Mid-Atlantic.
"Certain wild tomatoes have a trichome metabolite that provides a safe, strong natural deterrence against many insect species," Mutschler-Chu says. "This resistance could strongly reduce or eliminate the need for pesticides in tomato production."
She expects lines combining insect and fungal resistance to be completed and released in two years.
Longer-term, Mutschler-Chu says the tomato lines already developed could be used in further breeding processes to enhance flavor.
"The fungal bacterial-resistant tomato lines well-adapted to the Northeast are a platform that can be used to breed for additional traits, such as flavor," she says. "This platform, plus new selection techniques allow breeders to make in two generations the progress that used to take six or more generations."
The New York Farm Viability Institute has helped fund Mutschler-Chu's work.
For more information, contact Martha Mutschler-Chu at [email protected].
Dunn writes from her farm in Mannsville, N.Y.
Standing sidebar boxed with NYFVI logo at top and text: NYFVI is a farmer-led nonprofit that invests in innovative projects to increase the success of ag production enterprises, protect farm-based natural resources and produce measurable farm-level results. Visit nyfvi.org for more information.
Subscribe to receive top agriculture news
Be informed daily with these free e-newsletters
You May Also Like
---