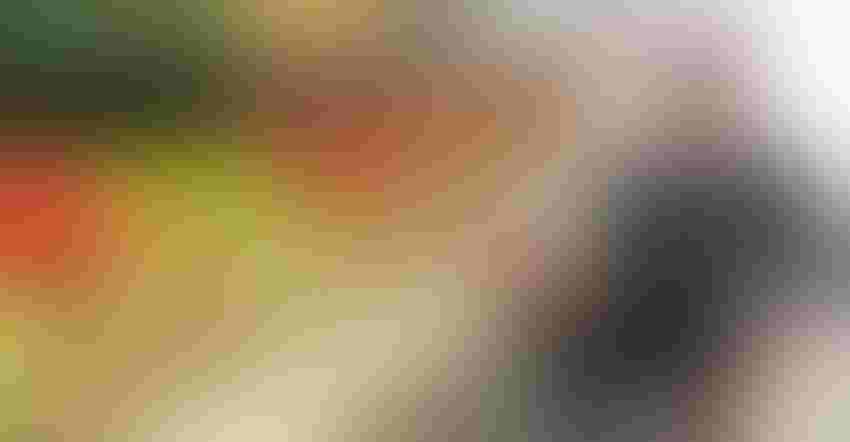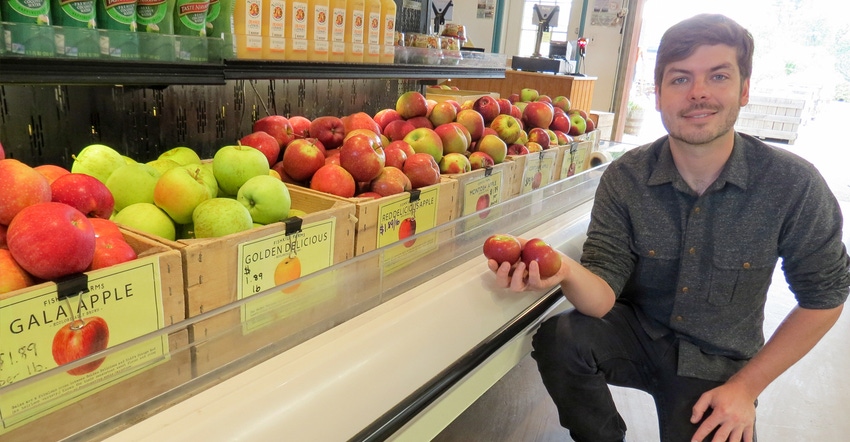 BEE-FRIENDLY HARMONY: Josh Morgenthau finds his market motto "We grow food in harmony with nature" harmonizes with his customers.
Josh Morgenthau saved $2,500 last year by not purchasing bumblebees to pollinate his apple crop. Instead, local wild bees did the job in his Fishkill Farms' 60-acre orchard at Hopewell Junction, N.Y.
Research by Cornell University entomologist Bryan Danforth convinced Morgenthau to forego the commercial bee hive rental. On average, one to two hives of bees per acre are needed.
"We had earlier noticed wild bees in abundance in the orchard with an excellent pollination rate and a great crop in 2015," Morgenthau says. "The survey here in 2016 showed enough biodiversity and critical mass of native pollinators to try going without rented hives."
Danforth leads the Northeast Pollinator Partnership research team that has identified bee species, abundance and foraging habits as the best predictors of pollen deposition, and seed and fruit set in New York apple orchards. "Native pollinators are much more efficient per bee, making significantly more contact with the apple flower from the top," he says. "Side-working honey bees contact the flower's reproductive organs only 50% of the time."
BUILDING UP THE BUZZ: Josh Morgenthau (left) works with Cornell's Bryan Danforth and the Northeast Pollinator Project to enhance orchard pollination by wild bees.
Morgenthau observed that "commercial bumblebees weren't that active, and paled in comparison to native pollinators we saw working in the orchard." He describes the 2017 bloom as "phenomenal," followed by a strong harvest. Apples are the largest single crop on this diversified fruit, berry and vegetable farm. Thousands of visitors arrive each fall for pick-your-own apples events. The apples are also grown for CSA and farmers markets' sales, and some wholesaling.
Certified bee-safe protocols
One-third of Fishkill Farms' apple orchards are certified organic. The rest have been managed since 2012 for Eco Apple certification, an integrated pest management protocol authorized by the IPM Institute of North America. That protocol is sensitive to how spraying impacts pollinators
"Use of IPM helps sustain and build native bee populations," says Danforth, who was part of the Cornell research team that first documented farm-scale responses of wild bee communities to a full spectrum of conventional pesticides use, including fungicides.
"Our motto is, 'We grow food in harmony with nature.'" Morgenthau says. "Eco-Apple practices encourage the presence and health of native pollinators and allow us to grow essentially organically without risking our economic stability."
He uses in-season alternative row mowing to provide a daily food source for bees. Cover crops, including clover and buckwheat, serve as bee food when the apples aren't blooming.
"Our participation with the Northeast Pollinator Project and Eco Apple is part of building and maintaining a holistic ecosystem and on-farm biodiversity," Morgenthau adds.
More 'buzz' with NEPP
Fruit growers are increasingly asking Danforth about the Northeast Pollinator Partnership. "Research shows clear economic benefits for encouraging on-farm wild bee diversity," he says. "When growers stop renting bees, it decreases the competition for local food resources and allows the wild populations of bees that are more efficient pollinators to return." 
The NEPP helps apple growers establish a pollinator abundance and composition baseline thanks to funding from the New York Farm Viability Institute. That data helps drive recommendations for enhancing native bee populations.
Learn more about it online at northeastpollinatorpartnership.org. The site includes a short video on how to count bees. It also has a Bee Guide for identifying native bees and distinguishing them from honey bees. You can also access to the NEPP Pollinator App, which lets growers record and submit data to support the first long-term monitoring program tracking orchard pollinators in the United States.
NEPP participation takes only three 5-minute observation periods per orchard at peak bloom during the flowering season. What you learn and report enables Danforth and outreach support specialist Maria VanDyke to help you with recommendations. Contact Danforth at 607-255-3563 or by emailing [email protected].
"Wild pollinators are such an important resource for crop pollination that it's critical we understand these populations and work to build them," says NYFVI director David Grusenmeyer. The institute has also funded honeybee research.
Still in family hands
In 1913, Josh Morganthau's grandfather Henry Morgenthau, Jr. bought an apple and dairy farm, where Josh grows apples, berries and vegetables, in East Fishkill in 1913. He published the American Agriculturist from 1922 through 1933. He became U.S. Secretary of the Treasury in 1934, serving into 1945.
Know this bee knowledge?
Here are four pollinating bee facts to know:
• Temperature, landscape, plant species and orchard management practices such as pesticide and fungicide use all drive wild bee abundance and composition. Honey bee activity is primarily influenced by air temperature.
• Honey bee population declines due to colony collapse since 2007 have created a need for alternative pollination practices.
• More than 420 wild bee species are documented in New York State. More than 120 contribute to apple pollination.
• Peak of apple bloom is shifting over time in the Northeast, with flowering moving at a rate of approximately one day earlier per decade.
Dunn writes from her farm at Mannsville, N.Y.
Subscribe to receive top agriculture news
Be informed daily with these free e-newsletters
You May Also Like
---