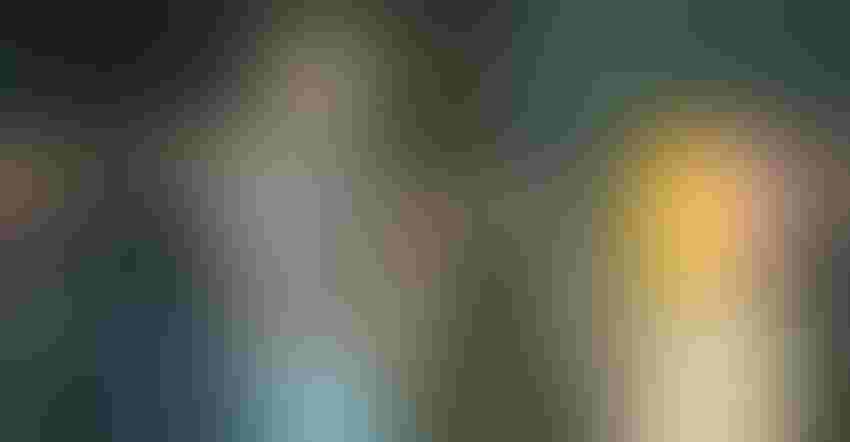 TAKING A TOUR: Artisans char whiskey barrels at Barrel 53 in Higbee, Mo., during the recent White Oak, Whiskey & Wine tour.
Linda Geist
By Linda Geist
Many of the world's finest wines and whiskeys begin in Missouri's hardwood forests.
Hank Stelzer, University of Missouri Extension forester shared Missouri's role in wine and spirit production during the recent MU Extension White Oak, Whiskey & Wine tour.
Missouri grows more white oaks than any other state. Tourgoers visited the Rudolf Bennitt Conservation Area at the junction of Boone, Howard and Randolph counties to see a white oak forest. "True white oaks are the preferred species to make barrels, but chinkapin and swamp white oaks also may be used," Stelzer says. "Other oak trees do not possess the unique cellular features that make white oak barrels leak-proof."
Finding the right tree
The path from forest to barrel is a long one. It takes at least 80 years to grow an American white oak tree to a marketable size. Stelzer says white oak stave logs represent only about 10% of timber harvested in any timber sale. The rest goes into grade lumber, flooring, railroad ties, pallets and blocking.
Craftsmen cut logs lengthwise into four bolts at the stave mill. They saw the stave bolts into flat, quarter-sawn stave blanks. Heading bolts used to make the top and bottom of the barrel are cut from larger-diameter logs or stave blanks that had to be shortened because of defects.
Stave and header blanks for wine barrels air-dry for 24 to 36 months. This allows sun, wind and rain to break down the tannins in the wood. It also mellows oak in a way that kiln-drying cannot. Staves used in whiskey barrels usually dry for 30 to 40 days and finish in a dry kiln.
Making the perfect barrel
In the small town of Higbee, Mo., population 551, is Barrel 53 — a family-owned enterprise that makes whiskey and wine barrels. It operates a stave mill that processes white oak logs from nearby woodlands. Barrel 53 also recently opened its own distillery. Here, artisans create barrels from aged white oak staves and headers.
The most crucial step in barrel-making is the raising. A cooper (barrel maker) assembles narrow staves into a temporary steel ring to hold the staves in place.
To make the staves pliable, barrel makers place the raised barrel over an open fire or pass it through a hot steam tunnel. They cinch the wide end with a cable and add a second temporary steel ring to give the barrel its final shape.
A groove is milled into the inside ends of cooled barrels. Headers are placed in these grooves. Galvanized metal hoops replace the temporary hoops. Wine barrels are sanded smooth for appearance.
The last steps are to add the bunghole — the entrance and exit for wine or whiskey — and check for leaks. The bunghole goes on the side of the barrel in the middle of a wide stave. After drilling, workers put water into the barrel and rotate it so the water touches all staves. They then pressurize the barrel to check for bubbles, which indicate leaks. Defective barrels go back to the most experienced coopers for repair.
Working on the whiskey
At Barrel 53, visitors watched as barrels for freshly distilled "white dog" whiskey were charred or burned on the surface of the wood.
The charcoal acts like a filter and reacts with the sharp substances of the whiskey. Intense heat during charring forms a caramelized layer from natural sugars in the wood. This layer creates the bourbon's amber color, and caramel and butterscotch flavors. During aging, the whiskey expands into the wood during hot months and returns into the barrel during cold months, adding color and flavor to the spirits.
Generating revenue
Gary Hinegardner of Wood Hat Spirits at New Florence, Mo., uses Missouri white oak barrels and locally grown heritage corn to create unique whiskeys and cordials. Hinegardner says Wood Hat is the first craft distillery in Montgomery County and the only wood-fired still in the country. He prefers toasted barrels to bring out subtle flavors. "Six hundred dollars' worth of whiskey comes from a $3 bushel of corn," he says. "That's what I call 'value-added. '"
Geist writes for the University of Missouri Extension.
Subscribe to receive top agriculture news
Be informed daily with these free e-newsletters
You May Also Like
---