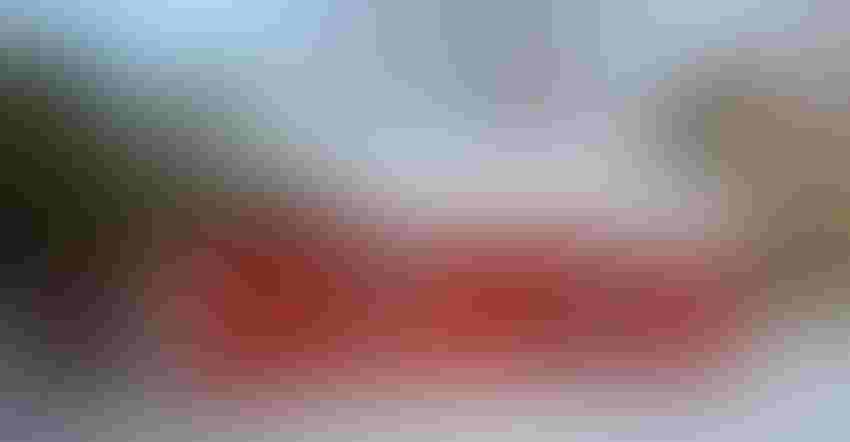 IDEAL SCENARIO: One or two large snows during the winter could go a long way toward recharging soil moisture reserves.
Tom J. Bechman
Most Hoosiers understand the value of spring and summer precipitation for crops. Rainfall is critical for plant growth and high yields at harvest. While public discussion of drought is usually reserved for the growing season, Indiana experienced a dry fall. This should be a concern for growers before spring planting.
Here is a question-and-answer session with Beth Hall, Indiana state climatologist, discussing where Indiana stands on soil moisture recharge:
What is soil moisture recharge? Soil, just with heat and demands from agriculture, will naturally dry out over time, particularly shallower layers. When we replenish that layer, it is soil moisture recharge. It can happen in a variety of ways. If rain falls onto the surface, that moisture can percolate down. Another way is either laterally or from the ground up, depending on where the aquifer is. It does not have to just be from rainfall. During this season, snowfall is even more important than rainfall because of the snowpack's ability to melt and seep into frozen soil more gradually, helping to sustain the water.
Where does Indiana stand with soil moisture levels currently? Across most of Indiana, as we entered 2023, soils were only about 20% to 30% of where we would love to see them this time of year. We're hoping to recharge soil by spring when we want to plant. However, an issue we've seen in the past few years is that we get too much rain in spring. Tiling can help solve issues that arise from oversaturation, should it occur.
Is there hope for a wetter-than-normal winter to restore moisture levels? There is good news because we're still in a La Niña pattern this winter. Midwest winters are typically associated with above-normal precipitation when we're in a La Niña. The La Niña-El Niño cycles refer to variations in sea surface temperatures far out in the Pacific Ocean. They affect air circulation patterns aloft around the globe, including here.
If the La Niña holds, things should start getting wetter as we move through the second half of climatological winter — December through February. If this trend plays out as expected, I'm optimistic we will go a long way toward recharging any soil moisture deficits.
Will upcoming precipitation percolate into the soil? When it freezes overnight, that's OK because it's above that during the day. We can take advantage of freezing and thawing cycles during the winter. The ground is thawing during the day, allowing for soil infiltration, especially with permafrost.
How can farmers track soil moisture recharge? A good place to go would be the Purdue Mesonet Data Hub. We currently have 13 stations reporting throughout the state. With those sites, we collect soil moisture data at four different depths. Even looking at data for the site closest to you or data from a location with a similar soil profile to your land would be valuable. To find soil moisture, from the home page, find "Choose Variable to Map" in the upper right-hand corner of the map section. Select "Soil Water Content" at various depths using the dropdown box.
Garner is a student in ag communication at Purdue University.
Subscribe to receive top agriculture news
Be informed daily with these free e-newsletters
You May Also Like
---