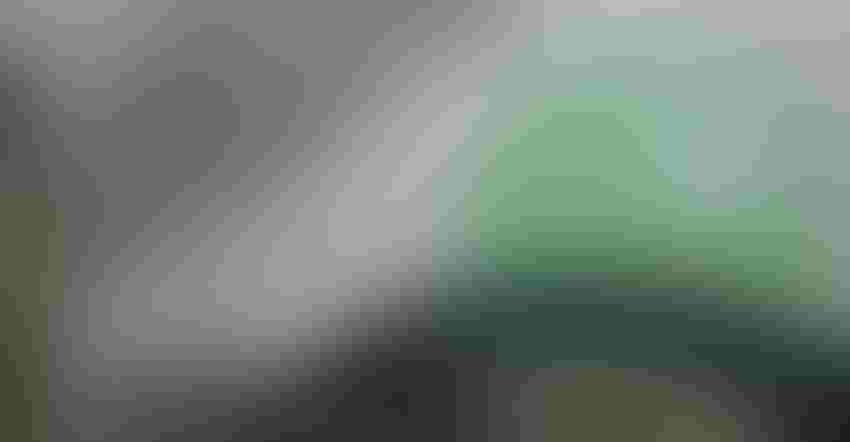 SEEDING IN SNOWSTORM: Marion County farmer Paul Penner shot this photo from his tractor cab as he seeded wheat in a November snowstorm. Wet weather slowed down fall crop harvested and delayed wheat seeding and an early snow added to the misery.
Some years you just want to put behind you and never think about again.
Marion County farmer Paul Penner says 2018 fits that bill for him. The year started off with a prolonged drought that dented the wheat crop and devastated the corn crop. It ended with an early winter that delayed soybean and corn harvest and found him seeding wheat in a snowstorm.
"I think we may see quite a bit of prevented planting claims on wheat," Penner says. "People just couldn't get the fall crop out and the seed in the ground."
He says he finished planting wheat on Thanksgiving morning, two days too late to insure the final acres. He still had about 260 acres of soybeans in snow-covered fields and a stubborn wet spot in a corn field to harvest.
His story is not unique this year. On the last day of November, thousands of acres of soybeans, sorghum and cotton were still in the fields.
SLOW GOING: High winds created deep drifts, leaving some soybeans standing in snow even after much of fields had melted off as weather warmed between snowstorms. This field belongs to Paul Penner, who farms near Hillsboro.
In Stafford County, Jon McClure says he got everything harvested except for "a few mudholes."
But McClure says he only planted about 60% of what he intended to plant in wheat and filed prevented planting on 711 acres.
"I've never done that before," he says. "Our insurance agent said about two-thirds of his clients were going to file prevented planting."
McClure says there is still a lot of sorghum, some cotton and soybeans, and a few fields of corn still to harvest.
"Some of the wheat that did get in isn't looking very good because of all the rain," he says.
Too much rain isn't something that folks in Stafford County routinely complain about. More often, November is a time for inspecting fields to see what has emerged and worry about poor root development in "dusted in" fields.
Cotton is also way behind statistic normal, but that may be more a feature of vastly increased acreage than the actual number of bales and modules in the fields.
LOOKING GOOD: This field of soybeans will have pretty good yields, if only it can be harvested before pods start to shatter. Paul Penner says the field was hit pretty hard by early drought but came back like gangbusters when the rains started.
Cotton acres have doubled from 2016 to 2017 and then doubled again this year. Yields have also been very good, with one farmer reporting four bales to the acre on dryland.
Rex Friesen, crop consultant and spokesman for the Southern Kansas Cotton Growers Association, says that the number of bales produced in Kansas has seen an 800% increase over the past five years. That means 38% complete — the number from USDA's Ag Statistical Service — adds up to a lot more acres than the five-year average of 59%.
"We are asking our growers to stay patient," Friesen says.
As of Dec. 1, ginning had not yet begun thanks to the need to work out the "bugs" caused by big remodeling projects to expand capacity and handle that huge growth.
Friesen says he expects to see more gins built if farmers continue to increase cotton acres, and there is every reason to believe they will as cotton continues to make money and grain prices stay low.
BOUNTIFUL COTTON: In spite of an oversupply of rain, early snow and a delayed harvest, the 2018 cotton crop was looking very good in late November. Ginning was off to a slow start, thanks to remodeling projects to expand capacity.
"If grain prices make a strong bounce back, we may see people going back to corn and beans because it's less work to grow grain than it is to grow cotton," he says. "But at least for next year, all those prevented planting wheat acres will go somewhere and the current climate would make more cotton a pretty good bet."
Subscribe to receive top agriculture news
Be informed daily with these free e-newsletters
You May Also Like
---