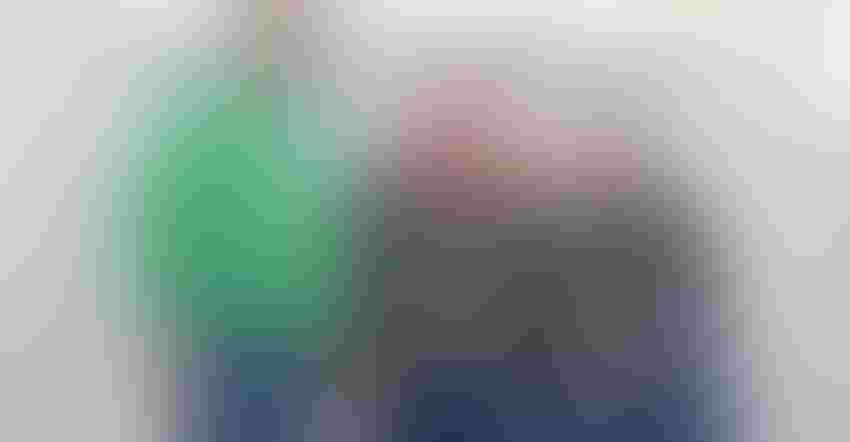 The Wilbur-Ellis crew in Elgin, North Dakota, includes Daniel Hochhalter, Caleb Becker, Ashley Mutschelknaus, Diesel the dog and Andy Knebel.
Submitted by Corteva Agriscience
Herbicide applications are generally most effective when weeds are actively growing and small, temperatures are warm, and winds are light.
"Ideally, we want to begin making herbicide applications when the weeds are very small, but Mother Nature often gets in the way," says Daniel Hochhalter, custom applicator and facility manager with Wilbur-Ellis Agribusiness in Elgin, North Dakota. 
"Our wheat crop seems to go from the three-leaf stage to flag leaf emergence in the blink of an eye," he says. "Timing is our toughest challenge. When the weather doesn't cooperate, we are often pushing that application window."
Weed control products such as WideARmatch® herbicide, Pixxaro® EC herbicide and Rezuvant® herbicide can all be applied to wheat from the two-leaf stage to flag leaf emergence.
"When making custom applications for our farmers, we need that wider application time frame," says Ashley Mutschelknaus, sales representative at Wilbur-Ellis in Elgin. "That is why we depend on the Corteva Agriscience portfolio of herbicides, which gives us flexibility in application timing."
In a region where many wheat growers are in a no-till, dryland production system, only one herbicide spray is applied per season — so getting effective control with that treatment is crucial.
Mutschelknaus points to marestail, Canada thistle and kochia as the weeds driving herbicide purchases. "These three problem weeds are why farmers are picking WideARmatch over competing products," she says.
In 2021, Mutschelknaus recommended WideARmatch herbicide tank mixed with Everest 3.0 herbicide and 2,4-D LV6 for many of her spring wheat growers.
"WideARmatch controls marestail and vining stage wild buckwheat better than competing products, and it is especially good for our larger weeds," Mutschelknaus says. "WideARmatch also gives us the flexibility to choose the most effective grass herbicide and fungicide tank-mix partners, based on each individual field's needs."
For those wheat growers not battling Canada thistle or other perennial weeds, Andy Knebel, sales agronomist for Wilbur-Ellis, recommends using Pixxaro EC herbicide.
"It's a phenomenal product and it can be the base to your whole weed control program for tough-to-control kochia, marestail and other problem weeds," Knebel says. "There are no survivors with Pixxaro."
Similarly, Knebel recommends Rezuvant herbicide when driver weeds include Persian darnel, green foxtail, wild oat, kochia and marestail.
"Last year, we had a grower with a field that had more kochia and marestail than wheat and the marestail was 10-12 inches tall," Knebel remembers. "Glyphosate hadn't worked because of freezing temperatures and weeds that weren't actively growing. The farmer was going to reseed the field. Instead, we sprayed Rezuvant in that field, and that field yielded 52 bushels per acre at harvest.
"Every weed was dead," he says. "Rezuvant controlled the weeds, we caught a rain and the wheat rebounded. It was one of his best-yielding fields."
For best results, apply Rezuvant when susceptible broadleaf and grass weed seedlings are actively growing and less than 4 inches tall.  
Visit CerealHerbicides.Corteva.US to discover which cereals herbicide hits the mark for your unique cereals farming operation. 
™ ® Trademarks of Corteva Agriscience and its affiliated companies. Pixxaro® EC, Rezuvant® and WideARmatch® are not registered for sale or use in all states. Contact your state pesticide regulatory agency to determine if a product is registered for sale or use in your state. Arylex® is a registered active ingredient. Always read and follow label directions. © 2022 Corteva. 
Subscribe to receive top agriculture news
Be informed daily with these free e-newsletters
You May Also Like
---