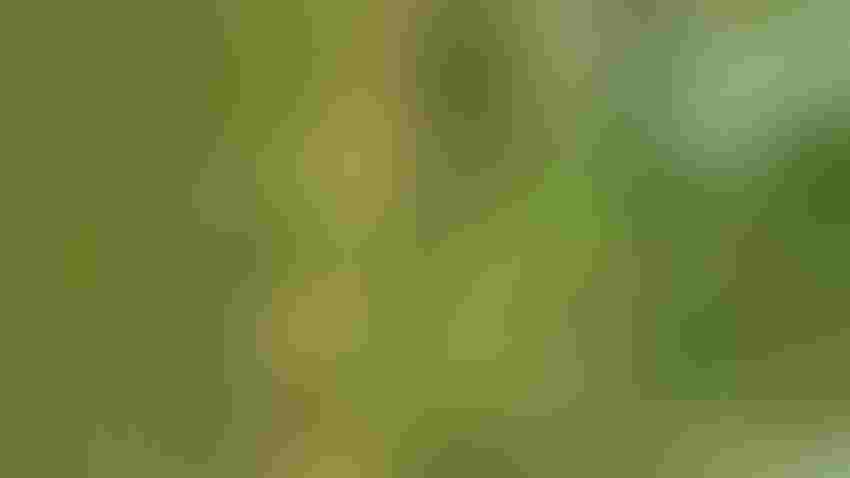 THORN IN THE SIDE: Palmer amaranth is just one of the weeds that has become a troublesome weed for farmers, becoming resistant to commonly used herbicides in producers' arsenal.
Bruce Potter, IPM specialist, University of Minnesota Extension
There's more than one way to kill a weed, and farmers will need to employ multiple approaches as they look ahead to the 2023 growing season.
Regardless if weed pressure comes from giant ragweed or waterhemp, Jeff Moon says the commonality is resistance. "And we think right away of glyphosate-resistant weeds, but we have weeds that are resistant to atrazine and ALS herbicides, too."
Moon, market development specialist for Corteva Agriscience, says a weed control plan can be as different as farming practices across the landscape. Whether they be no-till, minimum till or conventional till, "We have people who want to do things in one pass or two passes," he says. "Although we do caution farmers that a two-pass program is likely the best approach these days when it comes to ensuring effective control and mitigation of weed resistance."
Suiting the weed control package to individual farmers is the goal of Moon and his colleagues.
Steve Snyder, fellow Corteva teammate, agrees, adding that the answer may come from outside the Corteva Agriscience offerings.
"We're fortunate. We have good chemistry. So, 90% of the time we have the right solution with us. A lot of times, though, we'll recommend competitors' products to complement ours," says Snyder, Enlist field specialist with Corteva Agriscience. "For Enlist, every meeting we have, we talk about the program approach. We want a preemerge herbicide that'll have at least two — and a lot of times, three — active modes of action that are effective on the weed we're trying to get."
Snyder says Enlist One is a Group 4 mode of action herbicide. "Then, we'll add, like, a Liberty Group 10, and we'll add something else. We're complementing ours with their product. … which is best for the grower. You always have the mission statement remembering who pays the bills — the farmer pays the bills, right? You follow that mission statement and it's pretty simple. You just complement us with what's needed."
Building complete program
Moon says tankmixes are common, again attacking weeds from different angles. "We may not be able to cover all those weeds that someone has a problem with, so we're going to plug in some atrazine or dicamba, or some other tankmix partner, to help round out our program — and we don't carry those products," he says. "Someone else does, but they're very beneficial to helping build that complete weed control program."
The need for a varied approach is illustrated by the resistance built by Palmer amaranth, which, according to the Minnesota Department of Agriculture website, where populations have been documented with resistance to one or more of the following classes: dinitroanilines, triazines, ALS (acetolactate synthase) inhibitors, glyphosate and HPPD (4-hydroxyphenylpyruvate dioxygenase) inhibitor herbicide.
Snyder observed a presentation in February that shows Palmer amaranth populations in Arkansas with resistance to nine modes of action.
"Since 2010, when we started talking about resistant weeds," Snyder says, "we want three, four or five modes of action per year per crop."
Life would be simple if farmers only had one weed species to control, or if all weeds were resistant to the same herbicide, or if the prime times to hit all weeds with a herbicide coincided. But, alas, that is not what today's farmers face.
"You may take 40% of them [weeds] with gly[phosate], but not the other 60," Snyder says. "But just because it's glyphosate-resistant doesn't mean we don't tank-mix with gly. … we usually tank-mix with gly, because if you went with just another one to kill, then you'd have more resistance with another one."
With that in mind, Snyder again stresses tankmixes and a preemergent application with layered residual. "The days of spending 40 bucks on a soybean herbicide program are over," he says. "Where we have kochia and waterhemp, we're spending $80 to $100 an acre on herbicides, if they want to do it right."
Germination window tough to handle
Snyder says the spread of kochia and waterhemp is creating new headaches for farmers. "We're in what we call the kochia-waterhemp zone," he says. Farmers along the Minnesota-South Dakota border are seeing kochia heading east and waterhemp going west. "They have two very challenging weeds that are totally different emerging patterns. … There can be snow in the ditches and kochia is coming up, whereas waterhemp really doesn't germinate until June, maybe late May."
That germination variance makes it that much more difficult for producers. "Farmers have had one or the others, but now they've got both," Snyder says. "If it's a no-till situation, that's tough, and it's going to be expensive. … It's not the weed per se, it's the different timing."
Moon suggests farmers willing to go back in time could handle some weed pressure by cultivation, whether it be mechanical or hoe-in-hand bean walking. Other than in organic operations, "we don't see a lot of cultivation, but we probably could benefit from that," he says.
Subscribe to receive top agriculture news
Be informed daily with these free e-newsletters
You May Also Like
---