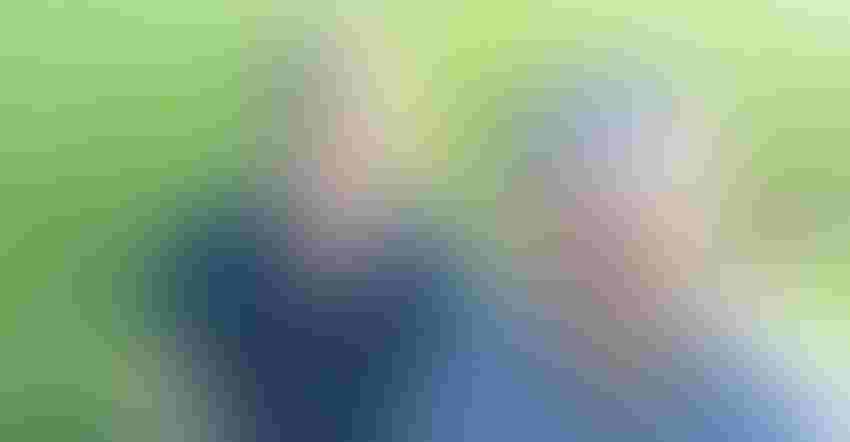 WINSORS: LaVell and Andy Winsor use subsurface drip irrigation technology on their Lawrence, Kan., farm.
Photos courtesy of American Soybean Association
A focus on conservation of irrigation water and nutrient use efficiency has led Andy and LaVell Winsor to experiment with subsurface drip irrigation technology.
The Winsors farm the diverse contours, soil types and bottom ground of the Kansas River Valley between Topeka and Lawrence, Kan. They are installing the final phase of a drip tape project that began in 2015, using a 2020 Conservation Demonstration Grant from the American Soybean Association (ASA), funded by the Walton Family Foundation.
ASA and Walton Family Foundation Conservation Champions and ASA Conservation Legacy Award winners from the past five years were eligible to apply for the grant. The Winsors' farm was one of three farm operations to receive a cost-share grant this past fall to demonstrate new next-level conservation practices.
Taking the leap
The Winsors purchased an abandoned dairy farm in 2014 comprised of three irregular-shaped fields.
"To increase productivity, we decided to take a leap of faith, after months of research, into subsurface drip irrigation," Andy says.

INSTALLATION: A GPS-guided tractor with RTK buries four drip tape lines 60 inches apart and 14 inches deep on the Winsor farm.
"Our ability to obtain state water rights using the nearby creek, plus the efficiency and conservation of watering and fertilizing in the root zone, convinced us this would be a wonderful addition to our land," LaVell adds.
In 2015, NutraDrip installed Netafim drip tape on the first 27-acre field, the water intake, and sand filter and injection system. Once the Winsors saw how the system worked, they added more lines to the adjacent 45-acre field in 2017. This year, once they completed removing the dilapidated dairy barn and feedlot, they added drip tape to the remaining 10-acre field.
"We've learned a great deal about water efficiency and timely nutrient delivery for crop needs," Andy says. "That's why we've reduced flood irrigation and increased our use of pivots with drop nozzles and subsurface drip irrigation. We're also fortunate to have well permits from the alluvial water table, and some creek water rights in our river valley for the 20% of our acres that are irrigated. It's not a depleting resource, and we're not using the Ogallala aquifer."
As conservation and fertility innovators, the Winsors were the first farm in the area to install subsurface drip irrigation. The installed tape lines are 60 inches apart and 14 inches deep on this project, with drip holes in the tape every 2 feet. Andy plants his 30-inch corn or soybean rows to straddle the tape, so every row is seeded 15 inches from water, with roots growing closer.
So far, their experience with subsurface drip irrigation technology has proven numerous benefits.
 "As I've told many farmers, this drip tape technology is a good deal," Andy says. "It costs a little more than a pivot, but it offers so many more benefits. It can irrigate all areas of a field; water use efficiency is 15% to 20% better, you can change water rates by field zone and put fertilizer right into the root zone for better plant use."
Less labor, more savings
Time and labor savings with drip tape and significantly reduced stress are a huge benefit compared to pivot irrigation. The ability to plant, spray and harvest without moving the pivots, along with less maintenance and tire repair, is worth a lot of money, Andy says.
"With center pivots all running at once, there's always something that needs attention, whether they are getting stuck, have a flat tire, out of fuel — demanding labor and valuable time," Andy says.

FILTER: The blue sand filter units clean the water from the creek before it enters the drip line system. The white tanks contain fertilizer that is injected into the lines to spoon-feed the crop at the right time.
He also cites value beyond the product offered by Netafim. "Their staff agronomists have built an online fertility tool to help figure out fertility needs and timing. It's almost like having a fuel gauge on your crop, so you know when your fertility will run out. You can be proactive and build fertility in the root zone to keep your crop from having a bad day," he adds.
The Winsors were early adopters of grid sampling, building management zones in fields to custom-apply inputs. "Our goal is to apply proper nutrient levels across the field, to help manage water quality and crop efficiency," Andy says.
"This subsurface irrigation project, thanks to ASA and the Walton Family Foundation, helps us takes fertility spoon-feeding to a higher level. And it will provide more data to prove its value, which we can share with other farmers and our urban neighbors, too," LaVell adds.
Legacy of innovation
Farm conservation and innovation practices have a long history with the Winsors' third-generation farm. Andy's grandparents and his dad were building terraces and waterways back in the 1950s and '60s. When Andy joined the farm full time in 1994, he continued this legacy by being an early adopter of grid-soil sampling, yield monitoring and variable-rate fertility. Over the last nine years, he has honed his cover crops to improve soil health — even planting soybeans green into growing cereal rye.
"It's great to watch the soil improve. When we dig up corn seed and find a lot more earthworms where we've had rye versus no cover crops, it's really eye-opening," Andy says.
By farming near urban areas, LaVell adds that neighbors have raved about seeing green fields growing after harvest. "Aesthetically, it is very pleasing to them, and we like to help them understand the health value that cover crops bring to our soils and water quality. It's a legacy we hope to pass on to our next generation."
The next conservation tactic the Winsors hope to implement is greater carbon capture. "I'm excited to check out carbon sequestration programs. With irrigation and cover crops, we believe we are securing more carbon," Andy adds.
The Winsors have significantly benefited from peer learning, and they plan to use this project to share their knowledge with other farmers and urban neighbors. "Through all these conservation efforts, we strive to improve the land, water and all natural resources to leave a better legacy for the next generation," LaVell says.
ASA is proud of its conservation legacy and partnership with The Walton Family Foundation. The Walton Family has a long legacy of love for the outdoors. This Mississippi River effort, part of its 2020 Environment Strategic Plan, aims to work with organizations like ASA to align policy and market incentives to encourage farmers to adopt practices that improve water quality, improve soil health and reduce pollution across the basin.
Source: The American Soybean Association is solely responsible for the information provided and is wholly owned by the source. Informa Business Media and all its subsidiaries are not responsible for any of the content contained in this information asset.
Subscribe to receive top agriculture news
Be informed daily with these free e-newsletters
You May Also Like
---