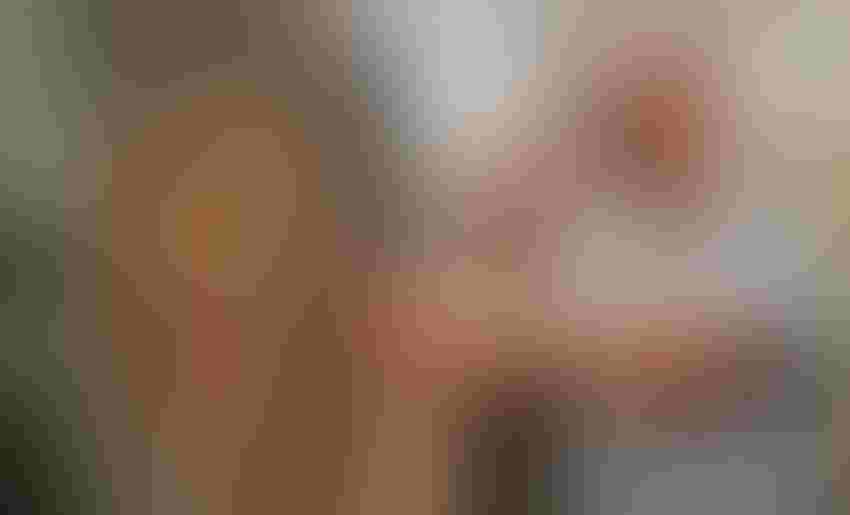 USDA forest research entomologist Steve Seybold, a lecturer and researcher with the UC-Davis Department of Entomology and Nematology, and his doctoral student Corwin Parker peel back bark to reveal beetle larvae and wood borers.
Kathy Keatley Garvey/UC-Davis
The University of California-Davis Bohart Museum of Entomology will emphasize "fire and insects" when it hosts an open house, "Extreme Insects: Fire and Ice," on Sunday afternoon, Aug. 19. 
The public event, to take place from 1 to 4 p.m. in Room 1124 of the Academic Surge Building, Crocker Lane, is free and family friendly.
"There are a number of species that are specifically attracted by smoke to damaged trees," said Lynn Kimsey, director of the Bohart Museum and professor of entomology at UC Davis. "Wildland fire fighters hate them because some of the beetles fly at them, crawling into their turnouts and biting them. Fire insects include jewel beetles, some horntail wasps and a few others."
In addition to fire insects, Kimsey said that the Bohart open house will cover other insects adapted to extremes:
Ice: ice crickets and ice flies, both native to California

Extreme acid: midges that live only in highly acidic mine run-off

Hot water: midges found in hot springs just below the boiling point

Salt: the brine flies of Mono Lake.
Regarding the beetles that attack the firefighters, these are "The flatheaded borers (Buprestidae) and they will actually nip the firefighters as they land," said chemical ecologist Steve Seybold with the USDA Forest Service, Pacific Southwest Research Station, Davis, and a lecturer/researcher with the UC Davis Department of Entomology and Nematology.
Beetles in burned areas
Insects that like ethanol/burned phloem include the red turpentine beetle, the ambrosia beetles, the "sour cambium" beetles, and some of the larger woodborers, Seybold said. "These are the 'undertakers' of the trees, if you will.  Certain bark and ambrosia beetles specialize in colonizing burned tissue that gives off ethanol as a sign of fermentation. These insects wait until things have cooled off a bit before they bore into the trees."
"Often when you visit a burned area," Seybold said, "you'll see piles of white dust coming out of the trees that have blackened bark.  This dust is made by ambrosia beetles--and other larger woodborers--that can make use of the carbon that is still present in these moribund trees.  Ambrosia beetles 'consume' this carbon indirectly by farming fungi in their galleries.  The fungus serves as a conduit for the nutrients in the wood.  Some of the larger woodboring insects have other adaptations like specialized enzymes that degrade cellulose or hemicellulose."
Seybold called attention to an article titled "Attraction of Melanophila Beetles by Fire and Smoke," authored by noted beetle expert E. Gorton Linsley (1910-2000) and published in April of 1943 in Scientific Notes, the Journal of Economic Entomology.  Linsley, who received his doctorate from UC Berkeley in 1938, wrote that cigarette smokers at the UC Berkeley football games complained of beetles swarming into the stadium and biting their hands and necks.
"It is possible that in this case, the beetles are attracted by the smoke from some 20,000 (more or less) cigarettes, which on still days sometimes hangs like a haze over the stadium during a 'big' game," wrote Linsley, identifying the beetles as Melanophila consputa Lec. and M. acuminata (family Buprestidae). M. consputa is commonly called "the charcoal beetle."
Linsley also reported receiving "complaints from sawmill operators, fire fighters and smelter plant workers regarding annoyance by buprestid beetles of the genus Melanophila. These beetles appear to be greatly stimulated by heat and attracted by smoke. They normally breed in fire-scarred pines and under ordinary conditions, they are rarely encountered in nature. However, on hot days during the dry season, especially in late summer and fall, they sometimes fly in unbelievable numbers to forest fires, burning refuse dumps, refineries, smelter plants, etc."
Wildfires raging
Wildfires continue to rage in California. As of Aug. 13, the 5,255 California wildfires this year have burned 958,812 acres, according to the California Department of Forestry and Fire Protection and the National Interagency Fire Center. To date, the still-active Mendocine Complex fire, the largest wildfire in California history, has charred more than 344,000 acres.
The Bohart Museum open house also will include a family craft activity involving extreme insects. The museum houses a global collection of nearly eight million specimens and is the home of the seventh largest insect collection in North America, and the California Insect Survey, a storehouse of the insect biodiversity.  It also houses a live "petting zoo" of Madagasar hissing cockroaches, walking sticks, tarantulas and praying mantids, and a year-around gift shop,  stocked with T-shirts, sweatshirts, books, jewelry, posters, insect-collecting equipment and insect-themed candy. 
The Bohart Museum's regular hours are from 9 a.m. to noon and 1 to 5 p.m. Mondays through Thursdays. It is closed to the public on Fridays, Saturdays and Sundays and on major holidays. Admission is free.  More information on the Bohart Museum is available on the website at  http://bohart.ucdavis.edu  or by contacting (530) 752-0493 or emailing [email protected].
Source: University of California-Davis Department of Entomology and Nematology
Subscribe to receive top agriculture news
Be informed daily with these free e-newsletters
You May Also Like
---