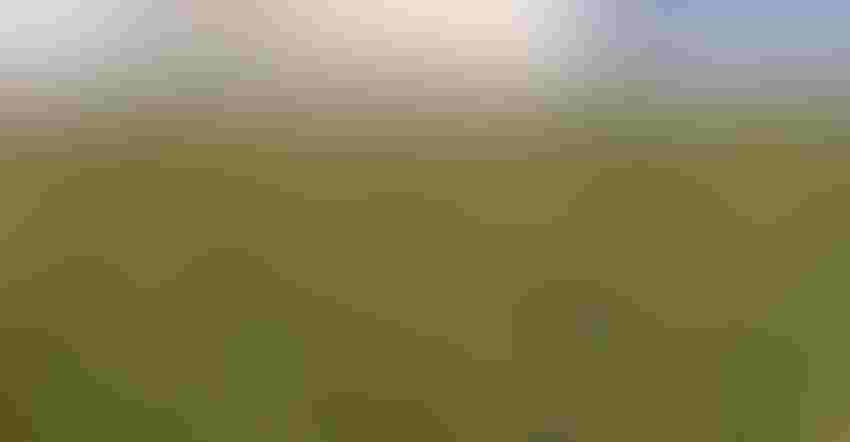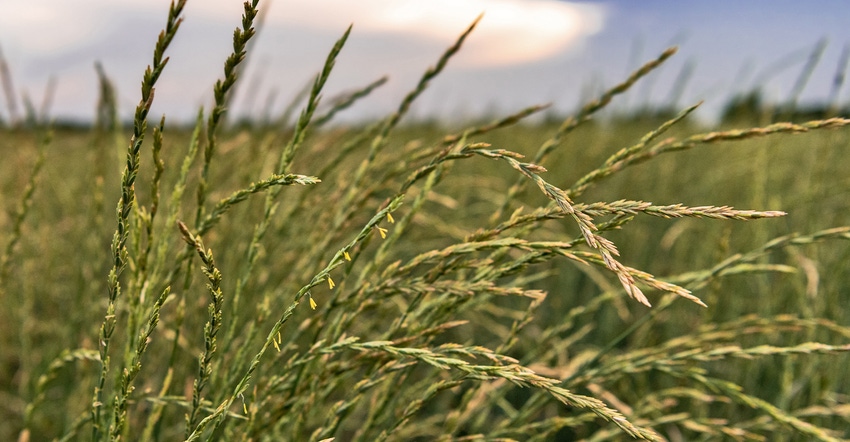 YEAR-ROUND CROP: Kernza perennial grain is a crop that derived from intermediate wheatgrass by The Land Institute. It can provide grain, and feed, and offers multiyear performance.
Photos courtesy of Land Institute
Farmers and ranchers are constantly changing their practices to succeed. The challenge of a changing climate and the pressures of an ag economy push agriculture to conserve natural resources to survive.
To create a system that is both environmentally and financially sustainable, work is being done on a range of ag practices. In crops, researchers are developing perennial cropping systems to limit tillage and compaction. For livestock, breeders work to improve genetics for their animals to thrive in specific regions.
Here's a look at two research areas that offer potential as farmers review their approach to ag sustainability.

INSPECTING WORK: This field of Kernza grain is part of the development program for The Land Institute. Here Lee DeHaan, lead Kernza breeder, checks his work.
Perennial crops
Perennial crops, which are planted, harvested and regrown year after year, provide a way to continually produce food while reducing soil erosion and chemical inputs to regenerate the landscape.
Researchers at The Land Institute develop perennial grain crops to transition cereal crops, like wheat, from annual to perennial cropping systems. Intermediate wheatgrass, a grass currently used primarily for livestock forage, is one of many species selected for domestication as a perennial grain crop.
Kernza perennial grain is the result of the intermediate wheatgrass domestication program, and The Land Institute's first perennial crop used in on-farm experimentation. Kernza grain can be harvested as a substitute for winter wheat or used as a dual-purpose crop for grain and livestock forage.
"We typically plant it in the late summer, depending on your location," allowing it to overwinter similarly to wheat, explains Lee DeHaan, lead Kernza breeder, The Land Institute. "The first year, if things go well, you can harvest grain in the summer. Then, depending on rainfall, you can harvest or graze forage off of it again [in the fall].
"Every year, if the grain for some reason doesn't yield, there is always the option to harvest it as forage instead," DeHaan continues. "The next year, you can go back to harvesting grain or dual-use management. This provides flexibility according to weather patterns. Our research predicts that we can get three to five years of grain yield from Kernza."
Research shows that the perennial system works: You can plant it, grow it, harvest it and eat it as a perennial substitute for wheat, which simultaneously improves soil health and reduces inputs. The Land Institute continually improves the plant genetics and cropping strategies of its perennial grains.
Genetic diversity
The production of food and fiber maintains its cycle through the genetic diversity of plant species and animal breeds. Livestock breeders continually tweak bloodlines to suit their climate and production goals. In the process, sometimes a livestock breed loses a desirable genetic trait. When requested by breeders, the USDA's Agricultural Genetic Resources Preservation Research Unit-National Animal Germplasm Program provides semen from its collection to sustain genetic diversity.
The USDA has conserved genetics for plants since the 1950s, and it opened its collection to animal genetics in 1999. It ranks as one of the largest gene banks for plants and animals worldwide, though it only focuses on plants and animals used in U.S. agriculture. The collection contains 500,000 accessions from nearly 12,000 plant species. For animals, there are more than a million samples (semen, embryos, ovaries and blood) from 55,000 individuals of 40 species. More than 200 breeds are represented in the collection.
"We use these genetics to add diversity to breed of small populations, such as Dexter shorthorn cattle," explains Harvey Blackburn, coordinator, USDA National Animal Germplasm Program. "Right now, we gear up to work with a Black Angus breeder to add beneficial genetics lost in the selective breeding of cattle. For a worst-case scenario, if we had an outbreak of foot-and-mouth disease that wipes out our breeding populations, we should be able to reconstitute those populations."
Additionally, the unit preserves genetics of less populated breeds such as Angora goats, Hog Island sheep, and Large Black pigs. Purebred breeders may request assistance from the Genetic Resources Preservation Research Unit to improve their livestock's genetic diversity. As farmers and ranchers that practice sustainable ag pasture-finish their livestock and need animals that thrive in that environment, the USDA may be able to assist breeders in propagating breeds to match.
Environmental selection
USDA genetic research shows that, as producers select cattle that flourish within their landscape, the breeds' genetics uniquely aggregate according to each climate region. In 2017, the National Animal Germplasm Program published its study of Hereford cattle dispersed throughout five U.S. eco-regions. These results highlight how cattle differ in their allele, or gene frequencies, according to eco-region, such as West Texas versus Florida versus the Northern Great Plains.
Blackburn theorizes the genetic effect relates more to environmental stress than artificial selection by producers and breeders. He recommends producers use breeding animals raised within their eco-region to maximize success because of the genetics fostered by environmental interactions. As livestock breeds and crop plants cycle through their seasons, preserving genetics for the future sustains agriculture through climate change challenges.
Farmers and ranchers continually advance their ag practices to sustainably nurture the health of their animals and landscape. Our ecosystem and their livelihoods depend on it.
Hemken writes from Lander, Wyo.
Subscribe to receive top agriculture news
Be informed daily with these free e-newsletters
You May Also Like
---